Maha Durga Yagya
This yagya helps in removing imminent danger, court cases and political prosecution. It also helps in gaining peace and spiritual growth.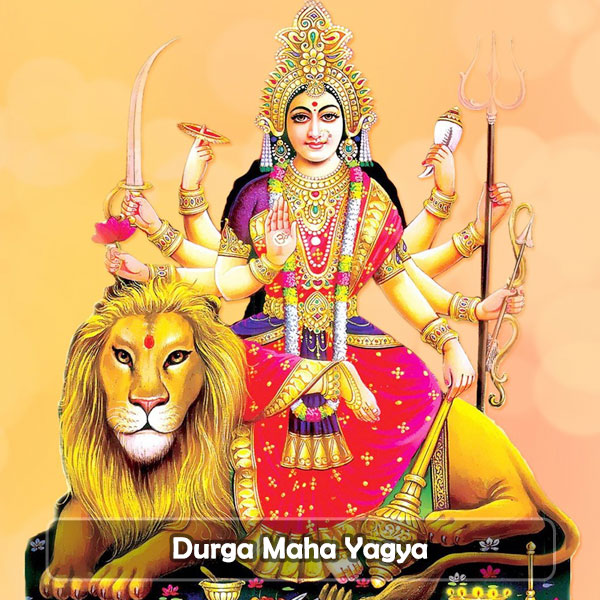 Benefits of Maha Durga Yagya:
This Yagya is very helpful in winning court cases and any political persecution.
This Yagya removes all the ill effects of stars and black magic from your life.
This Yagya is instrumental in removing the ignorance from your life.
It blesses you with knowledge and leads to salvation.
It helps students in passing all their entrance examinations and success in higher education.
Read Customer Reviews
My uncle was having a heart problem since a long time and doctors were not able to track down the cause of illness. No improvements were visible even after a long time of medical treatment. After performing this Yagya, his condition started improving and his body started responding to the treatment. We are very much thankful to AskGanesha for their honest prayers during Yagya.
By Shankar Dayal Singh, Accountant, Bahadurgarh
I was a state level athlete and wanted to contest in national level last year, but due to my sudden health problems I got disqualified. As I am trying again this year, my mother took suggestion from AskGanesha and did Maha Durga Puja from them and it helped greatly in my competitions and I am awaiting the final list. I am highly satisfied by the Puja done by AskGanesha as Maa Durga bestowed her blessings on me.
By Pawan Singh, Athlete, Haryana
About Maha Durga Yagya
Maha Durga Yagya is very complex but a potent Yagya. As one performs this Yagya, it brings huge affirmative energy in the devotee. Performing this Yagya is a matter of great value and honour. This Yajna has the capacity to fulfil the desires of all the natives and help them in the way that makes them excel in their activities.
Perform Maha Durga Yagya to win in competitions and for removal of black magic.
Maha Durga Yagya denotes Maa Durga. She is the destroyer of tragedies, ignorance and other ill effects of life. It helps to attain peace and spiritual attainment in life. This Yagya is very beneficial for removing the imminent danger, court cases, and political prosecution.
Maha Shakti Yagya is performed in order to appease Maa Durga to get the power of the Divine Mother which is bestowed upon you and helps you during difficult times. This Yagyam has the power to exchange all the harmful energies into an optimistic one and revive the environment with great passion and excitement. All the negativity is transformed into positive vibrations.
The performance of Maha Durga Yagya minimizes the obstacles in the path of your achievement. This makes it simple for you to undertake the activities successfully. Maa Shakti Puja Yagya helps to ward off everyday troubles one faces in life and makes it simple to carry out further in a successful way. It combines the powers of the divine mother Maa Durga in the devotees' life.
Ma Durga is worshipped in this Maha Durga Yagya in order to please her. She then blesses the individual with plenty of positive energy and achievements in life.
Having felt miraculous benefits of Maha Durga Yagya, some of our regular patrons, who are at the helm of affairs, order this Yagya at the regular intervals. This highly potential Yagya especially when done during auspicious times is chosen for this Yagya and become more potent and is able to give astounding results.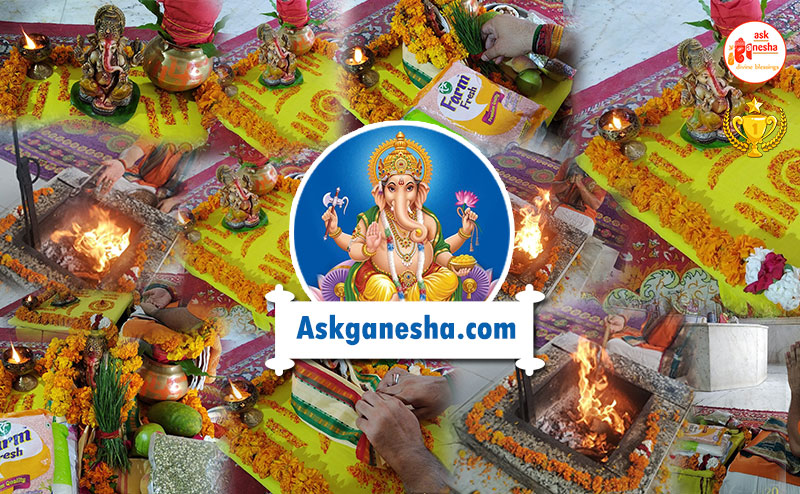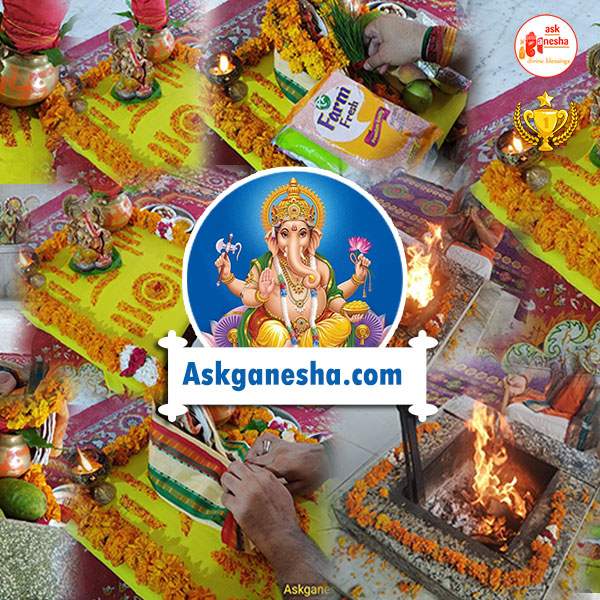 Online Puja Highlights
Free Mahurat Calculation by Astrologer
Puja is done in Vedic form with no side effects on anyone.
Personalized Puja and Homam done only for you.
Real proof of the puja done is also sent to you.
Puja done by Well Versed Experienced Purohits
View Pictures of Maha Durga Yagya


Read Customer Reviews
I ordered a Maha Durga Yagya for resolving the family tensions that were building in my home. AskGanesha astrologer helped us and suggested us to go for Maha Durga Yagya as our problems could be due to some evil eye on the happiness of our family. However, after doing this Yagya, I myself could feel the peace coming back in my family and we also further followed the Vedic remedies given by them. I will consult AskGanesha only in the near future for any problem.
By Ramesh Sharma, Business man, Gurgaon
My husband was behaving very strangely ever since he came back from his off campus training in some remote village. I was worried as he has lost his appetite and was always tired or suffering from headache. He even took leave from office for few days which was very strange as he was a workaholic and always cheerful to go to work. So, that's when my friend suggested me that it could be due to some black magic that his life is disturbed. By performing the Maha Durga Yagya through AskGanesha I was relieved and gradually my husband came back to his normal self and we are a happy family again. Thanks to AskGanesha and their Purohits.
By Jyoti Pundir, Housewife, Delhi
Why People Trust us!
Our Mission: Divine Blessings for Everyone
The 5E's of ASKGANESHA "Experience, Excellence, Entrusted, Ease of use and Evidence"
Experience: Askganesha has a very experienced team which have been serving people for more than 30 years. Our team members are well qualified and are highly knowledgeable. We have been listed on BBC too. We really care about our customers. That's why we always do our best to make your experience with us as pleasant as can be. We put our complete efforts to provide you the best astrology services.
Excellence: We provide excellent customer support. Our after sales service is considered to be our strongest point and we take pride in being one of the best in it.
Entrusted: Our Customer trusts us. They are sure that all their details and inner thoughts will be kept totally confidential .They know deep in their heart see us as unique, highly helpful, highly reliable and highly knowledgeable. We always put the customer first and keep everything confidential.
Ease of use: Askganesha is customer-centred astrology portal with easy to use UI. We take pride in ourselves for making it customer oriented. Our services have put us in a realm that is above and beyond our competitors.
Evidence:Why not take a look at what other customers have to say? We have testimonials on almost all our pages, full of praise and thanks. We have tons of satisfied customers worldwide.
Apart from this we have multiple secure payment options: You can pay for your order directly with your credit card, debit card, net banking or through PayPal. We use high security standards so that your details are always safe.
Once you have taken services from us you will look no where else.
God Bless You.
100% Guarantee
We provide 100% proof of the puja done. We have clients getting pujas done from the last many years. We assure you pujas are done in the best possible vedic process.
Details of Maha yagya
Mahayagya is a kind of Pooja that requires a havan kund and continous fire lighting which continues for long duration of days usually ranging from 7 to 21 days that requires the presence of more than one priest. Those taking part in the Mahayagya seeks the blessings of their gods/goddesses. Mahayagya can be performed to get relieved from any kind of problem or to ensure overall prosperity.
Mahayagya Vidhi Vihaan
Avahaan
This is the first step of the Vidhi. In this step, the priests performing the yagna welcomes Lord Ganpati and other Gods and Goddesses through mantra chanting. This is an important part of the yagya as it builds the strength of the yagna and pooja. Avahaan is an attempt to invite the Lords to honour the yagna.
Stapana
Sthapana is the second step wherein the priests performing the yagna/Yagya, installs the statue or photograph of the deities for whom the Yagya is being perfomed. This step comes once the priests successfully invites the Lords to the Pooja through Mantra Chanting. This step is crucial as the statues installation builds the foundation for the various holy offerings to be performed.
Flower offering
This is an aesthetic step which brings us closer to the yagya. In this procedure, the priests and the attendees offer flowers to the dieties' statues or photographs. Offering flowers in the feet of the Gods/Goddesses is a kind of showing affection and respect towards them. It is an act of pleasing the deities.
Archana vandana
Archana vandana begins after the priests and attendees have offered flowers to the deities. In this step, the priests and attendees offer prayers to the installed deities. They praise the Lord and thank them for all that the almighty have blessed them with and also seeks forgiveness for their sins. They also put forward their wishes and ask the Lords to fulfil them.
Aarti
Aarti is the next step in the procedure. Aarti takes place in the front of the deities. It can be performed solely by the priests, also the attendees are welcome to take part in it. In this ceremony, the priest has a tray with lighted oil diyas, burning essence, bell, a water vessel, flowers and some offering of food. This step consists of all four elements of which the world is made that is Fire, earth, water and air. The priests and the attendees sing praises of the Lords while doing rounds of the burning diyas and ringing the bell simultaneously.
Prasad offering
In this step, the priests offers the deities, some kind of sweets and fruits in the form of Prasad which is distributed among the members participating in the yagya at the end of Pooja/Yagya. Usually Prasad can be in form of 'chappan bhog' meaning 56 different kinds of sweet and salty eatables that the deities are known to relish.
Beejmantra Yantra Prathista
In this step, a Yantra is placed near the havan kund and the deities. The priests chant the holy mantras known as Beejmantra to please the Lords. The Beejmantra is chanted with the purpose of energising tha yantra. The yantra, then, can be used to remove any kind of problem for which the Yagya is being performed or to fulfil the wishes at hand.
Yagya Aahuti Mantra Jaap
This is the last and the most crucial step in the Yagya Vidhi Vidhan as it goes on for days. In this step, the priests continuously chant mantras and offer Aahuti in the havan kund with the purpose of praising and pleasing the Lords. Yagya Aahuti Mantra Jaap goes on for long duration.