Muhurat (Mahurat) Report
Important work should be started in an auspicious calculated time: Muhurat - which helps in better outcome. We, at Askganesha, calculate precise auspicious Muhurat for any important event of your life. The events for which people reach out to us for the Mahurat are Marriage, Travel, Start of business or job, Filing of Applications, going for treatment, Entering into new house, buying of vehicle etc. You too can get the cosmic energy in your favour by starting the work in the auspicious time. By clicking the button below you can request the Mahurat Report to help you get started on the right time.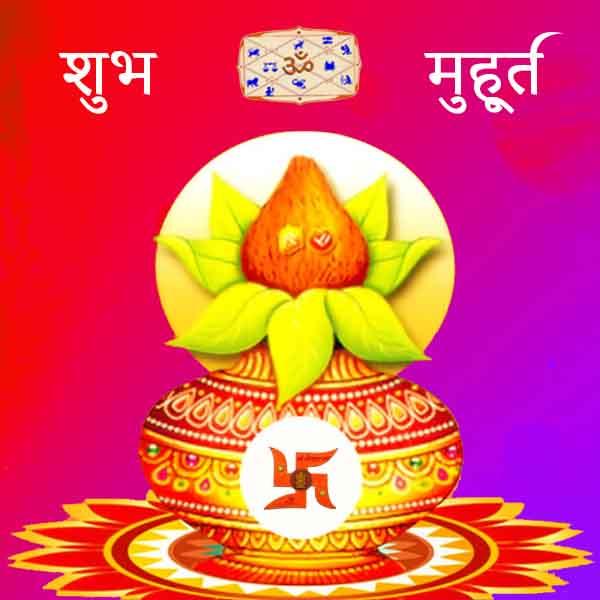 Highlights
Manually prepared by Expert Astrologer with over 25 years of experience.
Simple and Easy to understand
Additional Benefit: Includes Service worth Rs. 600 for FREE.
Vedic remedies (solutions) are also suggested.
Free Delivery on E-Mail
All data is kept confidential.
Read Customer Reviews
The astrologer of this website has been very kind to me, I have spoken to him personally many times and also I have availed their reports like mahurat and property which has helped me a great deal in my career.
By Shivanya Sinha, interior designer, Ghaziabad
I really believe in God and also believe that there is a right time to do some things. So I believe in mahurats as well. With the help of the mahurat report provided by this website, I can plan my events accordingly and manage them in a blissful manner.
By Varun Jindal, event manager, Ludhiana
About Muhurat (Mahurat) Report
Muhurat is also popularly known as electional astrology. It is simply the auspicious time for you to take up a new endeavour. It is the standard analytical method used by Vedic astrologers to decide the auspicious time for numerous celebrations.
Muhurat varies from individual to individual and also work to work. What might be ideal for a person, might not be appropriate for the other person. This is simply because of distinct birth times & different type of work. For instance, Muhurat for sale of car is not going to apply to commencing of a new company.
Trying to Find out the BEST TIME for your most IMPORTANT EVENT
Expert Astrologers at AskGanesha.com calculate the Muhurat for a specific occasion by keeping in mind the following six elements
This report will provide you
Horoscope of the person who is involved & who has to execute the activity.
Activity which is to be carried out
Planetary position
Lunar day
'Nakshatra' during the period it is to be performed
The length of time of the activity
Mahurat is especially necessary for effortless flow of cosmic powers to achieve success from the very beginning of the activity. It is fundamentally going with the transit of beneficial stars. The Mahurat Report will give every detail necessary to begin a fresh undertaking for you to ensure a bright future for the activity.
The different kinds of Mahurat Reports which people usually ask for are:
Marriage
Education
Giving Interviews
Joining a New Job
Employment
Speculation
Starting of Business
Purchase of a Machine
Partnership
Applying for a Visa
Travel
Greh Parvesh (Entering into a new house)
For Purchase and Construction of Property
Purchase of a Vehicle
Filing a Legal Case
Taking Medicine
Surgical Operation
Find out the most auspicious day, time or date for your important occasions. Get an insight into the actual significance of Muhurat.
We will try our level best to answer your queries & provide you the best astrological guidance.
This report will include:
Recommendations of the best Muhurat
Special time frame for the occasion
Do's and Don'ts
Recommendations of astrological remedies
Any query related to the report within 30 days of delivery will be answered free of cost.
Simple and Easy to understand
Extra Benefits : Free Service worth Rs. 600.00 + Free Delivery (on E-Mail)


Read Customer Reviews
It was best decision in my life to consider consulting askganesha.com. I consult it every time before getting in to any new deal or event. Ever since I started using it, I have not faced setback and I would continue using it.
By Dharamesh Chapolia, businessman, Najirabad
This website has helped me from time and again to decide the most auspicious period or what they call it, mahurat which is very shubh and perfect. With its help, I am able to carry all my ventures with the blessing of Babaji.
By Sanjay Rajput, businessman, Rohtak
I bought my house and went to a pundit for the auspicious time to inaugurate it, the time that they suggested could never be achieved as one or another problem kept cropping up. I ordered Mahurat report and that time suited us well
By Shilpi Kalra, housewife, Noida