Marriage Report
All your questions related to marriage and married life get addressed here. For those who are unmarried this report covers the Marriage timing and future married life. And for those who are already married this report covers future married life and also any marital life issue questions are also answered. Get the right guidance on marriage by our expert Astrologer.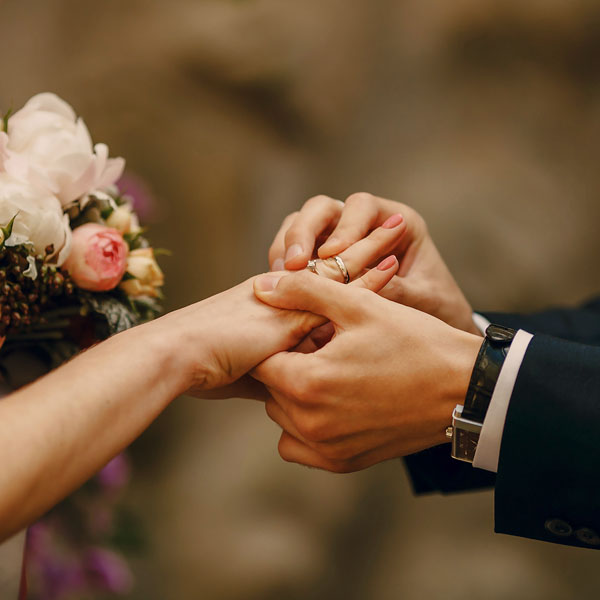 Highlights
Manually prepared by Expert Astrologer with over 25 years of experience.
Simple and Easy to understand
Extra Benefits : Free Service worth Rs. 600.00
Vedic remedies (solutions) are also suggested.
Free Delivery on E-Mail
All data is kept confidential.
Read Customer Reviews
No need mentioning they are so good. They told the perfect time to get marriage and when the right person will meet you. They are so good. They told that which person is best for me and when will I meet them
By Rajat Sharma (businessman)
I am so grateful to God that I got to know about this website and consulted them for my marriage. I was in love with a boy who was younger to me and my family was strictly against them because they think that my marriage will not succeed with a younger man to me. But when I consulted them, they told me how our horoscopes matched so perfectly and our bond is so strong that age gap is a very petty issue to be considered
By Isha Dawar (housewife)
About Marriage Report
Marriage is probably the most important decision of your life.
A marital relationship is not merely about love. It is also about giving, sharing, sacrificing, adjusting, in-laws, and babies! Matrimony is coming together of two individuals, from different backgrounds and upbringing, to live together and raise up a family in a world of their own.
IF YOU ARE UNMARRIED
Know the finest period for getting engaged or married.
Learn all about your Marriage, Married Life and Relationships.
Find out whether you will get married to the person of your choice.
In the event that you are required to make a choice, who should you choose?
What would be the best way to know which one is right for you?
Discover whether you and your would be spouse are compatible or not.
When will you get married?
Why are you encountering delays in marriage?
Are you apprehensive about your married life?
Will you have a love or an arranged marriage?
Uncertain whether to make a commitment or not?
Is there indication of extra-marital affair?
Are there chances of your engagement falling apart?
Will you remain a bachelor whole of your life?
IF YOU ARE ALREADY MARRIED
Do you wonder whether you will have a compatible and happy marital life or not?
Do you enjoy complete marital Bliss?
Will your partner's horoscope has indication of extra-marital affairs?
Is your partner cheating you?
Will you have children in future? When?
Is there any chances of divorce or sepration?
Should you wish to be aware of the fluctuations within your marriage, or perhaps best or toughest period of your marital life opt for the Marriage Report.
Astrologers at AskGanesha.com can help you to identify the favorable as well as unfavorable phases of your life. Plus, you also provide details of your partner, our astrologer could then co-relate the two horoscopes. Thereby exposing areas of love and discord between the two of you and provide an overall view to help you take pleasure in the happy times & rise above the bad ones.
For providing you most beneficial solutions, we also recommend unique remedial steps to fix your current marriage related issues. While analyzing your astrology report due attention is put, and unique effective and affordable remedies to sort all kinds of marital problems are suggested. Each of our remedies are safe and deliver the desired benefits.
Your every possible question is going to be clarified from your personalized Marriage Report. In case, you have any specific queries associated with relationship which are not included in the previously mentioned points, you can also ask our experienced astrologers.
IF YOU ARE ALREADY MARRIED BUT EXPERIENCING DIFFICULTIES
Will you get a divorce?
Will you be able to remarry?
Is your spouse cheating on you?
Such Inquiries can also be addressed appropriately in your Marriage Report.
We keep completely confidentiality.
Contents of the Marriage report:
Vedic Lagna horoscope
Astrological details of your horoscope
Houses effects concerned with Marriage/Married Life
Effects of specific planets.
Evaluation of Divisional Vedic Charts
Emotional Weaknesses and strengths
Exclusive comment on your married life
Periods associated with harmony and discord
Promise of children in horoscope
Timing of children
Dasha Assessment in relation to marriage (15 years.)
Yantra suggestions
Suggestion of astrological vedic remedies
Any query related to the report within 30 days of delivery will be answered free of cost.
Simple and Easy to understand
Extra Benefits : Free Service worth Rs. 600.00 + Free Delivery (on E-Mail)


Read Customer Reviews
Tried their marriage report once as I was facing problems in my married life. Though I have a very nice life partner but our thoughts seemed to take different directions always. I had an arranged marriage and at times I thought of divorcing my husband. Then I talked to the astrologer of askganesha.com. my problems started to vanish because of their advised pooja.
By Tanya (software engineer)
I m a 35 years old woman. I cudnt get married till I was 33. I consider consulting this website as I cudnt get married. I m happily married now just because of their help.
By Meena Vasudeva (designer)
Very good website looks like it is designed to handle problems of all humankind. must try.
By Anonymous