Maa Uma Maha Anusthan
This Maha Anushthan is done for bringing in love and affection in one's marital life. This anushthan with marital bliss and support of one's life partner.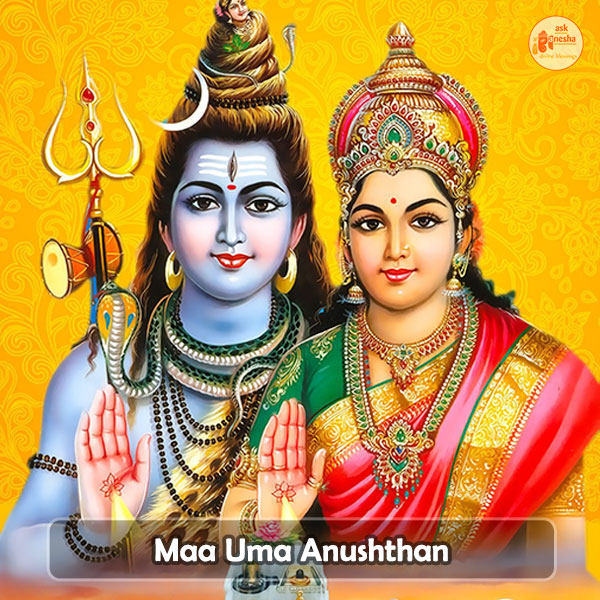 Benefits of Maa Uma Maha Anusthan:
This Anushthan has helped many to resolve the problems in one's married life.
Maa Uma Maha Anushthan is for early marriage and happy married life.
For marital bliss along with the boon of a Husband like Shiva.
For longevity of the marital relations this puja is done.
This Anushthan helps in reuniting with a separated partner.
Read Customer Reviews
Same goes for me, my sister reena recommended me to avail the service of this website. I approached this website and told them about the ongoing problems in my married life, they took the note and adviced me to perform Maa Uma Anushthan, I paid them to get it done and now all my problems are solved.
By Tareena seth, housewife, Delhi
When I got to know the price of this Anushthan, I was shell shocked but then I cross checked with the purohits, and they told me even an amount which is double, so basically they are charging a very reasonable amount and the effects and benefits of the Anushthan are amazing. It is a must try if any of you are facing problems in married life.
By Sameer Reddy, Model, Mumbai
About Maa Uma Maha Anusthan
Maa Uma is the name of Goddess Parvathi who is the consort of Lord Shiva. Uma is considered to be the Supreme Power that is also known as 'Prakriti' or'Shakti';the power who creates this world. Goddess Parvathi is also known as Sati or a chaste, dutiful wife who loves her husband beyond measures. She is the epitome of sacrifice and devotion in the married life. People having trouble in their marital life are often suggested to do this anushthan to seek the blessings of Maa Uma for marital bliss. Maa Uma blesses her devotees with love, content, and satisfaction in their married life. Anushthan is a worship of a higher order in which special benefits are accrued.
Maa Uma Maha Anusthan is an 11 days process in which each day puja and hawan are done. This Anusthan has helped many to resolve the problems in one's married life.
The Maa Uma Maha Anusthan is an 11 days process in which daily special ritual puja, hawan, donations, chanting of special mantras for marital bliss along with energizing of Yantra and special incense sticks is also done. The Yantra, incense sticks and vibhuti would be couriered to you after the completion of the Anushthan which you can place in your home and would help you by creating a positive aura.
This Anusthan is done by well versed and highly experienced purohits. You too can get this performed for the fulfillment of your desires.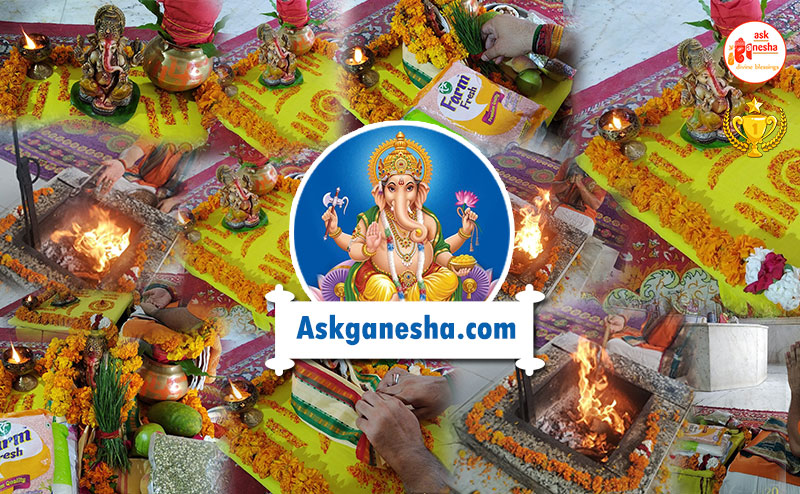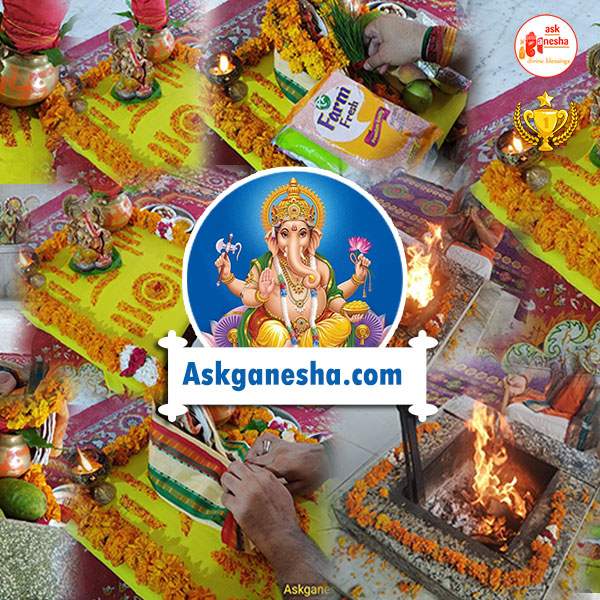 Online Puja Highlights
Free Mahurat Calculation by Astrologer
Puja is done in Vedic form with no side effects on anyone.
Personalized Puja and Homam done only for you.
Real proof of the puja done is also sent to you.
Puja done by Well Versed Experienced Purohits
Maa Uma Maha Anusthan - Youtube Video
View Pictures of Maa Uma Maha Anusthan


Read Customer Reviews
This puja has benefited me in a way that all the problems from my marital life shooed away like magic. Day by day there were only fights and misunderstanding between me and my wife. After this puja, both of us felt a strong connection and better vibes between us.
Vaibhav Sharma, teacher, Himachal
Hi all my name is Neeraj and I am from Delhi, I would like to share my wonderful experience with you all regarding this Puja which Askganesha.com can perform on your behalf and it takes a lot of time and patience. I was facing some rifts with my wife in my marital life. I did not see any solid reason for that and wanted it to end. I took the advice of Askganesha.com's Astrologer and got Maa Uma Maha Anushthan Puja performed by Askganesha.com. They did it and it actually proved very good for me and my married life.
By Neeraj pandey, Engineer, Delhi
I and my mom are true devotees of Lord Shiva and my mom heard it from somewhere that Maa Uma Anushthan helps a woman acquire a nice husband. We got this puja performed from Askganesha.com as we have availed the services of this website earlier as well. My marriage blessed me with a decent and understanding husband like Lord Shiva.
Roop bhandari, Marketing Manager, Bangalore
Why People Trust us!
Our Mission: Divine Blessings for Everyone
The 5E's of ASKGANESHA "Experience, Excellence, Entrusted, Ease of use and Evidence"
Experience: Askganesha has a very experienced team which have been serving people for more than 30 years. Our team members are well qualified and are highly knowledgeable. We have been listed on BBC too. We really care about our customers. That's why we always do our best to make your experience with us as pleasant as can be. We put our complete efforts to provide you the best astrology services.
Excellence: We provide excellent customer support. Our after sales service is considered to be our strongest point and we take pride in being one of the best in it.
Entrusted: Our Customer trusts us. They are sure that all their details and inner thoughts will be kept totally confidential .They know deep in their heart see us as unique, highly helpful, highly reliable and highly knowledgeable. We always put the customer first and keep everything confidential.
Ease of use: Askganesha is customer-centred astrology portal with easy to use UI. We take pride in ourselves for making it customer oriented. Our services have put us in a realm that is above and beyond our competitors.
Evidence:Why not take a look at what other customers have to say? We have testimonials on almost all our pages, full of praise and thanks. We have tons of satisfied customers worldwide.
Apart from this we have multiple secure payment options: You can pay for your order directly with your credit card, debit card, net banking or through PayPal. We use high security standards so that your details are always safe.
Once you have taken services from us you will look no where else.
God Bless You.
100% Guarantee
We provide 100% proof of the puja done. We have clients getting pujas done from the last many years. We assure you pujas are done in the best possible vedic process.