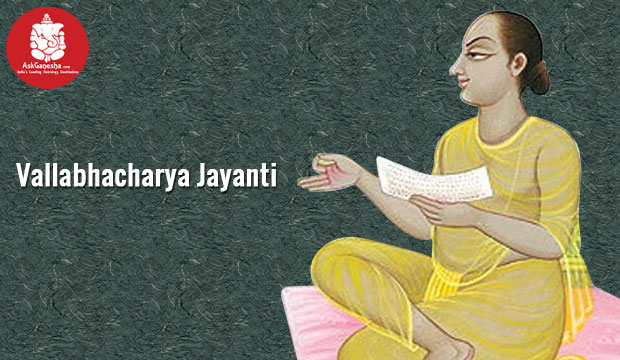 Vallabhacharya Jayanti Date & Mahurat
The upcoming schedule for Vallabhacharya Jayanti is on dates: 01 January, 1970
About Vallabhacharya Jayanti
It is believed that the reason behind the celebration of Vallabhacharya Jayanti is that on this day, Lord Krishna was seen by Vallabhacharya in the form of Shrinathji, who is said to be the founder of Pushti Sect. Vallabhacharya Jayanti is observed on the Magh Shukla Paksha Pratipada.
Lord Krishna is the supreme personality and blessings received by Lord Krishna could help any human being to attain Nirvana. Therefore, offering prayers to Lord Krishna in the form of Shrinathji was initiated and explained by Vallabhacharya. He was one of the most popular saints who belonged to Vaishnava Sect. Because of this very information, Vallabhacharya Jayanti is celebrated with great passion and love every year by the followers of Shri Vallabhacharya and Lord Krishna alike. He was the founder of Pushtimarg or Pushti Sect.
On this festival, perform Lord Krishna Puja
Personalized Puja and Homam done only for you
Free Mahurat Calculation by Astrologer
Puja will be done with right vidhi vidhan through experienced purohits
Vallabhacharya taught Shuddhadvaita School of philosophy and it states that Lord Krishna is responsible for all living and non-living and by His blessings a human being is able to attain Moksha-mukti
Legends of Vallabhacharya Jayanti :
Legend associated with Vallabhacharya Jayanti says that one day; Shri Vallabhacharya was going towards North West part of India. There he noticed a unexplainable phenomenon near Mount Govardhan. He saw a cow that was shedding milk daily on one particular spot daily in the mountain. By digging that place, the idol of Shrinathji was founded. So, it is said that Lord Krishna gave a hug to Vallabhacharya and gave him a sight in the form of Shrinathji.
Vallabhacharya, by some people is believed to be the incarnation of Lord Agni. The devotees of Vallabhacharya worship Bala Krishna or Young Krishna and this festival is more popular amongst them only .
Traditions of Vallabhacharya Jayanti:
On this festival, temples and religious places are enhanced with flowers.
Lord Krishna's Abhishekam is done early in the morning. After the Abhishekam, the day is followed by his Aarti.
Devotional songs of Lord Krishna are sung.
Images of Lord Krishna are kept on a rath and a type of Jhanki and are rotated towards every home in the streets of the followers of Shri Vallabhacharya.
Lastly, Prasad is offered to the devotees of Lord Krishna. The mythical workings of shri Vallabhachara are commemorated and praised on this day. These are written and available both in Brij and Sanskrit language. Devotees are made aware of His teachings. The day is celebrated with great passion and fervour.