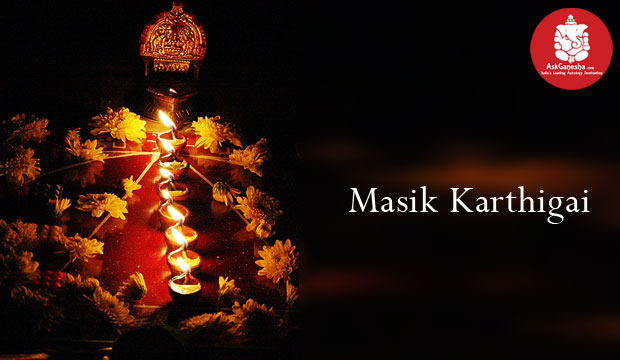 Masik Karthigai Date & Mahurat
The upcoming schedule for Masik Karthigai is on dates: 30 October, 2023
About Masik Karthigai
Masik Karthikgai is celebrated every month mainly by Tamil Hindus. This day is dedicated to the supreme Lord Shiva. People lit up their houses and streets with oil lamps i.e. Deepam in the evening.
Karthikgai Deepam takes it name from Nakshatra Karthikai or Krittika
On this day, Lord Shiva converted himself in an endless flame of light to prove his supremacy to Lord Vishnu and Lord Brahma.
Karthkgai is observed every month but the most important and significant day falls in the month of Vrischika.
Karthikgai festival in Thiruvannamalai hills is very popular. Huge fire lamp is lit here which is visible to several kilometres around the hills. Devotees come here to pray Lord Shiva and seek his blessings.
The legends which are associated with the festivals are:
Fight for supremacy among the trinity "Brahma, Vishna and Maheshwara"
Birth of Lord Karthikeya also known as Lord Muruga, Subramanya, Shanmuga etc. (Son of Lord Shiva)