Kalashtami or Bhairava Ashtami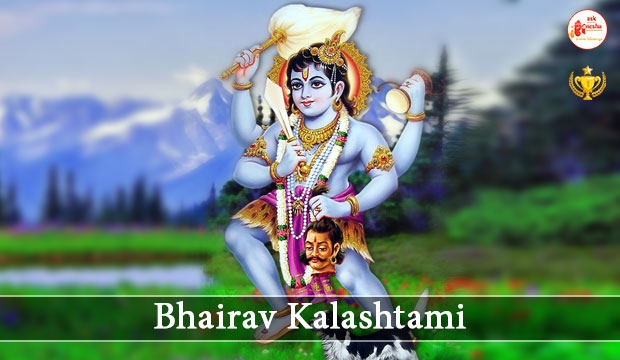 Kalashtami Date & Mahurat
The upcoming schedule for Kalashtami is on dates: 06 October, 2023
About Kalashtami or Bhairava Ashtami
Masik Kalashtami or Bhairava Ashtami is observed every month during Ashtami Tithi of Krishna Paksha. Devotees offer praying to Lord Bhairav and also keep fast on these days to seek blessings from the Lord. This puja helps to reduce the obstacles, barriers and hurdles and also remove sorrows, unhappiness and miseries from lives. You too can benefit from the Lord Bhairav Puja.
On this festival, perform Lord Bhairav Puja
Personalized Puja and Homam done only for you
Free Mahurat Calculation by Astrologer
Puja will be done with right vidhi vidhan through experienced purohits.
Kal Bhairav Story
Kal Bhairav is an incarnation of Lord Shiva. There was a day when Lord Brahma and Lord Vishnu had an heated argument about their greatness. At the very moment, a large Agnilinga appeared in front of them. They both struggled to see the ends of the Linga but couldn't see it. In that case, Lord Brahma lied to Lord Vishnu that he saw the ends and Lord Vishnu eccepted his failure for not seeing it. And then, Lord Shiva arrived their and asked Lord Brahma to not to lie but Lord Brahma didn't realize his mistake and moreover insulted Lord Shiva. Lord Shiva couldn't resist and created Kaal Bhairav to punish him. Kaal Bhairav on that note cut the fifth head of Lord Brahma and Lord Brahma soon realized his mistake about lying to Lord Vishnu. Lord Brahma asked for an apology and Lord Shiva being kind, accepted the apology and left. Lord Brahma and Lord Vishnu resolved their fight and regained knowledge and left their pride and ego
Kal Bhairav Puja
Kaal Bhairav Puja is performed to attain success and prosperity in life and get rid of obstacles and barriers coming in the way. Puja is performed on the eighth day after waning moon. Mantras are chanted as rituals and also, food is donated to the poor, stray dogs are fed, bananas to cow are fed.
Kal Bhairav Puja Benefits:
To seek blessings of Lord Shiva
To get protected from the negativities, illness and disease
To have a smooth living.
For getting wishes fulfilled
Kal Bhairav Mantra for recitation on Kalashtami
"Hrim vatukaya apadudharanaya kuru kuru batukaya hrim"
"Om hreem vam vatukaaya Aapaduddharanaya vatukaaya hreem"
"Om Hraam Hreem Hroom Hrime Hroum Ksham Kshetrapaalaaya Kaala Bhairavaaya Namaha"
This is the most powerful way to please God Kal Bhairav and seek blessings.
To get the best results, one should chant Kalbhairav Mantra early morning after taking bath and in front of God Kalbhairav Idol
Kal Bhairav Yantra
Lord Kalabhairava helps in seeking blessings by worshipping through Kalabhairava Yantra on ocassion of Kala Ashtami. The positive powers of this Yantra will sharpen your skills. This is a strong medium to connect to the Lord Kaal Bhairav and to achieve goals quickly. This brings good luck and eliminates negativities and black magic.