Remedies for Early Marriage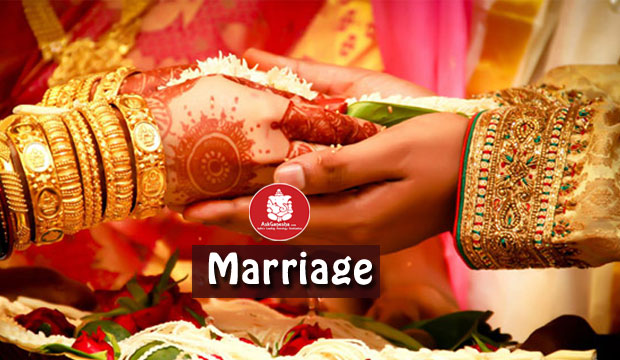 Here, we are talking about the problems that are being encountered and causing delay of marriage. Everyone wishes to be married young or to be married at the right time. Due to delay in marriage, young people have to face many problems. If there is any flaw in the horoscope of any young man and daughter, then there is a possibility of delay in marriage or problems arising after marriage. In astrology, there are simple solutions for early marriage . All astrological remedies like fasting, mantra, and religious remedies can be done to overcome delay in marriage.
The reasons behind late or delay in marriages :
Often, there is such yoga in the horoscope that creates the problem or trouble in getting married, despite of having done lots and lots of yagnas and remedies. The problem are such that they are deprived of the happiness of marriage, hence for example like the manner in which a physician is able to identify his patient before correcting any patient It is important to know the reason for the delay in marriage or the reason for not getting married. Let us know from the astrological point of view why marriage are delayed before discussing the marriage arrangements.
Mangal Defect/ Mangal Dosh: It is important to check Mangal Dosha deeply in the horoscope if it is the actual cause of delay in marriage or not. Sometimes, Mars is good for marriage and traditional astrologers just see Manglik placements and start blaming Lord Mangal for the marital issues. Even few astrologers comment that "If the person has got married in spite of Mangal dosh then there are chances for discord in the marriage, hence the marriage between two manglik's is a probable solution here, as it will reduce the effect of Mangal defects". Inspite of such myths, a good astrologer must look planet Mars in detail and check if Mars is really creating difficulty in marriage or not.
Saptamesh's strength : If the owner of the seventh house in horoscope of the person is having connection with weak houses like 6, 8, 12 etc. then its effect could create delay in marriage of the person.
If the planet Jupiter is weak : If Jupiter in the horoscope is suffering from evil planets, if it comes in the influence of the Saturn, or arrive in malefic Nakshtras, the person will have to face the problem in marriage and married life.
Venus being in debilitation sign : If the planet Venus is weak in the horoscope of horoscope, then person has to face lack of pleasure in sexual life but a good astrologer needs to check planet Venus properly if it is placed in good Nakshtras or not.
The Navamsha Horoscope: : According to astrology, this horoscope can be accurately tells quality of married life along with life partner of a person. If a person has a defect in this Navamsa horoscope then obstacles will arise in the marriage of the person.
Solutions for quick/ early marriages :
In astrology, there is a solution to every problem of human beings. It has also been given measures for early marriage which are as follows :
Unmarried people get married soon after reading the Argalastram from Durga Saptashati everyday.
Worship energized Venus (Shukra) Yantras.
As a means of early marriage, worship Ganesh ji and worship them with sweets (laddus). Doing this, obstacles coming in the way of marriage go away, while worshiping Ganpati Maharaj one should take the help of Malpua.
Establish idol of Lord Krishna at the place of worship for prompt marriage.
On each Thursday put a pinch of turmeric in the water and take bath. This leads to the success of marriage.
Saffron should be consumed in the food; doing so may have the possibility of getting married early.
Always respect people who are older to you. By doing this, you receive their blessings.
Burn the lamp of pure ghee in front of the banana tree on Thursday and pronounce 108 mantras for Lord Jupiter.
Wearing of Gauri Shankar Rudraksha is also recommended for speeding the marriage process.
On wedding day, wrap the turmeric lump in a yellow cloth under pillows. By doing so, the quick sum of yellow hands becomes yellow.
Boys of marriageable age should draw women pictures with different colours and the girls in marriageable age group are advised to make a picture of men in red for three months daily on white paper.
If the boy's wedding is delayed, donate earthen pots filled with mushrooms This will make the boy marry soon.
Pray to God early before sunset
Do not keep iron objects and junk etc under your bed.
On a full moon night, 108 parikrama of a Banyan or Vat tree will full fill the desires of early marriage this is considered to be a good way of prompt marriage.
If the unmarried girl goes to the marriage of another girl, and there is mehandi being applied and if the mehandi from the bride's hands touches the unmarried girl then the prospects of marriage is seen very soon.
It is said that the worship of Shiva-Parvati fulfils the desire of early marriage; therefore the unmarried people should be anointed with Shivling's raw milk and should worship by offering Bel Patra, Akshath, and Kumkum etc.
On Monday, donate gram dal and raw milk and this experiment should continue till the person gets married.
The remedies for people with Manglik dosh
Chanting of mantra with correct pronunciation brings happiness, love, prosperity and peace. You can chant following mantras:
Read the Sundar Kand every Saturday.
Manglik boys should give vermilion to Hanuman ji on Tuesday
Manglik boys / girls colour their room with red / pink colour.