Saraswati Yantra
This yantra is used for brightening the intellect, memory power, grasping power, concentration, and for getting success in the field of education, especially higher education.
Benefits of Saraswati Yantra:
This yantra is used for brightening the intellect, and memory power.
It helps in attaining better understanding, grasping power, and concentration.
Maa Saraswati Yantras blesses one with success in the field of education, especially higher education.
It helps beget creativity, artistic expressions, spiritualty, and knowledge.
This yantra removes the negative thought process and produces positivity in thoughts.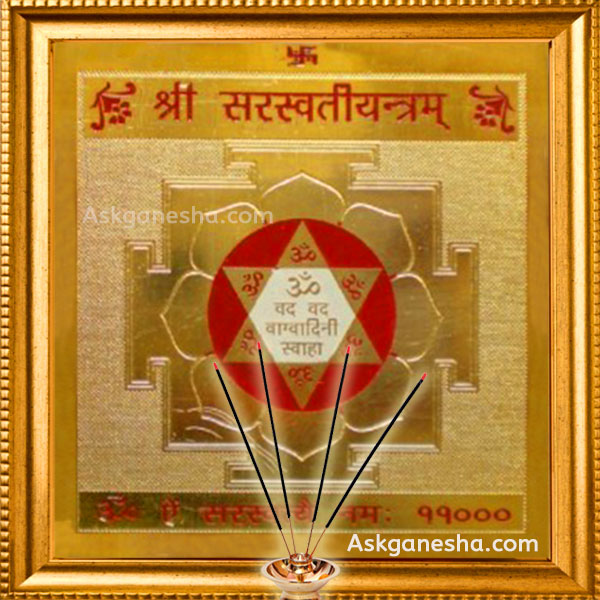 Read Customer Reviews
I ordered Saraswati yantra from Askganesha.com at the time when I was preparing for my IFS exam. My written skills were really poor and I wanted to improve, my frnd praised Saraswati yantra a lot so I decided to try it out myself. The yantra really helped to overcome my shortcomings and I scored good marks in exams.
By Ankush Bakshi, IFS, Trinidad
I am in to creative field and one of my frnd from the same field told me how great Saraswati yantra is. I first went on to this website and talked to the astrologer Abhishek Dhawan, who told me that this yantra will work great for me, so I bought this. It has brought out the best creative ideas out of my head and I have won many awards for the same.
By Neha Khullar, Interior designer, Ontorio
Saraswati Yantra for Knowledge, Education, Intelligence & Creativity
Goddess Saraswati is the patron goddess of learning and music. This energized Yantra sharpens intellect, improves grasping power, increases memory & concentration. It is a must for those who are dull-witted or have suffered breaks in their education, and for those who are suffering from the bad effects of a malefic Jupiter.
This Yantra ensures success in studies and high achievement in competitive examinations. It is a known remedy for mental disorders, weak intellectual growth and lunacy. Saraswati Yantra develops & increases the knowledge, understanding & appreciation of creative arts, especially fine art & music.
By constant worship of this Yantra one becomes learned, famous and praise from all. Knowledge is power. Everybody needs enhance their knowledge through various ways like academic pursuits, private study of religious/ spiritual treatises etc.
Properly prepared Sarswati Yantra, if propitiated with ardent devotion can definitely enhance the knowledge of the devotee. By worshipping Saraswati Yantra, students will perform well in the examinations. Concentration and memory power will increase. Only good thoughts will spring up form their minds.
We provide Yantras that are Energized (Pran Pratishta) by learned Purohits, by reciting the Vedic mantra of the particular Devi or Deva along with the Homa done. We provide with the Yantra the complete mantras and methodology for worshipping the Yantra.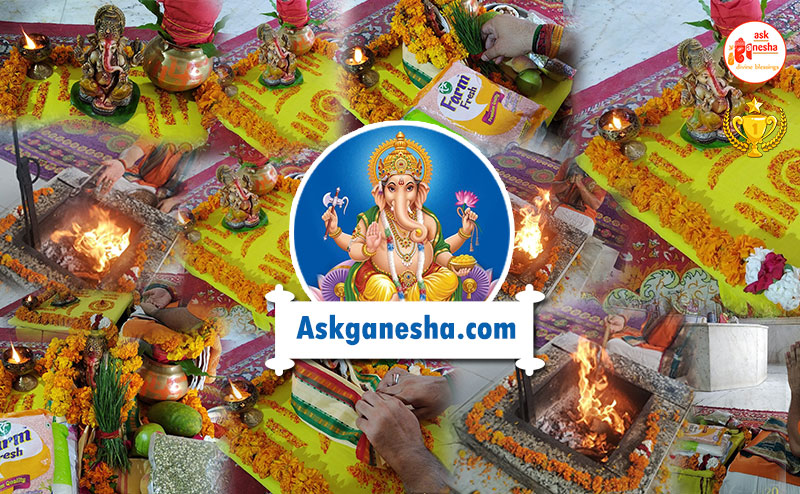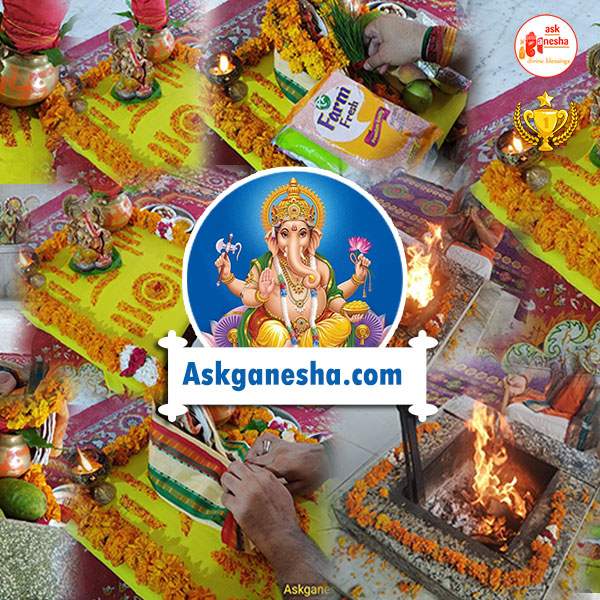 Energized Yantra Highlights
Yantra is energized by Well Versed Experienced Purohits
Free Special 30 Energized Incense Sticks included in the box
Yantra is prepared in Vedic form with no side effects on anyone.
Instructions on how to use the Yantra is also provided.


Read Customer Reviews
I am in music industry and we worship Goddess Saraswati like no other, she is the supreme for us. When my skills strted to fail, I got really restless and wanted to know how can I improve upon myself again. I then went to Askganesha.com website who gave me saraswati yantra to be installed at the place when I practice. I surely helped me to gain insight in to my failures and I found the new light of improvement again.
By Monica Tiwari, Guitarist, Kolkata
Saraswati yantra worked for me like magic. It increased my learning power and I excelled at my workplace. With the use of saraswati yantra, I performed really well in my job and even got fame very soon in my office. My superiors recognize me now. Thank you Goddess S Saraswati.
By Komal Khattar, Advertising creation head, Noida
My son is suffering from mental disorder from the time of his birth. We were disappointed as we have been to almost every doctor and pundit but no path was seen. We consulted askganesha.com and they advised us some puja and Saraswati yantra to be used. We did all what they advised. With the grace of Goddess Saraswati, my son is improving every second. Thank you Askganesha.com.
By Gautam Arora, Businessman, Bhubaneshwar
Why People Trust us!
Our Mission: Divine Blessings for Everyone
The 5E's of ASKGANESHA "Experience, Excellence, Entrusted, Ease of use and Evidence"
Experience: Askganesha has a very experienced team which have been serving people for more than 30 years. Our team members are well qualified and are highly knowledgeable. We have been listed on BBC too. We really care about our customers. That's why we always do our best to make your experience with us as pleasant as can be. We put our complete efforts to provide you the best astrology services.
Excellence: We provide excellent customer support. Our after sales service is considered to be our strongest point and we take pride in being one of the best in it.
Entrusted: Our Customer trusts us. They are sure that all their details and inner thoughts will be kept totally confidential .They know deep in their heart see us as unique, highly helpful, highly reliable and highly knowledgeable. We always put the customer first and keep everything confidential.
Ease of use: Askganesha is customer-centred astrology portal with easy to use UI. We take pride in ourselves for making it customer oriented. Our services have put us in a realm that is above and beyond our competitors.
Evidence:Why not take a look at what other customers have to say? We have testimonials on almost all our pages, full of praise and thanks. We have tons of satisfied customers worldwide.
Apart from this we have multiple secure payment options: You can pay for your order directly with your credit card, debit card, net banking or through PayPal. We use high security standards so that your details are always safe.
Once you have taken services from us you will look no where else.
God Bless You.