Swadhisthana Chakra Puja
Swadhisthana Chakra Balancing puja is done to balance the Swadhisthan or the Sacral Chakra to enhance one's energy to feel the pleasures that nurture the sense of abundance, and emotions like happiness, resourcefulness, contentment, and of being well.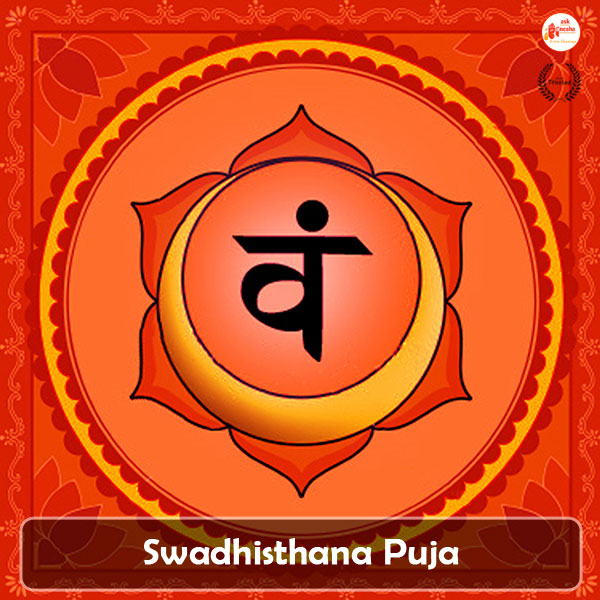 Benefits of Swadhisthana Chakra Puja :
This Puja is done for emotional stability and enhanced self-worth.
This puja helps in self-growth.
It helps in experiencing emotional and physical pleasures of life.
This puja helps in enhancing and balancing the sexual desires of a person.
This puja is instrumental in balancing sex hormones in the body and containing illness and discomforts arising due to the imbalance in the sex hormones.
Read Customer Reviews
Thanks Askganesha iss puja k lie. Meradarraurveham sab smapt ho gae, aur abb maikhull k jiwanjita hu. Mere office me bhi sab Hairanhain. Swadhisthan Puja k lie bahut bahutDhanyawaad
Atul Agnihotri, Store In-charge, Moradabad U.P.
Meri grihasti theek se nhichalrhithi. Mai hameshadarisehmirhtithi. Mere patibhipareshan the. Bahut ilaajbhikarwaya, manochikitsak ko bhidikhaya. Askganesha k khne p Swadhisthana Chakra ki puja karwaiaurkuchh hi samy me merajiwanasan ho gaya. Dhanyawaad Askganesha
Mridula Pande, Housewife, Patna Bihar
About Swadhisthana Chakra Puja
Chakras are the energy centres present inside our bodies. They perform perpetual rotational motion to trap energy inside them to later transmit it to the parts or organs that are attached to that particular Chakra or Plexus. Swadhisthana Chakra or the Sacral Plexus is the second Chakra present in our body in our pelvic region just below our naval. Swadhisthana word is made of two Sanskrit words, Swa means self and adhisthana means place of dwelling. So, in Sanskrit Swadhisthana means the place of self-dwelling or seat. This Chakra is associated with our most important emotion i.e. emotion of pleasure: physical as well as emotional pleasures are governed by this Chakra. This Chakra also governs our creativity, procreation, dreams and fantasies. This Chakra makes one richer in life with emotions and pleasures.
The Sacral Plexus is associated with pleasure, sense of oneself, relationships, and sensuality. It governs the sexual organs in one's body, so this chakra governs the act of procreation. This Chakra contains unconscious desires especially sexual desires, that are very difficult to surpass to raise the Kundalini Shakti upward from this Chakra. Many saints try to pass it but the unconscious sexual desires won't let their conscious power raise above this Chakra, so, it is a powerful chakra. It is associated with the element of water. The Swadhisthana Chakra is mostly blocked by the fear of sense or the sense of guilt.
In our physical body, this Chakra is associated with a sense of taste and with reproduction. It is often associated with genital organs, ovaries and testes, and produce hormones like testosterone and estrogen and eventually influence the sexual behaviour of the person.
People with unbalanced Swadhisthana Chakra are always full of fear, guilt, depression and stress. They cannot express them fully and are unable to taste the pleasures of life. They are emotionally unstable and lack pleasure in their life.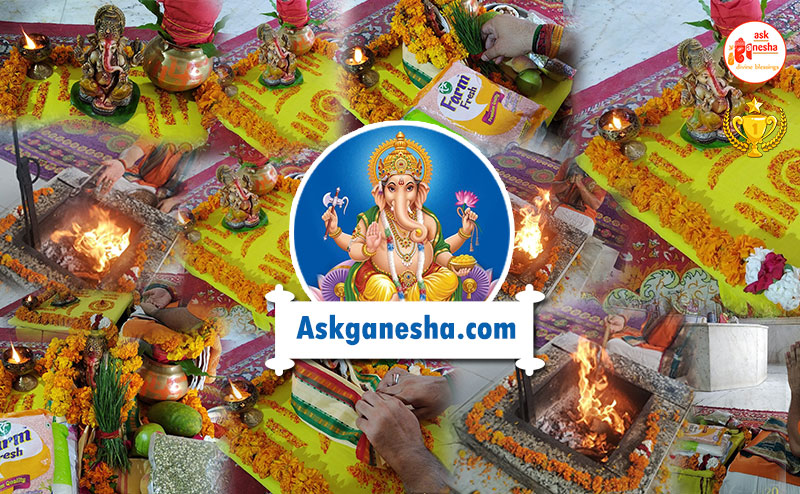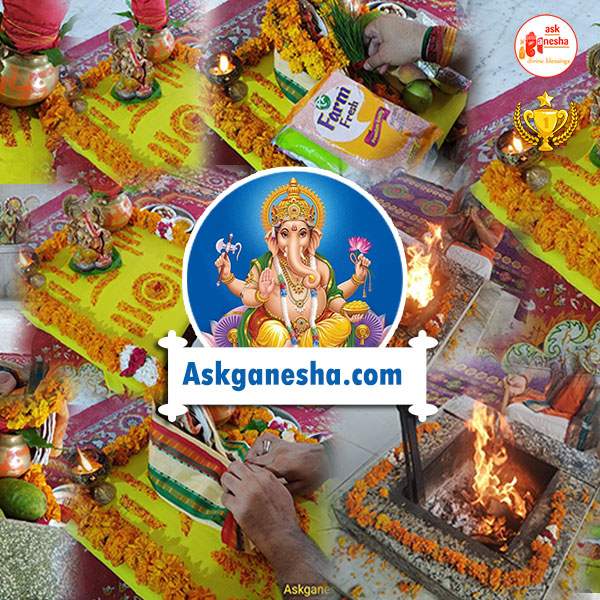 Online Puja Highlights
Free Mahurat Calculation by Astrologer
Puja is done in Vedic form with no side effects on anyone.
Personalized Puja and Homam done only for you.
Real proof of the puja done is also sent to you.
Puja done by Well Versed Experienced Purohits
View Pictures of Swadhisthana Chakra Puja


Read Customer Reviews
I have found Askganesha a very competitive, genuine, and a very reasonable website , that analyse the deep rooted problems very well and suggest perfect remedies. They had suggested this Swadhisthana Balancing Puja for my nephew which has given tremendous results. His family life is going very well now. My sincere regards to Askganesha
Ujjwal Dixit, Delhi Police, New Delhi
My life has really become interesting and happening after performing this puja. When Askganesha told me to do this puja, I made fun of it as I have never heard of this puja. Nothing helped me in my personal problem , I was very embarrassed, but even medicines did not help well. So after six months of consultation with Askganesha, I finally booked the Puja and got tremendous results. Thanks Askganesha
Vipin Mehta, Whole Seller, Nakodar Punjab
I have book Swadhishtha puja with Askganesha. I find good results of this puja. No astrologer tell me the right puja for my personal problem but Askganesha is good for telling me right puja. Thank you Askganesha
Garvit Bawa, shopkeeper, Noida UP
Why People Trust us!
Our Mission: Divine Blessings for Everyone
The 5E's of ASKGANESHA "Experience, Excellence, Entrusted, Ease of use and Evidence"
Experience: Askganesha has a very experienced team which have been serving people for more than 30 years. Our team members are well qualified and are highly knowledgeable. We have been listed on BBC too. We really care about our customers. That's why we always do our best to make your experience with us as pleasant as can be. We put our complete efforts to provide you the best astrology services.
Excellence: We provide excellent customer support. Our after sales service is considered to be our strongest point and we take pride in being one of the best in it.
Entrusted: Our Customer trusts us. They are sure that all their details and inner thoughts will be kept totally confidential .They know deep in their heart see us as unique, highly helpful, highly reliable and highly knowledgeable. We always put the customer first and keep everything confidential.
Ease of use: Askganesha is customer-centred astrology portal with easy to use UI. We take pride in ourselves for making it customer oriented. Our services have put us in a realm that is above and beyond our competitors.
Evidence:Why not take a look at what other customers have to say? We have testimonials on almost all our pages, full of praise and thanks. We have tons of satisfied customers worldwide.
Apart from this we have multiple secure payment options: You can pay for your order directly with your credit card, debit card, net banking or through PayPal. We use high security standards so that your details are always safe.
Once you have taken services from us you will look no where else.
God Bless You.
100% Guarantee
We provide 100% proof of the puja done. We have clients getting pujas done from the last many years. We assure you pujas are done in the best possible vedic process.