Sat Chandi Paath Yagya
This puja of the divine mother is done to seek happiness, longevity, prosperity, clearing of debts, fulfilling desires and attain salvation.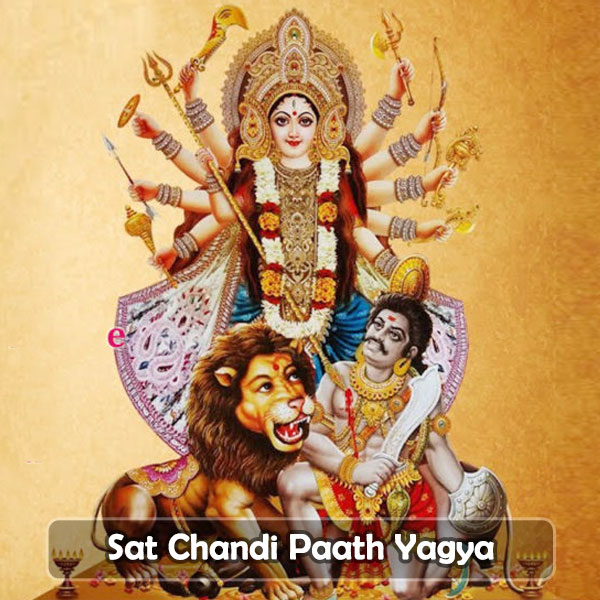 Benefits of Sat Chandi Paath Yagya:
Cleanse your body and mind and soul. The overall cleaning and cleansing of a person.
Take Sankalap: that means talk about the purpose of the puja you are going to Perform.
Ganesha Pujan: Since Lord Ganesh is the God of all the auspiciousness and all new beginning so worshipping him is a nessicity.
After Ganesh Pujan comes the Muhurat Pujan: Muhurat pujan is to remove or get rid of the sins.
Kalash Sthapana, and Panchang puja is done.
The Sat Chandi Paath begins and performed, and the Durga Saptashati is recited.
The offerings are made to the Goddess, and later those offerings are distributed to others as well.
Read Customer Reviews
I performed this yagya because I was told by askganesha.com astrologer that all the problems which are coming in my marriage will be solved. I didn't know what to do, they did all the rituals for me. After the yagya, I felt a great deal of inner peace and satisfaction in me. My marriage got materialised easily and with everyone's blessings.
Krish Bhatia, Architect, gurugram
I was in a very bad position when I decided to perform Sat chandi Yagya. My financial health was extremely bad and I was under a lot of debt. After this yagya, I rose steadily and got engaged with such projects and people that really helped me overcome my financial problems.
Karan Grover, businessman, Gujarat
About Sat Chandi Paath Yagya
It is done to please the divine mother, who is also the protector of the human kind. The divine mother is the soul and sole truth of the world, and she possesses all the powers in the world. Sat Chandi Paath Yagya when performed together, as the paath is one of the most powerful texts in Hindu religion as and when it is performed it gives blessings and benefits to all, and yagna as the fire lab cleans everything. The significance of Sat Chandi Paath Yagna lies primarily in Navratri, as a Paath and yagya of Durga Saptashati is normally performed. It is a powerful sacrificial ritual that also includes the strength of Mantra Chanting of Durga Saptashathi Paath, each day during Navratri. Sat Chandi is a unique puja and yagya as it is said to have the power of Durga Saptashathi Mantra and its recitation during the Navratri. The puja and Yagna removes all the planetary ill effects.
The auspicious time to perform the puja the Sat Chandi Paath Yagya is said to be performed on a full moon night as, it is believed that all the full moon day harness all the positive energies, when this energy is mixed with the energy of the mantras gives a positive vibes in the nature and this enables in purification of mind Body and soul.
Importance and Significance of the Sat Chandi Paath Yagya:
The Sat Chandi Paath Yagya also is The Durgasaptashati paath. It describes the victory of divine mother over the demon called Mahishasura. The main aim of the Sat Chandi paath yagya is to get attention of the Goddess and invoke her blessings, as she is the carrier of immense energy and strength that helps in conquering all the troubles and struggles of Life.
Benefits of Sat Chandi Paath Yagya:
The Sat Chandi Paath Yagya, when mantra is chanted thrice, it enables to get rid of ill and harmful effects of witchcraft.
This puja helps in removal of all doshas and obstacles that are caused due to the malefic planet.
The Sat Chandi Paath Yagya enables to get the desired boons and, protection of the Divine mother all through out.
The Puja helps in getting the desired wealth and prosperity.
Sat Chandi Paath Yagya reduces the chances of early death and increases the longitivity of a person's life.
The performance of the Sat Chandi Paath Yagya helps in getting free from cyclic- rebirth at the same time it also helps in attaining Moksha.
All the financial debts are reduced and chances to increase wealth comes from doing this puja.
Performing fire ritual, during the Sat Chandi Paath Yagya will help in getting the desires of our heart. And clean the environment and create an aura of trance.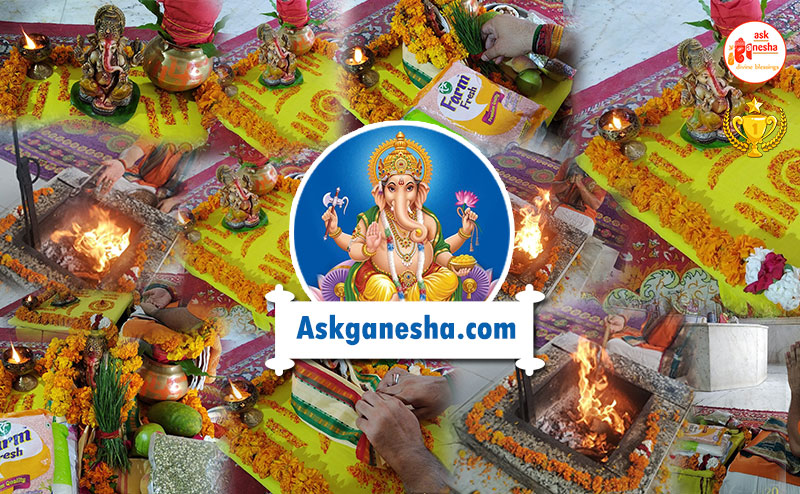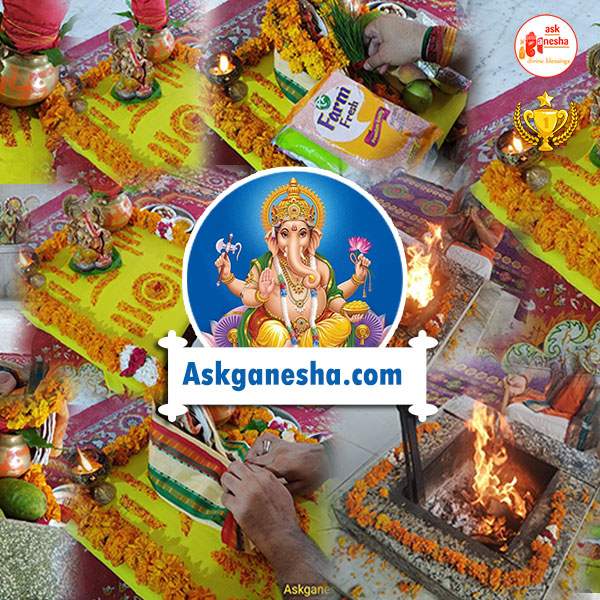 Online Puja Highlights
Free Mahurat Calculation by Astrologer
Puja is done in Vedic form with no side effects on anyone.
Personalized Puja and Homam done only for you.
Real proof of the puja done is also sent to you.
Puja done by Well Versed Experienced Purohits
View Pictures of Sat Chandi Paath Yagya


Read Customer Reviews
Sat Chandi Path yagya is beneficial to everyone who is going through a tough time and looking for a solution.
Sameera Chaudhary, housewife, Haryana
I want to thank askganesha.com again and again. They told me that this is the best pooja to get rid of my planetary dosha. They performed the pooja on my behalf and shared the energised yantra to my place. I m highly benefited by this Yagya.
Pooja Grewal, student, Chandigarh
Why People Trust us!
Our Mission: Divine Blessings for Everyone
The 5E's of ASKGANESHA "Experience, Excellence, Entrusted, Ease of use and Evidence"
Experience: Askganesha has a very experienced team which have been serving people for more than 30 years. Our team members are well qualified and are highly knowledgeable. We have been listed on BBC too. We really care about our customers. That's why we always do our best to make your experience with us as pleasant as can be. We put our complete efforts to provide you the best astrology services.
Excellence: We provide excellent customer support. Our after sales service is considered to be our strongest point and we take pride in being one of the best in it.
Entrusted: Our Customer trusts us. They are sure that all their details and inner thoughts will be kept totally confidential .They know deep in their heart see us as unique, highly helpful, highly reliable and highly knowledgeable. We always put the customer first and keep everything confidential.
Ease of use: Askganesha is customer-centred astrology portal with easy to use UI. We take pride in ourselves for making it customer oriented. Our services have put us in a realm that is above and beyond our competitors.
Evidence:Why not take a look at what other customers have to say? We have testimonials on almost all our pages, full of praise and thanks. We have tons of satisfied customers worldwide.
Apart from this we have multiple secure payment options: You can pay for your order directly with your credit card, debit card, net banking or through PayPal. We use high security standards so that your details are always safe.
Once you have taken services from us you will look no where else.
God Bless You.
100% Guarantee
We provide 100% proof of the puja done. We have clients getting pujas done from the last many years. We assure you pujas are done in the best possible vedic process.