Raja Matangi Homa
Raja Matangi Homa is performed to accomplish high standards of life, status, super knowledge, wisdom and growth. Gifted with supernatural qualities, the three-eyed Raja Matangi blesses with great communication skills, impressive speech, wealth and success.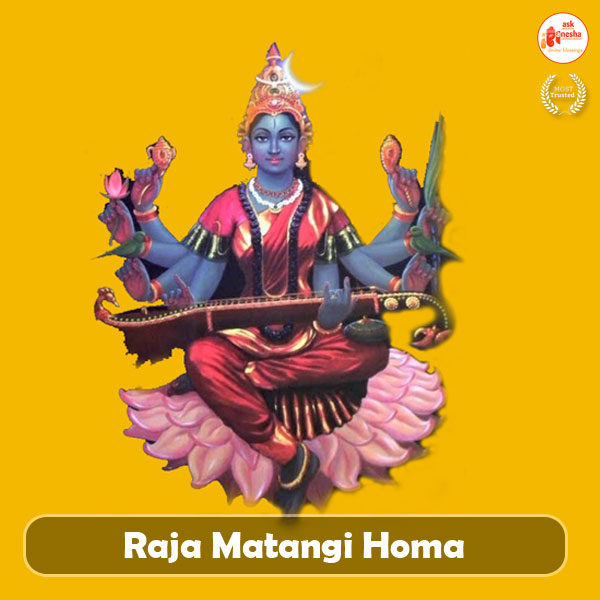 Benefits of Raja Matangi Homa :
This homa helps devotees with learning difficulties and people with special abilities.
It blesses native with high status, high living standards and respect in society.
This homa blesses the native with knowledge, wisdom, and excellent speaking skills.
It helps in recovering from emotional and financial setbacks and crisis.
This homa helps in excelling in expressions, music, and fine arts.
About Raja Matangi Homa
Goddess Matangi is the ninth of the ten Mahavidyas, a fierce aspect of Goddess Parvati. She is a tantric form of the Goddess Saraswathi. Similar to Goddess Saraswathi, Goddess Matangi has mastered expressions, the beauty of music, wisdom and fine arts.
She is also called as 'vaikharee', having control over the art of communication, the art of speaking and conveying one's thoughts effectively. The Throat Chakra or Vishuddha Chakra in our body is her residing place, which purifies physical and subtle bodies. Vishuddha Chakra is also the seat of communication, that is why she has the mastery over the communication and expression, which she bestows upon her devotees when worshipped. Worshipping Matangi cleanse all the impurities from the body and mind, and makes one's brain as pure as that of a newborn baby.
Raja Matangi is depicted as a three-eyed form of Devi Shakti, having green coloured skin with four arms and a crescent moon on her forehead. The green complexion of Raja Matangi is associated with deep knowledge and related with Buddha the presiding deity of planet Mercury, the planet representing wisdom and knowledge. She is seen smiling with intoxicating eyes and having long hair. She is seen in a red coloured dress sitting on an ornamented throne and wearing various ornaments in various parts of her body. She carries a noose, a sword, a goad and a club in her four hands respectively. She plays the Veena and represents 64 arts or Kalas as we call them in Sanskrit.
According to legends, once Daksha Prajapati, father of Sati, performed Yagna. He did not invite Shiva and Sati. Sati wanted to visit her father. Shiva told her that one should not go anywhere without an invitation as this is considered an insult, to which Sati did not listen. She insisted on going to her father's house, but Shiva was not ready to send her. This angered Sati and she transformed into Mahavidyas including Matangi and surrounded Shiva from all the ten cardinal directions. This is how all the Mahavidyas originated including Matangi.
Worshipping Raja Matangi fulfils one's all worldly and materialistic desires along with excellence in the art of expression and communication.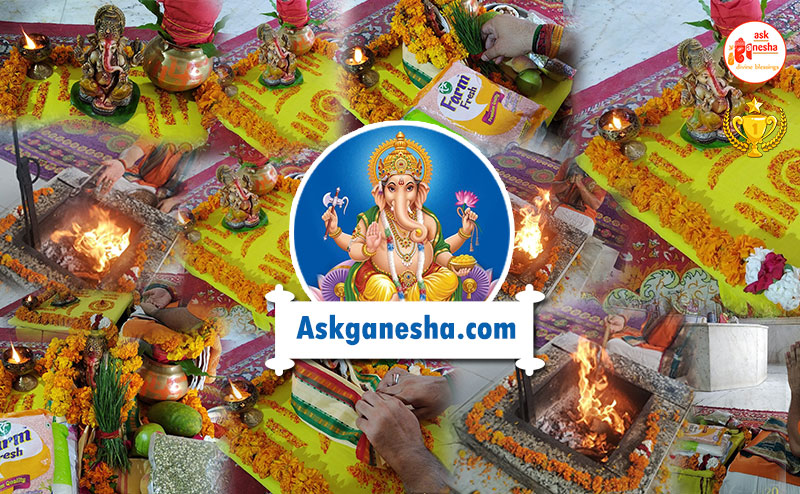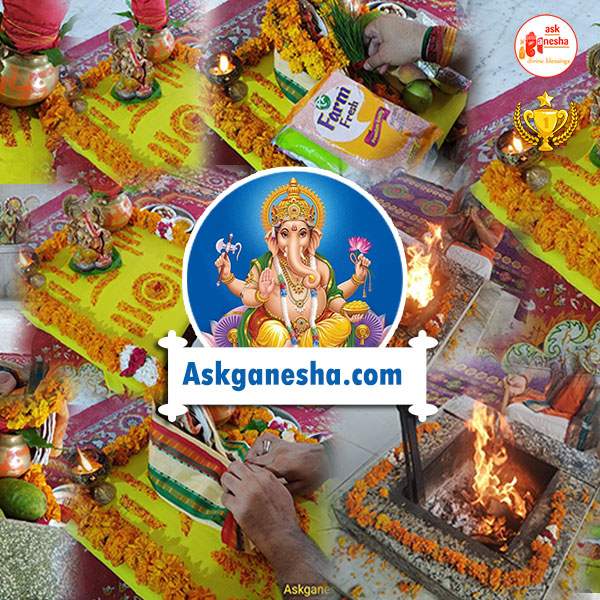 Online Puja Highlights
Free Mahurat Calculation by Astrologer
Puja is done in Vedic form with no side effects on anyone.
Personalized Puja and Homam done only for you.
Real proof of the puja done is also sent to you.
Puja done by Well Versed Experienced Purohits
View Pictures of Raja Matangi Homa


Why People Trust us!
Our Mission: Divine Blessings for Everyone
The 5E's of ASKGANESHA "Experience, Excellence, Entrusted, Ease of use and Evidence"
Experience: Askganesha has a very experienced team which have been serving people for more than 30 years. Our team members are well qualified and are highly knowledgeable. We have been listed on BBC too. We really care about our customers. That's why we always do our best to make your experience with us as pleasant as can be. We put our complete efforts to provide you the best astrology services.
Excellence: We provide excellent customer support. Our after sales service is considered to be our strongest point and we take pride in being one of the best in it.
Entrusted: Our Customer trusts us. They are sure that all their details and inner thoughts will be kept totally confidential .They know deep in their heart see us as unique, highly helpful, highly reliable and highly knowledgeable. We always put the customer first and keep everything confidential.
Ease of use: Askganesha is customer-centred astrology portal with easy to use UI. We take pride in ourselves for making it customer oriented. Our services have put us in a realm that is above and beyond our competitors.
Evidence:Why not take a look at what other customers have to say? We have testimonials on almost all our pages, full of praise and thanks. We have tons of satisfied customers worldwide.
Apart from this we have multiple secure payment options: You can pay for your order directly with your credit card, debit card, net banking or through PayPal. We use high security standards so that your details are always safe.
Once you have taken services from us you will look no where else.
God Bless You.
100% Guarantee
We provide 100% proof of the puja done. We have clients getting pujas done from the last many years. We assure you pujas are done in the best possible vedic process.