Nav Chandi puja
This unique puja enables the worshipper to lead a happy, healthy, prosperous life with fame and absence of malefic effects of unfavourable planets.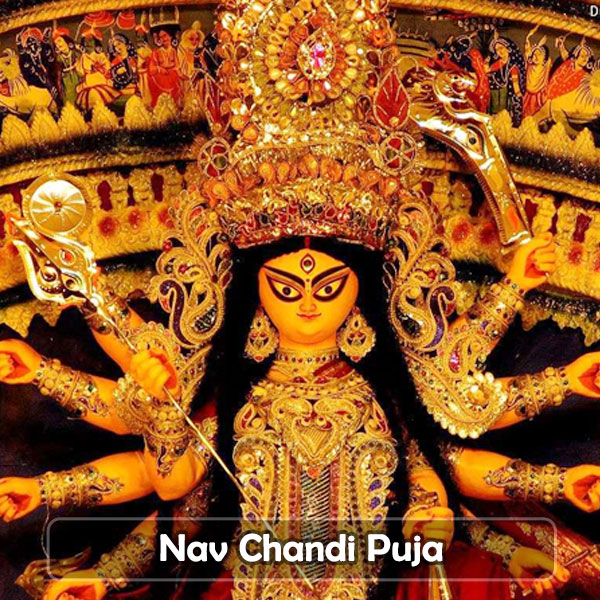 Benefits of Nav Chandi puja:
The Nav Chandi puja is performed to fulfill all our desires.
This puja enables the worshiper to lead a healthy and long life.
Performing the Nav Chandi puja for name fame and prosperity.
It is a puja tht is mainly performed for getting the moksha or salvation.
Nav Chandi Puja is performed to remove all sorts of malefic planets ill- effects.
The purity of Mind, body and soul is garnered from this puja. It also helps in making the environment pure and serene. The Nav Chandi Puja is mainly performed to spread purity-mind, body and soul at the same- time environment.
Read Customer Reviews
This is one of those poojas that I can say that will save a person's life. It has brought many positive changes in my life and can assure that it will help anyone.
Neeraj Chaubey, engineer, Manesar
This puja helped me gain recognition at my work place that I have been craving for a long time. All my hard work and struggles found their way when I did this puja. Jai Maa Nav Chandi.
Seema Mehta, Journalist, Mumbai
About Nav Chandi puja
Nav Chandi puja an elaborate, unique and rare puja which is normally performed during the time of Navratri. The significance of Nav Chandi Puja and Paath lies primarily in Navratri, as a Paath of Durga Saptashati is normally performed. It is a powerful sacrificial ritual that also includes the strength of Mantra Chanting of Durga Saptashathi Paath, each day during Navratri. Nav Chandi is a unique puja as it is said to have the power of Durga Saptashathi Mantra and its recitation during the Navratri. The puja and Yagna removes all the planetary ill effects.
The Nav Chandi puja is performing the Nav Avtar or Nine incarnation of Durga worship, as mentioned in the Chandi Purana.
The Nine Avatars are :
Shailputri
Brahmacharini
Chandraghanta
Kushmanda
Skandamata
Katyayani
Kalratri
Mahagauri
Siddhidatri
Durga Saptashati:
Saptashati means chanting of 700 Shloka, describing the importance of Goddess Durga, and her trigunatmak Power or 3 power/ strength element. It is the one of the ancient text that describe Devi as the supreme power and energy that is the creator of all. Durga Saptashati mainly describes the fierce battle between the good and Evil. The Goddess of Supreme energy manifests her into different forms so that, peace and prosperity is maintained. Durga Saptashati text lays the foundation on the fact that the ultimate reality is nothing more than female energy. The Durga Saptashati text describes the female as the elementary creator of the Universe. The text describes her as tridevi, or the branches like the creator, Nurturer and destroyer.
The hymns written in Durga Saptashati are in the form of praises, or the one who resides in every mortal being. She is everything: Emotions and physical attributes, she is self- realization and intelligence.
Procedure of the Nav Chandi Puja / Havan:
Cleanse your body and mind and soul. The overall cleaning and cleansing of a person.
Take Sankalap: that means talk about the purpose of the puja you are going to Perform.
Ganesha Pujan: Since Lord Ganesh is the God of all the auspiciousness and all new beginning so worshipping him is a nessicity.
Then comes the Muhurat Pujan: Muhurat pujan is to remove or get rid of the sins.
Nandi Shradh: Then comes taking the blessings from our ancestors by remembering them.
Then comes the Nav Chandi Paath, or Durga Saptashathi Path that is a ritualistic Puja. The Durgasaptashati paath helps in getting the desired boon.
Importance of Nav Chandi Paath or Puja:
The Nav Chandi Puja / Havan help in getting the blessings of Goddess. The Nav Chandi puja and yagna has the ability to create a pious and energetic environment. Since the Nav Chandi puja combines the powers of divine mother, hence it is exceptional and matchless.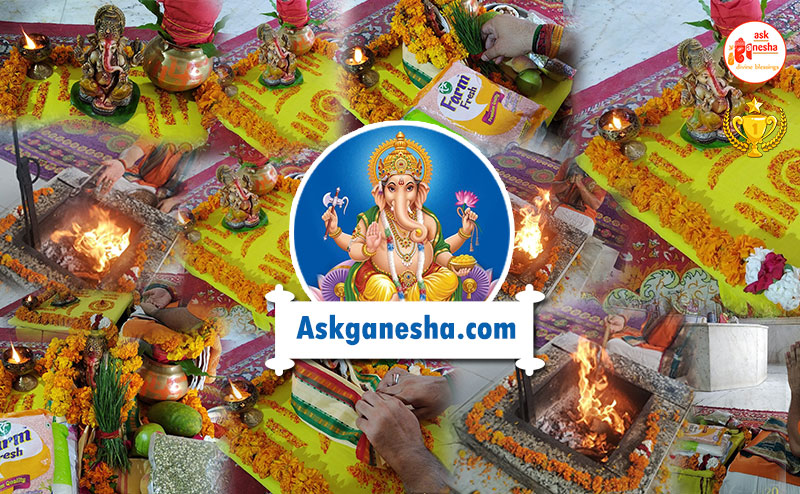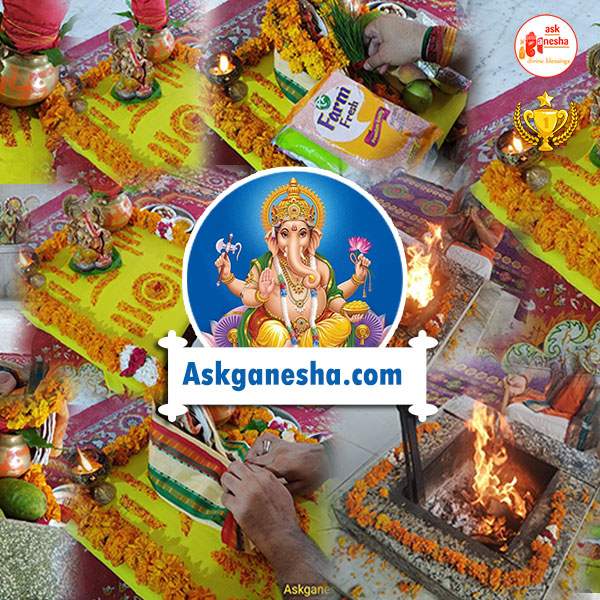 Online Puja Highlights
Free Mahurat Calculation by Astrologer
Puja is done in Vedic form with no side effects on anyone.
Personalized Puja and Homam done only for you.
Real proof of the puja done is also sent to you.
Puja done by Well Versed Experienced Purohits
View Pictures of Nav Chandi puja


Read Customer Reviews
This puja is a life saviour. It helped me get rid of the problems that I was facing in my meditation and concentration practice. After this puja my mind and soul got at peace.
Radhika tokas, boutique owner, Punjab
I performed this puja because my health was deterioting after I hit 30. Some or other health problem was happening to me. I was out of the options to work on, that is when I realised i needed to do something different.
Anvesha trehan, apparel designer, banaras
My Kal sarp dosha was getting so worse. I was always seen fighting and arguing with my loved ones. My professional life was also suffering. Other pujas did help but this puja really helped me in getting rid of the major problems. Thanks a lot askganesha.com for advising this puja.
Ankur Aggarwal, businessman, UP
Why People Trust us!
Our Mission: Divine Blessings for Everyone
The 5E's of ASKGANESHA "Experience, Excellence, Entrusted, Ease of use and Evidence"
Experience: Askganesha has a very experienced team which have been serving people for more than 30 years. Our team members are well qualified and are highly knowledgeable. We have been listed on BBC too. We really care about our customers. That's why we always do our best to make your experience with us as pleasant as can be. We put our complete efforts to provide you the best astrology services.
Excellence: We provide excellent customer support. Our after sales service is considered to be our strongest point and we take pride in being one of the best in it.
Entrusted: Our Customer trusts us. They are sure that all their details and inner thoughts will be kept totally confidential .They know deep in their heart see us as unique, highly helpful, highly reliable and highly knowledgeable. We always put the customer first and keep everything confidential.
Ease of use: Askganesha is customer-centred astrology portal with easy to use UI. We take pride in ourselves for making it customer oriented. Our services have put us in a realm that is above and beyond our competitors.
Evidence:Why not take a look at what other customers have to say? We have testimonials on almost all our pages, full of praise and thanks. We have tons of satisfied customers worldwide.
Apart from this we have multiple secure payment options: You can pay for your order directly with your credit card, debit card, net banking or through PayPal. We use high security standards so that your details are always safe.
Once you have taken services from us you will look no where else.
God Bless You.
100% Guarantee
We provide 100% proof of the puja done. We have clients getting pujas done from the last many years. We assure you pujas are done in the best possible vedic process.