Nakshtra Puja and Homam
Nakshatras are the star under which a native is born. Nakshatra puja enhances the confidence of the native and relieves him from the negative effects of any nakshatra dosh, besides giving health, vitality and wealth.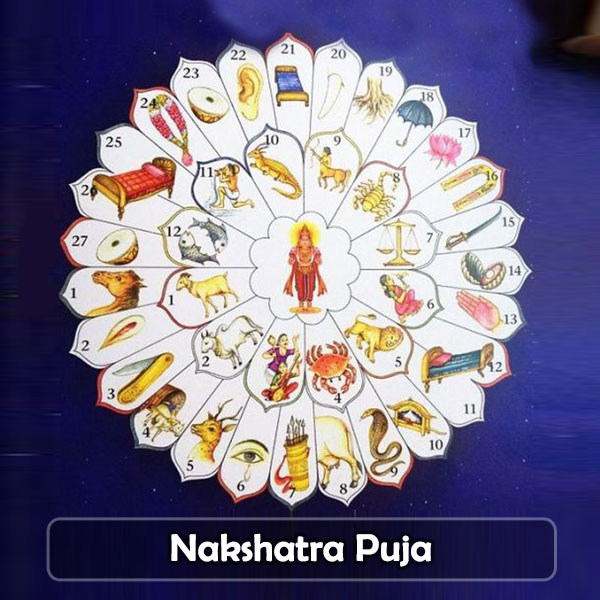 Benefits of Nakshtra Puja and Homam:
This puja bestows the native with good health, vitality and wealth.
This puja induces positivity, confidence, and inner strength in the native to produce favourable results.
It shields the native from enemies and their bad intentions.
It also saves the native from the negative and evil effects of the afflicted nakshatras and all other kinds of doshas.
It also neutralises the ill effects of the planets in their main-period and sub-period.
Read Customer Reviews
I agree with you people. Askganesha has set its prices keeping in mind the layman. Anyone in problem can afford it. Considering that their fee is fixed and there are no surprises during the Puja. Hassle free puja and its benefits can be felt. In all it was a good experience.
By Fiona Chawla, housewife, Assam
I got this pooja performed when nothing was going right in my life. Everything was messed up. I didn't want to go deep and decided to perform this pooja that will appease all my planets. It actually worked. I will recommend it to everyone.
Nishant kumar, SSC officer, Shimla
About Nakshtra Puja and Homam
Nakshatras are the stars or the star Lords which hold a great significance in the horoscope and astrology. The zodiac has been divided into 27 different stars. The knowledge of these stars or the nakshatras is very important for various life-defining functions or events of a native's life, e.g. matching a kundali for marriage, and other characters like defining the mental and physical condition of the native. Every nakshatra has a deity as its Lord, who governs that nakshatra. The position of the moon in the nakshatra at the time of the birth of a child depicts a lot of things about the child and his future. The name of the child is given according to the padas or the quarters in which a nakshatra is divided. Each nakshatra had four padas or quarters and the starting sound of the name of the newborn baby is determined according to these padas of the Nakshatra under which the baby is born. The birth star or the nakshatra implies the star zone in which the moon was posited at the time of the birth of the child.
According to Vedas the starting point of the Nakshatras is Ashwani nakshatra. All nakshatras are primarily divided under three heads, namely; Deva, the divine ones, Nara, the humans, and the Rakshasas, the demons. Further divided on the basis of gender, caste or Varna, and with qualities, colours, presiding deity etc.
In astrology, these nakshatras have been taken under consideration while determining auspicious periods, muhurtas, for all auspicious events like marriages, and other cultural events. Thus nakshatras have an important role to play in all auspicious acts and events of the Hindus. Their puja is, therefore, very important to correct any malefic effect they have on a native's life. Nakshatra puja is recommended to people having psychological disturbances, mood swings, depression, low confidence and to the natives who are born under the destructive or the Demon nakshatras.
Rahshis Nakshatras :
Aswini
Bharani
Krittika (the Pleiades)
Rohini (Aldebaran)
Mrigasrisha
Ardra (Betelgeuse)
Punarvasu
Pushya
Ashlesha
Magha (Regulus)
Purva Phalguni
Uttara Phalguni (Denebola)
Hasta
Chitra (Spica)
Swati (Arcturus)
Vishakha
Anuradha
Jyeshtha
Mula
Purvaashadha
Uttara Ashadha
Sravana
Dhanishta
Shatbhishaj (Sadachbia)
Purva Bhadrapad
Uttara Bhadrapad
Revati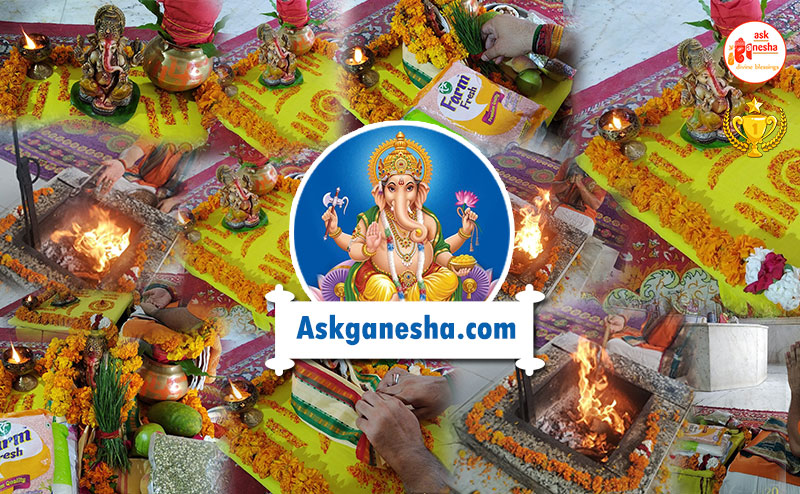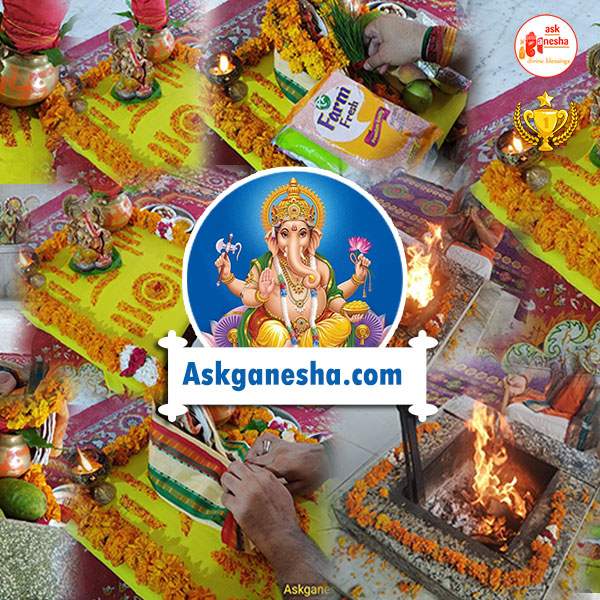 Online Puja Highlights
Free Mahurat Calculation by Astrologer
Puja is done in Vedic form with no side effects on anyone.
Personalized Puja and Homam done only for you.
Real proof of the puja done is also sent to you.
Puja done by Well Versed Experienced Purohits
Nakshtra Puja and Homam - Youtube Video
View Pictures of Nakshtra Puja and Homam


Read Customer Reviews
I want to extend my heartfelt thanks to askganesha.com for helping me out in my bad times. This puja helped me get through my difficult phase of life. Very very obliged to Lord Ganesha for blessing me.
Kunal Sharma, engineer, Turkey
The astrologer at Askganesha.com told me that I should get Nakshatra Puja done to get the Nakshatras in place. My horoscope had some loopholes apparently and because of that, I got this Puja performed by askganesha.com. This is a good Puja and it surely have benefited me in many ways. Almost all my problems are gone now.
By Priyanka Sud, Professor, France
Nakshatra Puja is a great puja to pacify the nakshatras. Pundit ji told me that it is important for me to get this puja done. I did it with an expert purohit and it came out really well. It did amazing things for my life. And my life saw instant upliftment, almost all my health and mental illness are gone and life is at peace.
By Siddhu Bijlani, Doctor, Noida
Why People Trust us!
Our Mission: Divine Blessings for Everyone
The 5E's of ASKGANESHA "Experience, Excellence, Entrusted, Ease of use and Evidence"
Experience: Askganesha has a very experienced team which have been serving people for more than 30 years. Our team members are well qualified and are highly knowledgeable. We have been listed on BBC too. We really care about our customers. That's why we always do our best to make your experience with us as pleasant as can be. We put our complete efforts to provide you the best astrology services.
Excellence: We provide excellent customer support. Our after sales service is considered to be our strongest point and we take pride in being one of the best in it.
Entrusted: Our Customer trusts us. They are sure that all their details and inner thoughts will be kept totally confidential .They know deep in their heart see us as unique, highly helpful, highly reliable and highly knowledgeable. We always put the customer first and keep everything confidential.
Ease of use: Askganesha is customer-centred astrology portal with easy to use UI. We take pride in ourselves for making it customer oriented. Our services have put us in a realm that is above and beyond our competitors.
Evidence:Why not take a look at what other customers have to say? We have testimonials on almost all our pages, full of praise and thanks. We have tons of satisfied customers worldwide.
Apart from this we have multiple secure payment options: You can pay for your order directly with your credit card, debit card, net banking or through PayPal. We use high security standards so that your details are always safe.
Once you have taken services from us you will look no where else.
God Bless You.
100% Guarantee
We provide 100% proof of the puja done. We have clients getting pujas done from the last many years. We assure you pujas are done in the best possible vedic process.