Mahakaal Mritunjaey Maha Yagya
This yagya saves devotee from untimely death, misfortune or bad luck and helps in faster recovery of severe and chronic diseases. It also eliminates sins from the life of the devotee.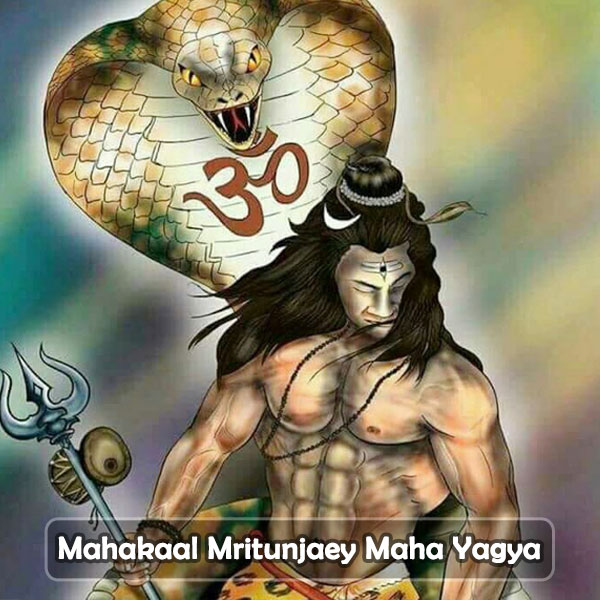 Benefits of Mahakaal Mritunjaey Maha Yagya:
It helps to overcome all the issues and problems in one's life
It also helps to remove all the bad and evil effects in the life of the individual.
It helps to achieve professional success and lead an ambitious life.
It also helps in opening the blocked energy points in the body and lead a very peaceful life.
It will also help to create a protection guard and bring harmony in the family .
In the yagya the recitation of the Maha Mrityunjaya Mantra helps to remove all the sins from the family and awakens the healing powers within the devotees.
Read Customer Reviews
Mahakaal Mritunjaey Maha Yagya is a great remedy to save the person from any evil or probability of dieing. This Yagya was conducted for my elder brother when he met with an accident and was in hospital for days. AskGanesha whole-heartedly offered the prayers to Lord Shiva and my brother was able to revive from death. Thanks AskGanesha.
By Murukesh Malhotra, Delhi Police, Delhi
Mahakaal Mritunjaey Maha Yagya is indeed the most powerful Yagya of Lord Shiva. One can feel its power in the start and slowly it starts forming its protective shield around your home and you can feel all misery in the surroundings fade. I myself felt it when it was being performed for the newly born at my home for his health. She is all cured now and living a normal childhood. Lord Shiva invoked his blessings on her and the family.
By Kritika Raut, Software engineer, Kolkata
About Mahakaal Mritunjaey Maha Yagya
Mahakaal Mritunjaey literally means 'Conqueror of death'. This miraculous Mahakaal Mritunjaey Maha Yagya is very popular in Vedic tradition for alleviating diseases, emotional and physical disturbances or for ensuring a long and healthy life. This Yagya is also performed to give more strength to a normal healthy person, who are highly active in a responsible position and cannot afford even slight and minuscule illnesses.
This yagya is thought to be one of the most potent Yagya mentioned in Rig Veda & Shiv Puraan. It is believed to have power to take life back even if the person is in the edge of death. The Mahakaal Mritunjaey Maha Yagya is performed for Lord Shiva to defend the person suffering from the sickness or to avoid premature death/ Akaal Mrityu. It also protects people from any wicked spirit/ Jadoo Tona/ Black magic and from any other possible occurrence. This maha Yagya is done by two purohits who do 51,000 Jaap and daily hawan for 11 days. The special yantra and energized incense sticks are also prepared and sent to you.
Importance of Mahakaal Mritunjaey Maha Yagya
Maha Mrityunjaya yagya is a very important Shiv Pooja that was started by Shukracharya. This yagya helps to save the devotees from any kind of threatening ailments or disease and to increase their lifespan. This is a life saving Yagya which creates the heavenly positive guard around the person, for whose wellbeing it is organized. Spectrum of optimistic energies and vibrations cancel out all the wicked and pessimistic forces and save the person from any kind of bad luck. It gives long harmonious life, prosperity, happiness, success and endless life.
Mantras chanted in this yagya
The mantra has many forms as well as names. The mantra in this yagya is also known as Rudra mantra as it has miraculous effects on the lives of the devotees who performs it. Chanting this mantra helps to relieve the individual from the death and rebirth cycle. And hence this mantra is also known as the moksha mantra.
Effects of Mahakaal Mritunjaey Maha Yagya
In these days, when life has become very complicated and accidents are daily events, this great Yagya can protect you. The yagya done for people is due to the prevailing effect of the Mantras, some divine vibrations are produced which cancel out all the wicked forces, negative and in turn create a powerful defensive shield around the devotee saving from any misfortune or bad luck to happen.
Mahakaal Mritunjaey Maha Yagya is done round the clock to avoid the danger when someone is unwell or wounded. This Yagna is a complicated, but highly helpful process for faster recovery from any kind of sickness and brings improvement in health. This yagya has strong remedial powers and helps to heal the chronic diseases, which are declared incurable by the doctors. The important offerings of this yagya are herb called amrita and durva grass
People who face health issues should perform this yagya. One can also perform this homam if he is facing legal issues or there is no way to come out of the critical situation. This yagya also removes the sins from the devotee's life and one can seek the blessings of Lord Shiva.
Time of performing this Maha Mrityunjaya yagya
The auspicious day to perform this yagya is mainly during Maha Shivaratri. One can also perform the yagya during the month of Sawan or anytime one feels the need. Additionally, one can also perform it during Amavasya and Makarsankranti. One should definitely consult a priest to find the perfect time to perform this yagya.
Performing Mahakaal Mritunjaey Maha Yagya
This potent and enlightening Yagya is a wonder-working remedy. It is a formula for longevity, good wellbeing and liberty from accidents. A long and healthy life is first necessary for every person to lead a joyful life.
This Yagya may cause a peaceful, painless and smooth passing of the soul and Moksha (salvation from the cycle of birth and death) to a person. This highly popular yagya is always suggested to ward off any major accident or ill health, perceived at the time of horoscope analysis.
You can contact AskGanesha to guide you and help you in performing this yagya.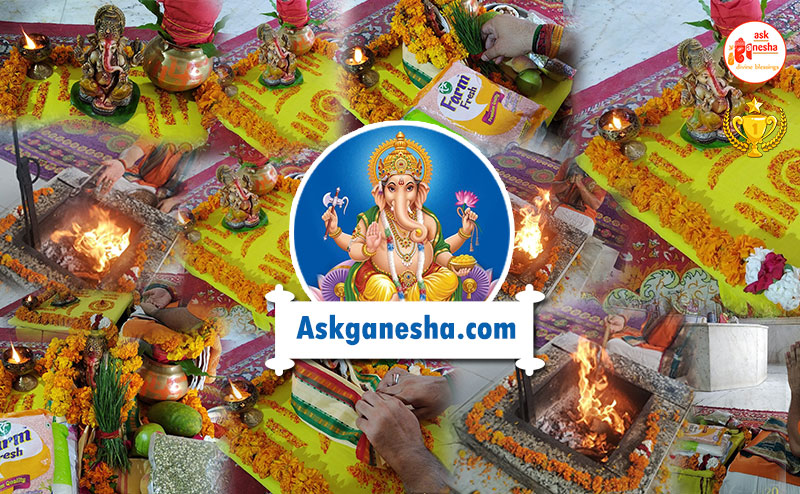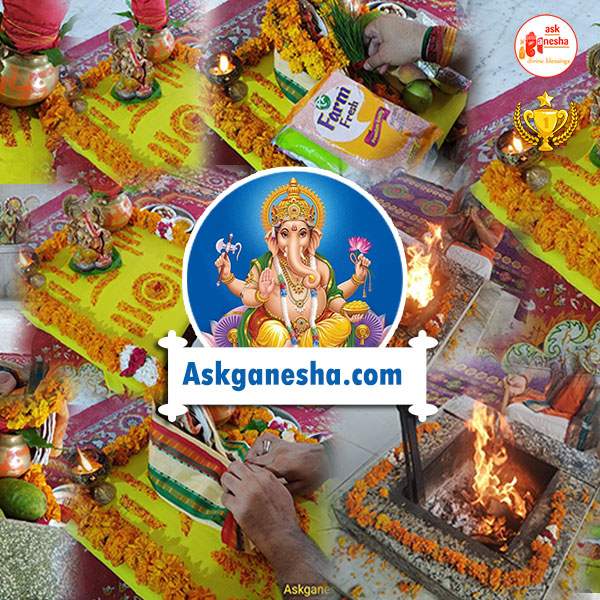 Online Puja Highlights
Free Mahurat Calculation by Astrologer
Puja is done in Vedic form with no side effects on anyone.
Personalized Puja and Homam done only for you.
Real proof of the puja done is also sent to you.
Puja done by Well Versed Experienced Purohits
View Pictures of Mahakaal Mritunjaey Maha Yagya


Read Customer Reviews
AskGanesha is a great website as really helped me when all hopes were lost. My dad was fighting tumor and there was no hope for improvement. At that time my cousin asked me to give this website a chance he has already consulted the AskGanesha astrologers. I consulted them and ordered Mahakaal Mritunjaey Maha Yagya for my father. They performed the puja or you can call it magic as it no less than a miracle for our family. My father is now fit and healthy in a much better shape. All thanks to AskGanesha.
By Mahima Pandey, Interior Designer, Pune
My wife was very ill from 1 year, no particular health issues can be detected. Even after lots of doctor visits, she was not able to gain her health. We then went for our last hope of Vedic remedies through Mahakaal Mritunjaey Maha Yagya. Lord Shiva gave his blessings and my wife is now better now. Jai Mahadev.
By Kamlesh Singh, self-employed, Mathura
Why People Trust us!
Our Mission: Divine Blessings for Everyone
The 5E's of ASKGANESHA "Experience, Excellence, Entrusted, Ease of use and Evidence"
Experience: Askganesha has a very experienced team which have been serving people for more than 30 years. Our team members are well qualified and are highly knowledgeable. We have been listed on BBC too. We really care about our customers. That's why we always do our best to make your experience with us as pleasant as can be. We put our complete efforts to provide you the best astrology services.
Excellence: We provide excellent customer support. Our after sales service is considered to be our strongest point and we take pride in being one of the best in it.
Entrusted: Our Customer trusts us. They are sure that all their details and inner thoughts will be kept totally confidential .They know deep in their heart see us as unique, highly helpful, highly reliable and highly knowledgeable. We always put the customer first and keep everything confidential.
Ease of use: Askganesha is customer-centred astrology portal with easy to use UI. We take pride in ourselves for making it customer oriented. Our services have put us in a realm that is above and beyond our competitors.
Evidence:Why not take a look at what other customers have to say? We have testimonials on almost all our pages, full of praise and thanks. We have tons of satisfied customers worldwide.
Apart from this we have multiple secure payment options: You can pay for your order directly with your credit card, debit card, net banking or through PayPal. We use high security standards so that your details are always safe.
Once you have taken services from us you will look no where else.
God Bless You.
100% Guarantee
We provide 100% proof of the puja done. We have clients getting pujas done from the last many years. We assure you pujas are done in the best possible vedic process.
Details of Maha yagya
Mahayagya is a kind of Pooja that requires a havan kund and continous fire lighting which continues for long duration of days usually ranging from 7 to 21 days that requires the presence of more than one priest. Those taking part in the Mahayagya seeks the blessings of their gods/goddesses. Mahayagya can be performed to get relieved from any kind of problem or to ensure overall prosperity.
Mahayagya Vidhi Vihaan
Avahaan
This is the first step of the Vidhi. In this step, the priests performing the yagna welcomes Lord Ganpati and other Gods and Goddesses through mantra chanting. This is an important part of the yagya as it builds the strength of the yagna and pooja. Avahaan is an attempt to invite the Lords to honour the yagna.
Stapana
Sthapana is the second step wherein the priests performing the yagna/Yagya, installs the statue or photograph of the deities for whom the Yagya is being perfomed. This step comes once the priests successfully invites the Lords to the Pooja through Mantra Chanting. This step is crucial as the statues installation builds the foundation for the various holy offerings to be performed.
Flower offering
This is an aesthetic step which brings us closer to the yagya. In this procedure, the priests and the attendees offer flowers to the dieties' statues or photographs. Offering flowers in the feet of the Gods/Goddesses is a kind of showing affection and respect towards them. It is an act of pleasing the deities.
Archana vandana
Archana vandana begins after the priests and attendees have offered flowers to the deities. In this step, the priests and attendees offer prayers to the installed deities. They praise the Lord and thank them for all that the almighty have blessed them with and also seeks forgiveness for their sins. They also put forward their wishes and ask the Lords to fulfil them.
Aarti
Aarti is the next step in the procedure. Aarti takes place in the front of the deities. It can be performed solely by the priests, also the attendees are welcome to take part in it. In this ceremony, the priest has a tray with lighted oil diyas, burning essence, bell, a water vessel, flowers and some offering of food. This step consists of all four elements of which the world is made that is Fire, earth, water and air. The priests and the attendees sing praises of the Lords while doing rounds of the burning diyas and ringing the bell simultaneously.
Prasad offering
In this step, the priests offers the deities, some kind of sweets and fruits in the form of Prasad which is distributed among the members participating in the yagya at the end of Pooja/Yagya. Usually Prasad can be in form of 'chappan bhog' meaning 56 different kinds of sweet and salty eatables that the deities are known to relish.
Beejmantra Yantra Prathista
In this step, a Yantra is placed near the havan kund and the deities. The priests chant the holy mantras known as Beejmantra to please the Lords. The Beejmantra is chanted with the purpose of energising tha yantra. The yantra, then, can be used to remove any kind of problem for which the Yagya is being performed or to fulfil the wishes at hand.
Yagya Aahuti Mantra Jaap
This is the last and the most crucial step in the Yagya Vidhi Vidhan as it goes on for days. In this step, the priests continuously chant mantras and offer Aahuti in the havan kund with the purpose of praising and pleasing the Lords. Yagya Aahuti Mantra Jaap goes on for long duration.