Maa Kanakdhara Anusthan
This anushthan of 11 days is done to seek financial security and wealth. All obstacles in the path of earning are removed along with the ill effects of the weak planets.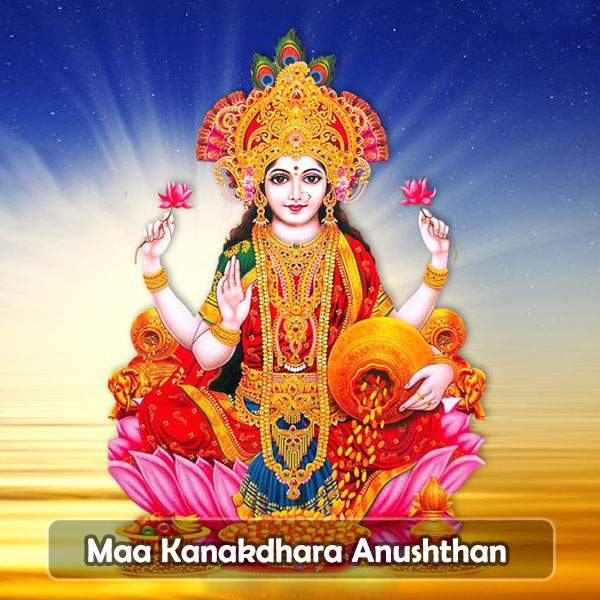 Benefits of Maa Kanakdhara Anusthan:
This special Anushthan is done to seek financial security and wealth.
All obstacles in the path of earning are removed along with the ill effects of the weak planets.
The puja resolves all the issues pertaining to financial difficulties.
Personal and professional prosperity is maintained with this Puja.
To increase the sales and productivity in your business.
For harmonious relationships in the enterprise.
Anushthan provides Sidhi, and fame to the devotee.
This Anushthan also blesses with peace, fame, victory, and good fortune.
This online puja Anushthan is also known to provide the seeker with salubrity, progeny, and salvation.
Read Customer Reviews
I got to know about this Anushthan from a friend, who told me his secret of financial independence. I thought of giving it a try after consulting the astrologer of Askganesha.com and he told me that this Anushthan will be very helpful to me. So I paid to the website to get it done for me. I was shocked by the results as it actually brought monetary bliss in my life.
By Lovkesh Chaubey, Engineer, Ghaziabad
It is said that faith in God has its own reward and worship done with a pure heart is never wasted. Me and my family performed this Anushthan as we were facing financial crisis and our business was at the brink of getting doomed. But after we did the puja, we got back our finances and were able to pay off all our debts. Thanks Maa Lakshmi for showering your blessings on us.
By Siddhant Juneja, Doctor, Delhi
About Maa Kanakdhara Anusthan
As the name suggests Kanak (gold) and Dhara (stream) Goddess Kanakdhara is the goddess of wealth and prosperity. Once Adi Shankar was worshipping Maa Lakshmi, she appeared in front of him in the form of Maa Kanakdhara having a pot full of gold that was flowing out of the pot. Thus Maa Kanakdhara is the form of Maa Lakshmi. People having financial difficulties and economical crunch can perform this Maha Anushthan to please the goddess of wealth and prosperity. It is believed that Maa Kanakdhara is pleased with this Anushthan and provides the ashta Siddhi, glory, dignity, prakhya i.e. fame, and divinity.
The Maa Kanakdhara Maha Anusthan has helped many to increase their finances and for overall gains.
The Maa Kanakdhara Maha Anusthan is an 11 days process in which each day puja and hawan are done. The mantras are recited, special prayers by purohits, donations of food items to poor and needy are done. This Anusthan is done by well versed and highly experienced purohits. You too can get this performed for the fulfillment of your desires.
Anushthan will be done with right vidhi vidhan through experienced purohits.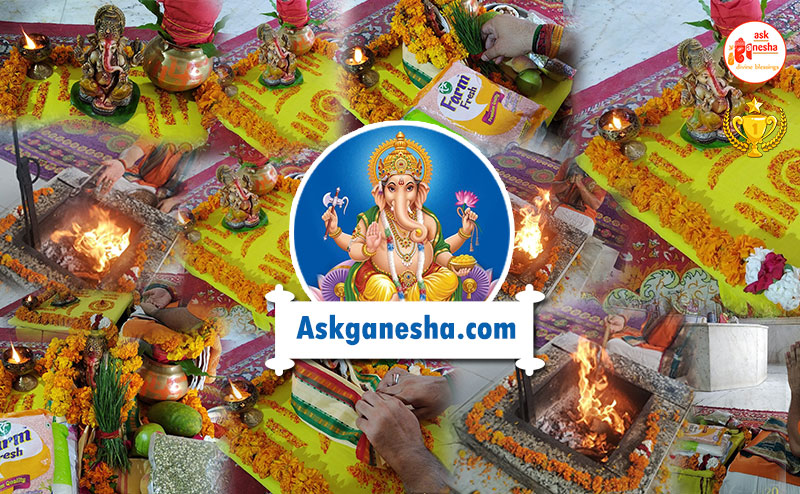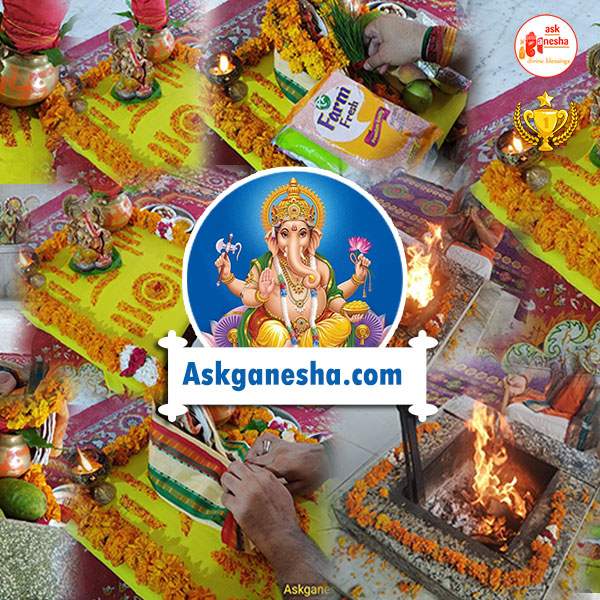 Online Puja Highlights
Free Mahurat Calculation by Astrologer
Puja is done in Vedic form with no side effects on anyone.
Personalized Puja and Homam done only for you.
Real proof of the puja done is also sent to you.
Puja done by Well Versed Experienced Purohits
Maa Kanakdhara Anusthan - Youtube Video
View Pictures of Maa Kanakdhara Anusthan


Read Customer Reviews
Finally I reached the right place which is Askganesha.com after years of wasting my time with wrong astrologers and pandits. I spent so much money on them but nothing helped me and my financial problems. Finally askganesha suggested me to do Maa Kanakdhara Anushthan Puja to get away from my problems. It actually worked for me.
By Gaurav Kukreja, Financial advisor, Bangalore
I highly recommend this Puja and also Askganesha.com as both of these have helped me to get unexpected gains in my business. Askganesha.com has shown a path and when I followed it, it was like winning a lottery. Maa Kanakdhara Puja has proved very effective for me and my business. It is highly recommended.
By Krishna Sharma, Businessman, Panipat
Maa Kanakdhara is a roop of Goddess Lakshmi and is worshipped for monetary gains. That's why the Maa Kanakdhara Anushthan is performed to gain money. I also did this puja, it took me 11 days to complete the puja with the pundit but it is very effective and enhance the chances of financial benefits
By Ashish Jain, writer, UAE
Why People Trust us!
Our Mission: Divine Blessings for Everyone
The 5E's of ASKGANESHA "Experience, Excellence, Entrusted, Ease of use and Evidence"
Experience: Askganesha has a very experienced team which have been serving people for more than 30 years. Our team members are well qualified and are highly knowledgeable. We have been listed on BBC too. We really care about our customers. That's why we always do our best to make your experience with us as pleasant as can be. We put our complete efforts to provide you the best astrology services.
Excellence: We provide excellent customer support. Our after sales service is considered to be our strongest point and we take pride in being one of the best in it.
Entrusted: Our Customer trusts us. They are sure that all their details and inner thoughts will be kept totally confidential .They know deep in their heart see us as unique, highly helpful, highly reliable and highly knowledgeable. We always put the customer first and keep everything confidential.
Ease of use: Askganesha is customer-centred astrology portal with easy to use UI. We take pride in ourselves for making it customer oriented. Our services have put us in a realm that is above and beyond our competitors.
Evidence:Why not take a look at what other customers have to say? We have testimonials on almost all our pages, full of praise and thanks. We have tons of satisfied customers worldwide.
Apart from this we have multiple secure payment options: You can pay for your order directly with your credit card, debit card, net banking or through PayPal. We use high security standards so that your details are always safe.
Once you have taken services from us you will look no where else.
God Bless You.
100% Guarantee
We provide 100% proof of the puja done. We have clients getting pujas done from the last many years. We assure you pujas are done in the best possible vedic process.