Gaja Lakshmi Puja
Gaja Lakshmi Puja is done to get success, fortune, and joy as Goddess Gaja Lakshmi is considered as the wealth of elephant symbolising grace, power, strength, and fertility.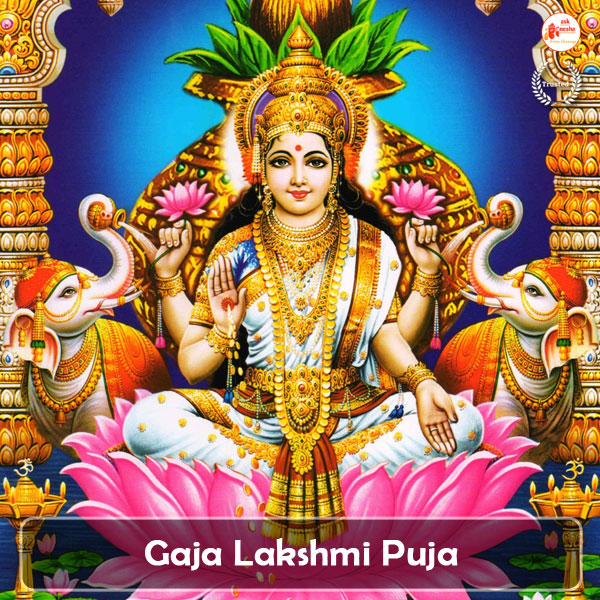 Benefits of Gaja Lakshmi Puja :
This puja blesses with the status of royalty and other good things.
This puja blesses with prosperity, wealth, and fortune.
It brings the favour of the luck and fortune in the life of the worshipper.
This puja removes all the negativity and evil effects of the planets from life.
It also removes Vastu related doshas from the house.
Read Customer Reviews
I own a big ice –cream business in India and have branches in many cities. I had invested in a big joint venture and due to certain technical glitches, it could not start. My huge fortune was at stake. My astrologer at Askganesgha suggested Gaja Lakshami puja, and I booked one. Just within two weeks , the venture was inaugurated and we are making good profits
PD, Businessman Chandigarh
Askganesha se hmne Gaja Lakshami puja book karithi. Puja bhi Askganesha k jyotishiji ne hi bolithi. Sara business thapp pad gayatha , mere pastobahutpareshan the, aur mujhe unki sehat ki bahut chintaoad gait hi. Mene Askganesha p jyotishiji ko Kundali di kai aur ye puja karwai. Abb kaam fir se chaloo ho gaya hai aur pareshni thodi kam hui hai.
Surekha Bhargav Delhi
About Gaja Lakshmi Puja
Goddess Gaja Lakshmi is considered as the wealth of elephant that represents grace, strength and power of an elephant and grants the same qualities to her worshipper. Gaja Lakshmi is also known as the Raj Lakshami as she blesses with power to rule, fortune, self-knowledge and spiritual liberation. According to Katha, she was born out of the primordial sea by churning it. According to legends, maharishi Durwasa, the great sage and incarnation of Rudra's anger, gifted Indra, the King of the Gods, with a garland. He further put the garland around the neck of his elephant as he found it against his honour to accept a gift as simple as a garland from a hermit. This agitated Durwasa and he cursed the Gods. He cursed them to lose all their wealth because of which, the Indra had insulted him. All the luxuries and powers of the Gods vanished immediately due to the curse of the hermit. The gods went to Lord Brahma, who in turn took them to the Lord Vishnu for the help. They suggested churning the primordial sea called Ksheer Sagar for their powers and Luxuries. The gods were powerless so they took the help of the Demons for churning the sea. They together churned the sea, out of which many precious things emerged. Four-tusked White elephant Iraawat was given to Indra, Elixir was distributed among the Gods by Lord Vishu, amongst many other things, Goddess Lakshami emerged out of the primordial sea having eight elephants around her. The elephants were carrying golden pots in their trunks and they were showering water on the Goddess Lakshami from those god pots. Goddess Lakshmi gave wealth, and power to the Gods and their kingdom and powers were returned. She chose to marry Lord Vishnu and went with him to his Abode Vaikuntha.
As she was accompanied by the elephants and provided prosperity and powers to the Gods, so, was called the Gaja Lakshami.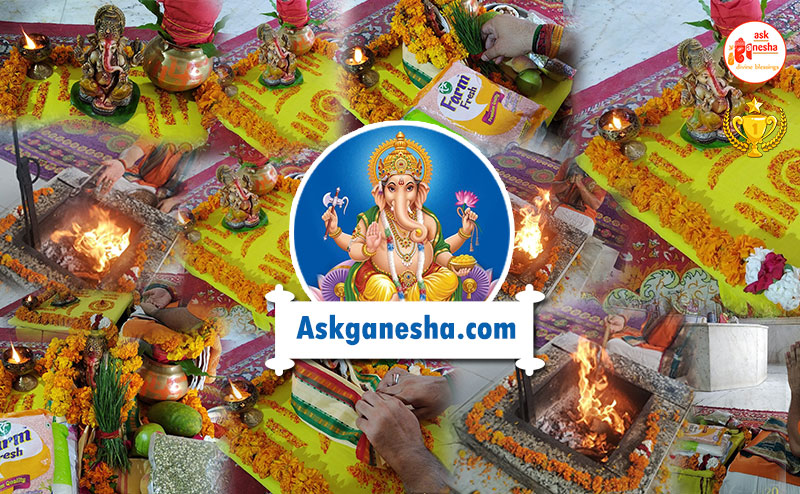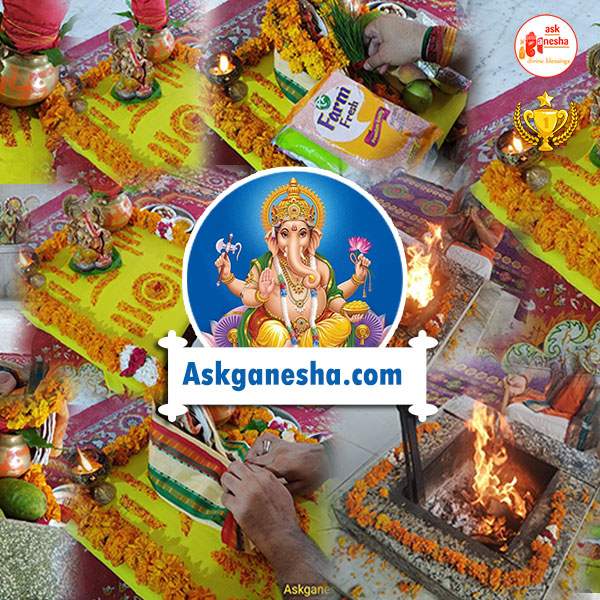 Online Puja Highlights
Free Mahurat Calculation by Astrologer
Puja is done in Vedic form with no side effects on anyone.
Personalized Puja and Homam done only for you.
Real proof of the puja done is also sent to you.
Puja done by Well Versed Experienced Purohits
View Pictures of Gaja Lakshmi Puja


Read Customer Reviews
Thanks to Askganesha for Gaja Lakshami puja doing for me
Amarjit Singh, Furniture Business, Kartarpur Punjab
On the recommendation of the Askganesha astrologers, I booked the Gaja Lakshami puja after losing badly in my business. Things are changing fast and I have repaid half of my loans and soon will be free from this burden. My sincere thanks to everyone at Askganesha
Manoj Mittal, Businessman Kapurthala, Punjab
Askganesha is a very genuine astrological site, where pujas are done with complete rituals. The costs are also very reasonable. I had booked Gaja Lakshami puja with Askganesha and I am very satisfied with procedures and results. Thanks Askganesha
AbhijitPawar, Industrialist Saharanpur UP
Why People Trust us!
Our Mission: Divine Blessings for Everyone
The 5E's of ASKGANESHA "Experience, Excellence, Entrusted, Ease of use and Evidence"
Experience: Askganesha has a very experienced team which have been serving people for more than 30 years. Our team members are well qualified and are highly knowledgeable. We have been listed on BBC too. We really care about our customers. That's why we always do our best to make your experience with us as pleasant as can be. We put our complete efforts to provide you the best astrology services.
Excellence: We provide excellent customer support. Our after sales service is considered to be our strongest point and we take pride in being one of the best in it.
Entrusted: Our Customer trusts us. They are sure that all their details and inner thoughts will be kept totally confidential .They know deep in their heart see us as unique, highly helpful, highly reliable and highly knowledgeable. We always put the customer first and keep everything confidential.
Ease of use: Askganesha is customer-centred astrology portal with easy to use UI. We take pride in ourselves for making it customer oriented. Our services have put us in a realm that is above and beyond our competitors.
Evidence:Why not take a look at what other customers have to say? We have testimonials on almost all our pages, full of praise and thanks. We have tons of satisfied customers worldwide.
Apart from this we have multiple secure payment options: You can pay for your order directly with your credit card, debit card, net banking or through PayPal. We use high security standards so that your details are always safe.
Once you have taken services from us you will look no where else.
God Bless You.
100% Guarantee
We provide 100% proof of the puja done. We have clients getting pujas done from the last many years. We assure you pujas are done in the best possible vedic process.