Dhaanya Lakshami Puja
Dhaanya Lakshami Puja is done to attain the blessings of the Goddess Dhaanya Lakshami, for the good harvest of grains and agricultural wealth and ultimately having high revenues.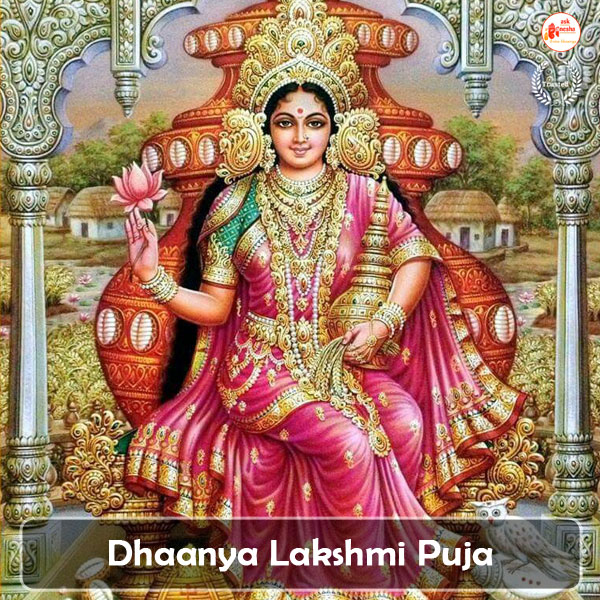 Benefits of Dhaanya Lakshami Puja :
This puja destroys all the evils and negativity in life and helps in getting a good harvest.
This puja blesses with abundance in food and keeps the granary full of grains.
It provides nourishment for a healthy and disease-free life.
This puja removes obstacles from the way of earning wealth by the means of agriculture.
People involved in industries related to food processing etc are highly benefitted by this puja.
Read Customer Reviews
Picchle monsoon me meri fasal ka bahut nuksaan hua . mujh pr kaafi karza bhi chadh gaya tha. Dimaagi pareshani bhi hone lagi thi. Mere bete ne Askganesga p Dhanya Lakshmi ki puja book karwai. Mujhe to vishwaas nhi tha ki koi fayda hoga, kintu, sardio ki fasal bahut badhia hui aur agle monsoon bhi acche hue. Kaafi mynaafa kamaya. Dhanyawaad Askganesha ka
Arvinder Saini, Kisan, Murthal, Haryana
Mere khet ki mitti ki upjau shakti bahut ghat gai thi aur khaad daalne k bawajood bhi fasl theek nhi hoti thi. Askganesha se Dhaanya Lashmi puja bade hi kam keemat pe karwane k baad dharti ki upjau shakti badh gai hai aur meri khrti bhi achhi hoti hai. Jai Maa Dhaanya Lakshami
Jagbir Kumar, farmer, Kartar Pur Punjab
About Dhaanya Lakshami Puja
Dhaanya Lakshami is the third of the eight forms of Lakshmi, who is responsible for providing good agricultural productions. Every eatable thing that comes out of the greenery of the Earth is called Dhaanya. The goddess preaches to respect grains and Mother Earth for her benevolence.
Once, the King of Ayodhya, Raja Dasharatha helped the King of the Gods, Indra, in a war against Shambhaasur in winning the swarga back from him. After winning the war, once Indra invited Raja Dasharatha and Kaikeyi, his wife, who accompanied Dasharatha in the war, to the Swarga. They decided to oblige Indra and go to the Swarga. Rishi Vasishta told Dasharatha not to leave at the time of the harvest as it would be disrespect to the Goddess Dhaanya Lakshami. That was the time when Goddess Earth and Goddess Lakshmi were worshipped for the harvest. Raja Dasharatha and Kaikaeyi did not pay heed to the advice given by Vasishta and went to Swarga and stayed there for a year. When they came back, they were shocked to see the mess in which their kingdom was. Goddess Dhaanya Lakshami got annoyed by the disrespect Raja Dashrath shown to her by missing her puja and that caused serious famine in the Kingdom.
Sage Vasishtha suggested bringing Shringi Rishi to Place as he had a boon that wherever he would live, there would be no scarcity of water and food. Dashratha's adopted daughter Princess Shanta bemused Shringi with her beauty and virtues and married him to bring him to Palace in Ayodhya. There were sufficient rain and fields were full of crops. From that time Goddess Dhaanya Lakshmi was worshipped every year during harvest season.
People having meagre production of agricultural products should perform the puja of Goddess Dhaanya Lakshami for an agricultural prosperity.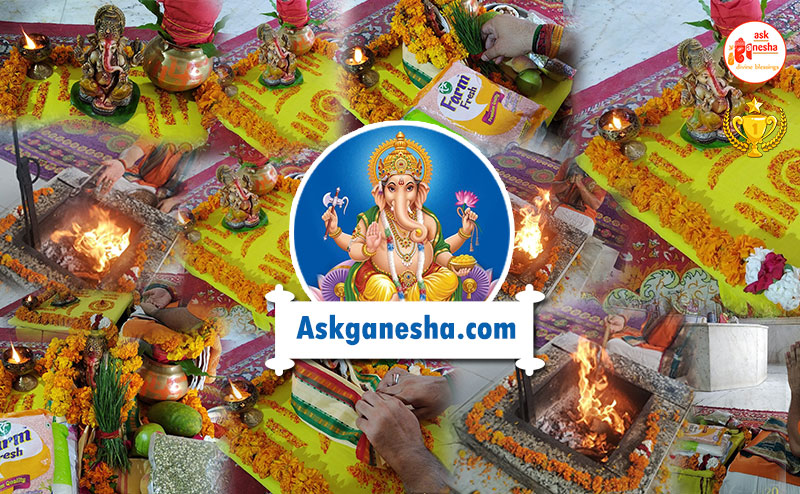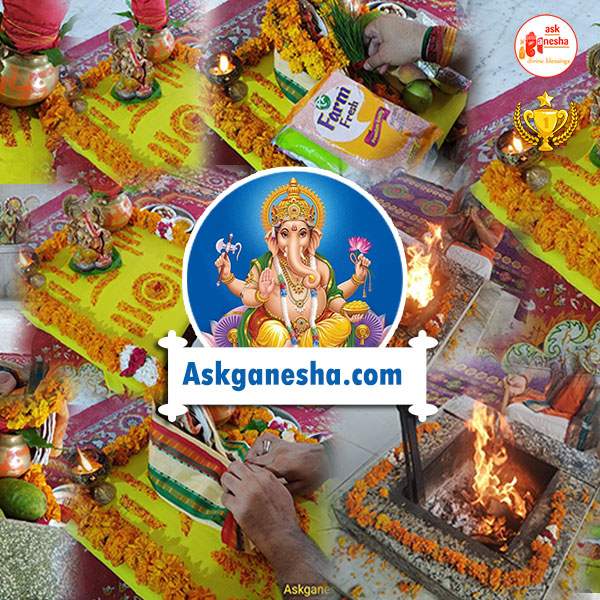 Online Puja Highlights
Free Mahurat Calculation by Astrologer
Puja is done in Vedic form with no side effects on anyone.
Personalized Puja and Homam done only for you.
Real proof of the puja done is also sent to you.
Puja done by Well Versed Experienced Purohits
View Pictures of Dhaanya Lakshami Puja


Read Customer Reviews
Askganesha perform online pujas very religiously and with all tge Vedic rituals. I booked Dhaanya Laxmi Puja and got wonderful results this year. Production of fruits and flowers in my farms was really encouraging
Mohan Lal, Farms Owner, Mandi, Himachal Pradesh
Thanks to Askganesha For doing Dhanya Lakshami Puja for me. They are very reasonable and honest in their field
Ashok Singhal, Agro Products Shopkeeper, Jalaur Rajasthan
My father is having a unit where jams and jellies are manufactured. Our factory was working very good, but last year there was a huge loss in the production of apples. This caused a loss in our business. Cost was high, but production was low. We got done Dhaanya Lakshami puja last year from Askganesha and this year we had a huge profit
Mukesh Jain, Businessman Vadodara Gujarat
Why People Trust us!
Our Mission: Divine Blessings for Everyone
The 5E's of ASKGANESHA "Experience, Excellence, Entrusted, Ease of use and Evidence"
Experience: Askganesha has a very experienced team which have been serving people for more than 30 years. Our team members are well qualified and are highly knowledgeable. We have been listed on BBC too. We really care about our customers. That's why we always do our best to make your experience with us as pleasant as can be. We put our complete efforts to provide you the best astrology services.
Excellence: We provide excellent customer support. Our after sales service is considered to be our strongest point and we take pride in being one of the best in it.
Entrusted: Our Customer trusts us. They are sure that all their details and inner thoughts will be kept totally confidential .They know deep in their heart see us as unique, highly helpful, highly reliable and highly knowledgeable. We always put the customer first and keep everything confidential.
Ease of use: Askganesha is customer-centred astrology portal with easy to use UI. We take pride in ourselves for making it customer oriented. Our services have put us in a realm that is above and beyond our competitors.
Evidence:Why not take a look at what other customers have to say? We have testimonials on almost all our pages, full of praise and thanks. We have tons of satisfied customers worldwide.
Apart from this we have multiple secure payment options: You can pay for your order directly with your credit card, debit card, net banking or through PayPal. We use high security standards so that your details are always safe.
Once you have taken services from us you will look no where else.
God Bless You.
100% Guarantee
We provide 100% proof of the puja done. We have clients getting pujas done from the last many years. We assure you pujas are done in the best possible vedic process.