Chandra (Moon) Puja
Chandra Puja helps in increasing concentration, providing mental peace, control of emotions and to get rid of mental depression, it helps in developing a pleasing personality.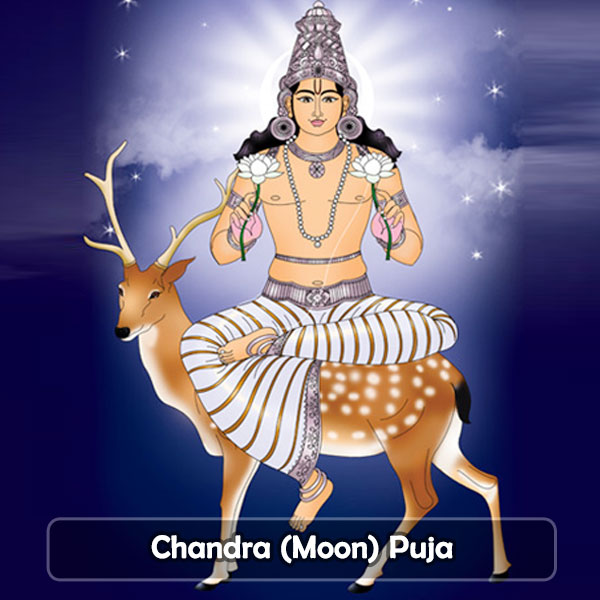 Benefits of Chandra (Moon) Puja:
Chandra Puja helps in providing mental peace, control of emotions, it helps in developing a pleasing personality.
Chandra puja helps in gaining and increasing concentration and the focus of the person and mind becomes stable so that no diversion can divert the focus of the devotee.
This puja is very instrumental in getting rid of mental depression and other mental and emotional disorders.
This Puja brings peace through calmness of mind, the righteousness of actions, propagation of Love, and affection, thus enhances self-esteem and self-confidence.
It brings happiness and prosperity and showers with bliss.
This Puja safeguards the devotee from the dangers of diseases of the stomach, ulcer problems, and problems of the intestines.
Those undergoing the Maha dasha, Antar Dasha and Pratyantar dasha of planet Moon should perform this puja.
Read Customer Reviews
Chandra or Moon God puja really helped me gain concentration at my work place. It has really helped to gain new perspective and mental peace. My always disturbed mind which kept on wandering from here or there is now in centre.
By Neeru Arora, Professor, Tasmania
Askganesha.com told me that my horoscope was under Chandra dasha and this may be the reason of my lost mental serenity. I got the Chandra dasha puja done by askganesha.com. After that my life is good, and I am very happy.
By Pankaj Shrivastava, Photographer, MP
About Chandra (Moon) Puja
Chandra Puja is dedicated to the Moon God. Chandra Puja helps in increasing good concentration, providing mental peace, pleasing personality, control of emotions and to get rid of mental depression. Also those who are running with Chandra dasha or Sub-period of planet Moon as per their horoscopes, they should certainly perform this puja.
Chandra is the vedic name for Planet Moon, In Sanskrit, Chandra means "bright and shining"
Moon is the ruler of mind and all the senses are controlled by the mind. Chandra gives a calm and soothing affect to our life. This puja brings in peace and serenity.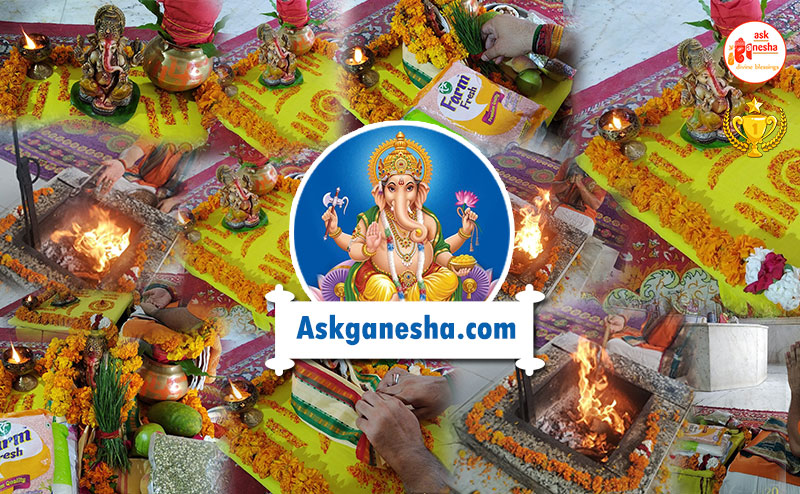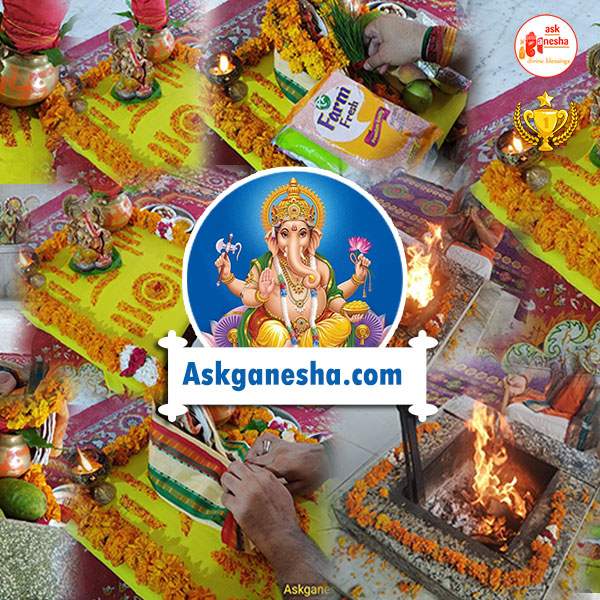 Online Puja Highlights
Free Mahurat Calculation by Astrologer
Puja is done in Vedic form with no side effects on anyone.
Personalized Puja and Homam done only for you.
Real proof of the puja done is also sent to you.
Puja done by Well Versed Experienced Purohits
Chandra (Moon) Puja - Youtube Video
View Pictures of Chandra (Moon) Puja


Read Customer Reviews
In the last 6 months, I was experiencing a lot of irritation on my part and was feeling depressed most of the time. I was told that Chandra dasha is there in my horoscope. So I ordered Askganesha.com to perform this puja for myself. Once the puja was finished, I could feel that my mental peace was restored.
By Jai Bhardawaj, Finance manager, Hyderabad
Those who are not aware, moon Puja is very very effective and can be performed every year to keep stress at bay. I perform it every year as my job is very stressful and depression is very reachable in my case.
By Richa Bagga, PR head, Mumbai
In my case, even meditation couldn't help me. I was always depressed and my brain always seemed to be heating up, askagnesha.com advised me to perform Moon Puja. I ordered this puja to be done and after that my mind seemed to cool down and now I can concentrate better with a peaceful mind.
By Sukriti bajaj, choreographer, Delhi
Why People Trust us!
Our Mission: Divine Blessings for Everyone
The 5E's of ASKGANESHA "Experience, Excellence, Entrusted, Ease of use and Evidence"
Experience: Askganesha has a very experienced team which have been serving people for more than 30 years. Our team members are well qualified and are highly knowledgeable. We have been listed on BBC too. We really care about our customers. That's why we always do our best to make your experience with us as pleasant as can be. We put our complete efforts to provide you the best astrology services.
Excellence: We provide excellent customer support. Our after sales service is considered to be our strongest point and we take pride in being one of the best in it.
Entrusted: Our Customer trusts us. They are sure that all their details and inner thoughts will be kept totally confidential .They know deep in their heart see us as unique, highly helpful, highly reliable and highly knowledgeable. We always put the customer first and keep everything confidential.
Ease of use: Askganesha is customer-centred astrology portal with easy to use UI. We take pride in ourselves for making it customer oriented. Our services have put us in a realm that is above and beyond our competitors.
Evidence:Why not take a look at what other customers have to say? We have testimonials on almost all our pages, full of praise and thanks. We have tons of satisfied customers worldwide.
Apart from this we have multiple secure payment options: You can pay for your order directly with your credit card, debit card, net banking or through PayPal. We use high security standards so that your details are always safe.
Once you have taken services from us you will look no where else.
God Bless You.
100% Guarantee
We provide 100% proof of the puja done. We have clients getting pujas done from the last many years. We assure you pujas are done in the best possible vedic process.