Ashtha Lakshmi Puja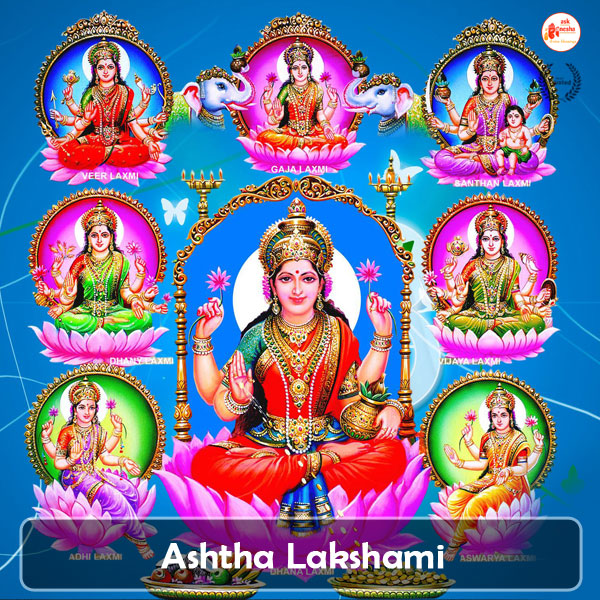 Benefits of Ashtha Lakshmi Puja :
This puja removes poverty from the life of the devotee.
It enhances, stabilises and strengthens the financial status of the person.
It protects the devotee from all kinds of losses, like financial loss or any personal loss.
It protects the devotee from all kinds of diseases and illnesses.
It helps in getting knowledge and spiritual elevation.
Read Customer Reviews
I thankfull to Askganesha for doing puja od Ashtha Lakshami. My cattle were dying of unknown disease, doctor can not save my three buffaloes. Big loss was n me. My aunty ji told me to ask at Askganesha. They tell me do this puja and my sick buffaloes did not die. They all are fine. Thanks Askganesha.
Vishambhar Nath, Milk business, Jalandhar, Punjab
This puja has benefitted me and my family immensely. Due to floods last year the crops were destroyed and my family suffered with a huge loss. My dad was hospitalised due to heart attack and the family was disturbed. My wife consulted Askganesha and they suggested Ashtha Lakshami puja for over all benefits. My father is healthy now and this year we reaped almost double yield in farms.
Venkat. V. Ayyar, Farmer, Trichur Kerala
About Ashtha Lakshmi Puja
The Eight forms of Maa Lakshmi : Ashtha Lakshmi Puja
Goddess Lakshmi is one of the three main deities worshipped in Hinduism. She is mainly known as the Goddess of wealth and prosperity. But only a few know that goddess Lakshmi depicts, spiritual growth of mind, patience, humility and the detachment from desires. She, in her different eight forms, depicts different virtues, which the human race needs to learn. Mostly shown as the goddess blessing with free flow of the wealth, she is worshipped for the materialistic luxuries and wealth, but Goddess Lakshmi has eight different forms, thus known as Ashtha Lakshmi, representing different aspects like skills, abundance in knowledge, spirituality and talent. Shri Ashtha Lakshmi Stotram lists all the eight forms of goddess Lakshmi.
Maha Lakshmi or Adi Lakshmi
Adi Lakshmi is the Lakshmi who is always there that means the Goddess that has no end and she is the most primaeval form of goddess Lakshmi. She is always seen serving Lord Vishnu who symbolises the survival of life, thus Adi Lakshmi is always depicted as in service of the universe. Although Narayan and Lakshmi are not different, she is the Shakti of Narayana, yet she is depicted to be supporting the main act of Narayana, to sustain the whole universe.
Adi Lakshmi is seen as the four-armed Goddess, carrying a lotus in one hand and, a white flag in the other hand. With her third hand, she makes Varda Mudra and with the fourth, she is shown making the Abhaya Mudra.
The word Adi means the source, and Adi Lakshmi means the Lakshmi or the Goddess who connects us with our source i.e. our soul or atman as we call it in Hinduism. The worshippers of Adi Lakshmi get connected to their inner self and are free from all kind of materialistic obstructions and spend their life in eternal bliss.
Dhana Lakshmi
The Dhan Lakshmi is the one form of Lakshmi that blesses one with wealth and prosperity. She is also known as the Vaibhav Lakshmi, who bestows riches on her worshipper or her possessor. Although for humans Dhan or wealth is the money,coins, materialistic luxuries etc., on the other hand, according to Rigveda, Dhan means our natural resources like water, rain, mountains, forests etc., our progeny, our will power, our virtues and our character. The possessor of the Dhan Lakshmi has all these forms of wealth in abundance.
Dhan Lakshmi is depicted as an eight-armed goddess in red saree, carrying the pitcher of Amrit the elixir, lotus, bow-arrow, free flow of gold coins from the hand in Abhaya Mudra, and Chakra and conch in the other hands.
Dhanya Lakshmi
Dhanya Lakshmi is the Goddess of agricultural wealth. She blesses with grains, food, nourishment and health. Being wealthy agriculturally means to have an abundance of food grains and one can sustain one's life and family's life without any trouble. Basically, she is the bestower of the harvest. The Dhanya Lakshmi is the giver of vegetables, fruits and essential grains, that is more important to sustain life than gold.
Dhanya Lakshmi is shown with eight hands, draped in green saree with mace, two lotuses, with paddy, vegetables, sugarcane in her hands and having Varda Mudra and Abhaya Mudra.
Dhairya Lakshmi
Dhairya Lakshmi is the Goddess of patience who blesses the possessor with the strength to face problems of life. This wealth is very important to sustain as no life is possible without troubles and struggles and only this wealth can make it possible to face all these in life. It eases passing through rough and bad times with courage and strength.
People worshipping Dhairya Lakshmi never fail in their life as they possess the courage, great patience, strength and inner stability.
Gaja Lakshmi
Gaja Lakshmi bestows with animal wealth and royalty. She is the Goddess who is believed to have returned the lost wealth of Indra, the head of the Gods, from the ocean.
She is depicted in Red clothes, carrying two lotuses, one hand in Abhaya mudra and Varada Mudra, and two elephants showering her with water pots.
Santan Lakshmi
Santan Lakshmi or the Goddess of progeny is the bestower of offspring, the wealth of children, family, and friends. Goddess Santan Lakshmi is the symbol of the social nature of man. Santan Lakshmi puja blesses the childless couples with children and gives them a healthy and long life.
Goddess Lakshmi is seen with six hands carrying two pots or kalasha, sword, shield, and a child in her lap who is also carrying a lotus in his hand.
Vijay Lakshmi
Vijay Lakshmi or Jay Lakshmi is the Goddess who provides the victory. She bestows with victory over all the hurdles of life and to get success. Vijay Lakshmi symbolises the wealth of fearlessness, courage and victory. The Goddess blesses its possessor with the strength of character and victory in all endeavours of life. Vijay Lakshmi enables the worshipper to gain victory not only physically but in all other mental and emotional struggles too.
Vijay Lakshmi is eight-handed Goddess draped in red clothes, carrying lotus, chakra, sword, shankh, pasha, Abhaya Mudra, and Varada Mudra.
Vidya Lakshmi
Vidya Lakshmi or the Goddess of Knowledge is the bestower of knowledge of Arts, science, simplicity, humility and integrity. Vidya means possession of knowledge of all kinds, making it easy to live and earn one's livelihood. Besides knowledge of all kinds or skills of all kinds one begets eighteen qualities namely; Absence of Vanity, Humility, Sincerity, Serenity, Simplicity, Regularity, Equanimity, Non-irritability, Fixity, Adaptability, Humility, Integrity, Tenacity, Nobility, Charity, Magnanimity, Generosity, and Purity.
Performing the Maha Lakshmi Puja one ets the blessings of the all Eight forms of Maa Lakshmi.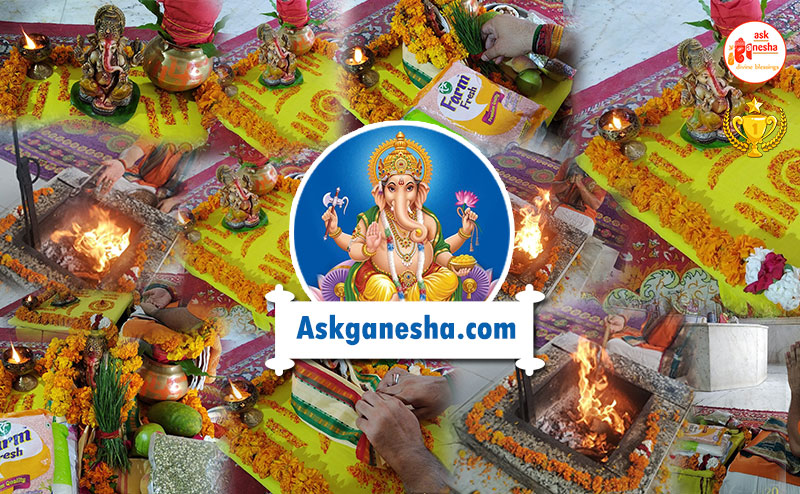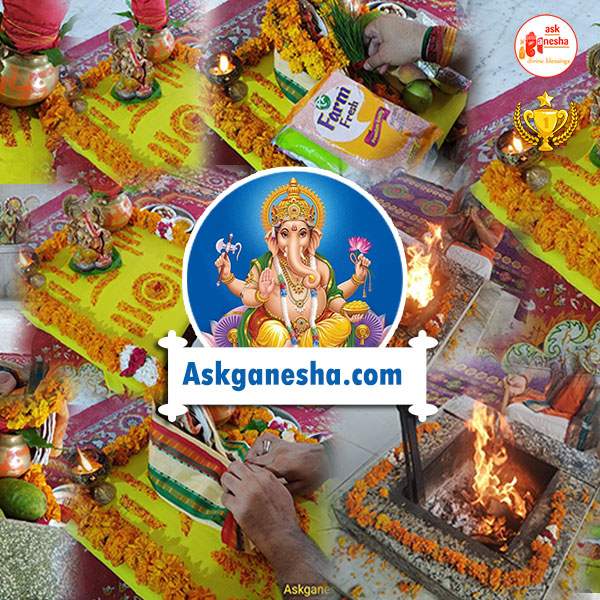 Online Puja Highlights
Free Mahurat Calculation by Astrologer
Puja is done in Vedic form with no side effects on anyone.
Personalized Puja and Homam done only for you.
Real proof of the puja done is also sent to you.
Puja done by Well Versed Experienced Purohits
View Pictures of Ashtha Lakshmi Puja


Read Customer Reviews
Paanch saal pehle mere business me bahut bada ghaata pad gayatha. Bahut koshish krne par bhi koi labh nhhi hua. Askganesha k jyotishi ji ne Ashtha Lakshami Puja karwaneki salah di. Mene unhi se mene yh pjuja book lar di. Picchle hi varsh iss puja ka ayojan hua. Is ssaal Kaafi accha bussines hua hai aur accha fayda hua . Maa Lakshami ki bdi kripa hui hai
Manohar Lal, Bussinessman, Rachi , Jharkhand
Askganesha is a very reliable and reasonable astrology site. I booked Ashtha Lakshami with them and was very satisfied with their procedure and after services they provide. God bless people at Askganesha
Madhu Bala , Theatre Artist, Chandigarh
Ashtha Lakshami Puja has helped me tremendously. On recommendation of the Askganesha astrologer, I booked this puja and had recovered from financial crunches very swiftly. My heartiest regards to Askganesha team
Vishwamitra Trivedi Cinema Owner, Kota , Rajasthan
Why People Trust us!
Our Mission: Divine Blessings for Everyone
The 5E's of ASKGANESHA "Experience, Excellence, Entrusted, Ease of use and Evidence"
Experience: Askganesha has a very experienced team which have been serving people for more than 30 years. Our team members are well qualified and are highly knowledgeable. We have been listed on BBC too. We really care about our customers. That's why we always do our best to make your experience with us as pleasant as can be. We put our complete efforts to provide you the best astrology services.
Excellence: We provide excellent customer support. Our after sales service is considered to be our strongest point and we take pride in being one of the best in it.
Entrusted: Our Customer trusts us. They are sure that all their details and inner thoughts will be kept totally confidential .They know deep in their heart see us as unique, highly helpful, highly reliable and highly knowledgeable. We always put the customer first and keep everything confidential.
Ease of use: Askganesha is customer-centred astrology portal with easy to use UI. We take pride in ourselves for making it customer oriented. Our services have put us in a realm that is above and beyond our competitors.
Evidence:Why not take a look at what other customers have to say? We have testimonials on almost all our pages, full of praise and thanks. We have tons of satisfied customers worldwide.
Apart from this we have multiple secure payment options: You can pay for your order directly with your credit card, debit card, net banking or through PayPal. We use high security standards so that your details are always safe.
Once you have taken services from us you will look no where else.
God Bless You.
100% Guarantee
We provide 100% proof of the puja done. We have clients getting pujas done from the last many years. We assure you pujas are done in the best possible vedic process.