Ashtha Dasha Shakti Peetha Maha Yagya
This Maha Yadya is to appease Goddess Shakti in her all 18 forms. This is a powerful Homam to defeat enemies, cure diseases, remove doshas, inflictions, and bless with beauty, material abundance, fame and longevity. Get the ultimate in blessings by performing the Ashtha Dasha Shakti Peetha Maha Yagya. Click the button bellow.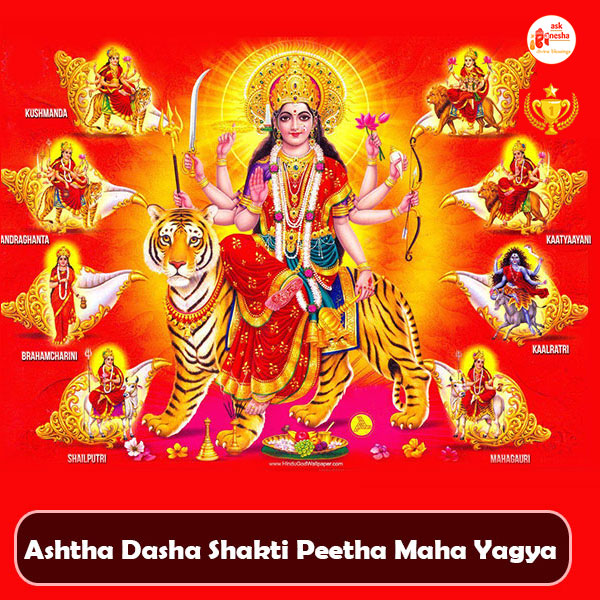 Benefits of Ashtha Dasha Shakti Peetha Maha Yagya
This Maha Yagya blesses with courage, beauty, joy happiness and peace.
It protects the devotee from enemies, diseases, negative forces and evil energies.
This Maha Yagya Removes all kinds of Dosha and inflictions.
It bestows longevity, fame and name upon the native performing this Maha Yagya.
This Maha Yagya blesses with material abundance, wealth and prosperity and gives the power to protect them.
About Ashtha Dasha Shakti Peetha Maha Yagya
Ashtha means eight and Dasha means ten i.e. eighteen Shakti Peethas or the eighteen manifestations of Goddess Durga. They are worshipped together to get their combined blessings. These eighteen manifestations are:
Devi Shankari is in Sri Lanka now and is worshipped to get a life free from diseases, enemies and evil powers. Devi Shankari is the Shakti Peetha where the heart of Devi Shakti fell.
Devi Kamakshi is in Kanchipuram, here the limbs of Devi fell and people worship this Shakti Peetha to remove the fear of evil powers, cure Osteosarcoma and get the desires fulfilled.
Devi Srinkhala is the Shakti Peetha situated in Karnataka where the stomach of Devi Shakti fell. She blesses with divine care and removes the fearful bonding of devotees.
Devi Chamundeshwari is situated in Mysore where the hair of Goddess Shakti fell. Worshipping Devi Chamundeshwari removes all the deadly and infectious diseases and blesses with a healthy and happy life.
Devi Yogamba situated in Alampur, Telangana removes evil effects of evil forces, removes the evil eye and protects her devotees. the upper jaw of Devi Shakti fell here along with the teeth.
Devi Bhramari in Nasik blesses her devotees with divine powers and removes evil powers, negative energies and fulfil all wishes and provide salvation. Chin of Devi fell here.
Devi Maha Lakshami in Kolhapur blesses her devotees with wealth, prosperity, success and fulfilment of desires.
Devi Ekaveera Temple is a Shakti Peetha in the small town of Maharashtra, where the head of Goddess Shakti fell. It is a place on the banks of the Ganges and this shrine blesses her devotees with salvation, boons, success, prosperity and success.
Devi Maha Kali in Ujjain is the shrine where the right toe of Devi Adi Shakti fell. She blesses with material gains, abundance, boons, and removal of the evil eye, negative forces and their impact.
Devi Purhuthika in Peethika is situated where the left hand of the Devi fell. She blesses the devotee with freedom from sins, bad deeds and negative forces.
Devi Girija on Odisha is the place where the naval of Devi Adi Shakti fell. She removes the Sarpa Dosha of all kinds and helps in attaining salvation.
Devi Manikyamba in Andhra Pradesh is the place where the left cheek of Devi fell. This shrine blesses devotees with early marriage, progeny and prosperity.
Devi Kamrupa in Guwahati is the place where the Yoni or the private parts of the Devi fell. She blesses with progeny, prosperity, wealth and health.
Devi Madhaweshwari in Pryaga is the Shrine where the fingers of Devi fell and she blesses her devotees to become debt-free, and with abundance and clarity.
Devi Vaishnavi or Jwalamukhi in Himachal Pradesh is the shrine where the tongue of the Goddess fell. She blesses with wealth, business, prosperity, happiness and saves one from untimely death and evil forces.
Devi Sarvmangla in Bihar, removes the sins, karmas, Pityu Dosh, evil effects and blesses with the purity of mind and emotions. Here the breast of Devi Sati fell.
Devi Vishalakshi in Varanasi or Kashi is the place where the wrist of Devi Sati fell. Devi Vishalakshi blesses devotees with courage, strength and removes their Doshas along with evil eye, black magic etc.
Devi Saraswati or the Sharda Peeth now in Pakistan, blesses her devotees with knowledge, wisdom by removing their ignorance and bad vision.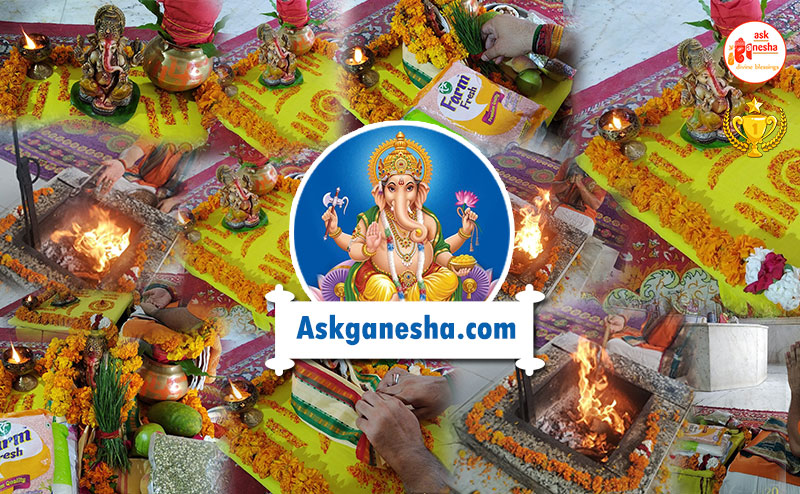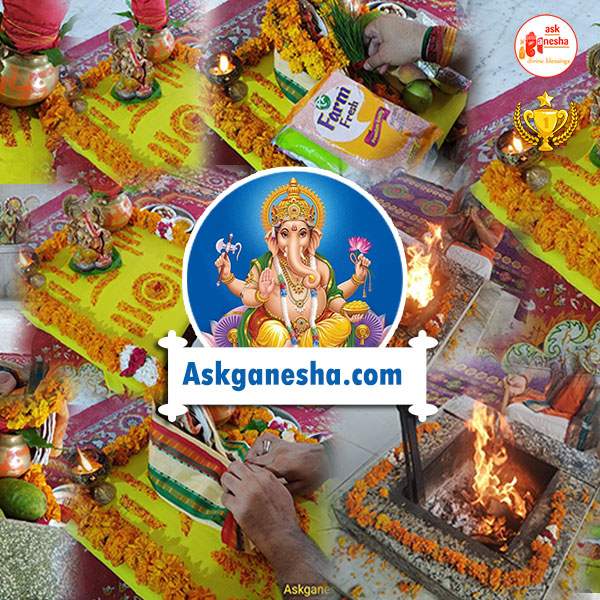 Online Puja Highlights
Free Mahurat Calculation by Astrologer
Puja is done in Vedic form with no side effects on anyone.
Personalized Puja and Homam done only for you.
Real proof of the puja done is also sent to you.
Puja done by Well Versed Experienced Purohits
View Pictures of Ashtha Dasha Shakti Peetha Maha Yagya


Why People Trust us!
Our Mission: Divine Blessings for Everyone
The 5E's of ASKGANESHA "Experience, Excellence, Entrusted, Ease of use and Evidence"
Experience: Askganesha has a very experienced team which have been serving people for more than 30 years. Our team members are well qualified and are highly knowledgeable. We have been listed on BBC too. We really care about our customers. That's why we always do our best to make your experience with us as pleasant as can be. We put our complete efforts to provide you the best astrology services.
Excellence: We provide excellent customer support. Our after sales service is considered to be our strongest point and we take pride in being one of the best in it.
Entrusted: Our Customer trusts us. They are sure that all their details and inner thoughts will be kept totally confidential .They know deep in their heart see us as unique, highly helpful, highly reliable and highly knowledgeable. We always put the customer first and keep everything confidential.
Ease of use: Askganesha is customer-centred astrology portal with easy to use UI. We take pride in ourselves for making it customer oriented. Our services have put us in a realm that is above and beyond our competitors.
Evidence:Why not take a look at what other customers have to say? We have testimonials on almost all our pages, full of praise and thanks. We have tons of satisfied customers worldwide.
Apart from this we have multiple secure payment options: You can pay for your order directly with your credit card, debit card, net banking or through PayPal. We use high security standards so that your details are always safe.
Once you have taken services from us you will look no where else.
God Bless You.
100% Guarantee
We provide 100% proof of the puja done. We have clients getting pujas done from the last many years. We assure you pujas are done in the best possible vedic process.