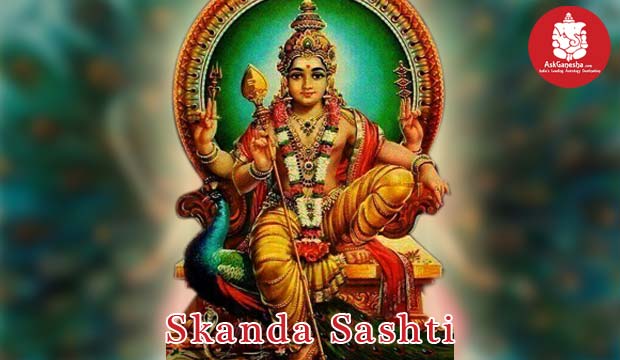 Skanda Sashti Date & Mahurat
The upcoming schedule for Skanda Sashti is on dates: 04 July, 2022
About Skanda Sashti
Sashti means six or sixth. Therefore, Skanda Sashti basically is the sixth day of bright fortnight of Aippasi (Tamil month, October-November). The day belongs to the son of Lord Shiva i.e. Kartikeya who is also known as Subramanya, Bahuleya, Krithikesh, Saurjyesh (the Lord of Valour), Murugan and Shanmukh. This festival is mainly celebrated in the parts South in India. Devotees get performed the Lord Kartikeya Puja to win over enemies, win in court case, protect from black magic, etc.
On this festival, perform Lord Shiv Pariwar Puja
Personalized Puja and Homam done only for you
Free Mahurat Calculation by Astrologer
Puja will be done with right vidhi vidhan through experienced purohits.
The day is celebrated to commemorate Lord Murugan (Son of Lord Shiva) who saved the lives of people from the inhumanity of demon Tarakasura and his siblings. He was blessed with a boon that only Lord Murugan could kill him. Demon was so brutal and wicked that he killed many people and acquired everything with his power and dominance. Not only this, he also defeated Devas. Miserable people were so distressed by the demon.
How Skanda Shashti is celebrated?
Devotees undertake fasts and offer prayers to the God. People recite hymns, read stories of Lord Karthikeya and worship him. Some people or devotees stay in the temples for six days. Offering of Kavadi on Skanda shashti is considered significant.
Temples of Lord Murugan :
Palani Dhandayuthapani temple (100kms southeast of Coimbatore and northwest of Madurai in the foot hills of Palani Hills).
Swamimalai Murugan Temple ( located in Swamimalai, 5 kms from Kumbakonam on the banks of tributary of River Kaveri and 250 kms away from City Chennai).
Thiruthani Murugan Temple ( located on the hills of Thiruttani, Tamil Nadu, India).
Pazhamudircholai Murugan Temple ( 16 kms north of Madurai, India).
Thiruchendur Murguan Temple ( situated in Tamil Nadu, India).
On this day, camphor is burnt; flowers, fruits and food are offered to Lord Murugan. He is worshipped with special unguent, milk, and many other offerings. People gather to watch role plays on this occasion. Some people observe fast, they abstain themselves from food. Worshiping Lord Murugan provides people with divine grace, blessings and releirf from negativity
Astrological Aspects:
Lord Murugan rules number 6. This house signifies debts, disease and litigations. Lord Murugan help the devotees from tangles situations, obstacles and barriers of life and bestows devotees with good health.