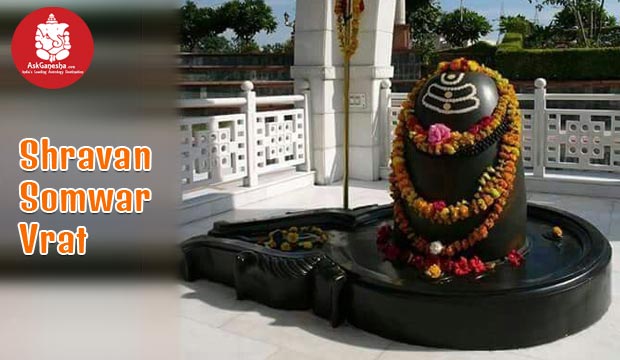 Shravan Somvar Vrat Date & Mahurat
The upcoming schedule for Shravan Somvar Vrat is on dates: 22 July, 2024
About Shravan Somwar Vrat
In the month of Shravan (July – August), Mondays are considered highly prosperous for offering prayers to Lord Shiva. It is said that the worship of Shiva during Shrawan month is 108 times more powerful than worshipping him during normal days. Millions of devotees observe the Shravan Somwar Vrat – fasting and performing Pujas on Mondays in Sawan Month.
Legend of Shravan Somwar :
Shravan Maas is dedicated to Lord Shiva. Lord Shiva is worshipped with full dedication and commitment. Devotees observe fast on this day to seek blessings of Lord Shiva. The legend of Shravan Somwar is associated with Lord Shiva when Samudra Manthan took place i.e, churning of ocean. While churning the ocean, the Halahal called as poison came out which was consumed by Lord Shiva. He stored the poison in the throat due to which his throat turned into blue. Since then, Lord Shiva is also known as Neelkantha. To diminish the poison's impact, Lord Shiva wore crescent moon on his heas. To weaken the effect of poison the Gods and people started offering the water to Lord Shiva from the Holy Ganges to Lord Shiva.
On this festival, perform Lord Shiva Puja
Personalized Puja and Homam done only for you
Free Mahurat Calculation by Astrologer
Puja will be done with right vidhi vidhan through experienced purohits.
Shravam Maas Puja :
Shravan is believed as the most sanctified month of the year. It is the fifth month of the Hindu calender known as sawan and also known as the first month of Chatur Mas - the four holiest months in Hindu Hindi Calendar. On Purnima day the nakshatra 'Shravan' rules the sky, hence the month is said as Shravan.
Rituals and Customs of Shravan Maas Puja :
Perform Abhishek :
1) Doodhabishek i.e. offering milk to Lord Shiva,
2) Devotees should offer honey, ghee and sugarcane to attain wealth,
3) Perform abhishek with milk, water, curd, ghee, honey, sugar, Ganga Water etc
Offering Belpatra :
1) Offering belpatra to Lord Shiva provides relief from diseases,
2) Offer Darbh (a king of grass) to attain relief from disease,
3) Offering 100 neelkamal to Lord Shiva
Offering Datura :
Offering datura, Bhaang anf Shriphal are considered favourable
Ganga Jal :
Offer Ganga Jal to Shivlinga. Ganga Jal purifies the soul and provides soul relief from the bad deeds done. Ganga jal offering helps the devotees to attain Mokasha
Chant Shiva Mantra :
Chanting "Om Namah Shivay, Mahamritunjay mantra and reciting strotas helps a person to lead a peaceful life
Benefits of Shravan Maas Puja :
To reduce the malefic effect of afflicted moon
To eliminate the malefic effect of Shravan Nakshatra
To make it powerful and beneficial
To attain a healthy mind and good spirit in the life
People born under Shravan Nakshatra get immense benefit.
Significance of Shravan Maas :
Monday: Day of Lord Shiva
Tuesday: Day of Gauri
Wednesday: Day of Vishnu or Krishna
Thursday: Day of Buddh and Guru
Friday: Day of Laxmi and Tulsi.
Saturday: Day of Lord Shani.
Sunday: Day of God Sun.