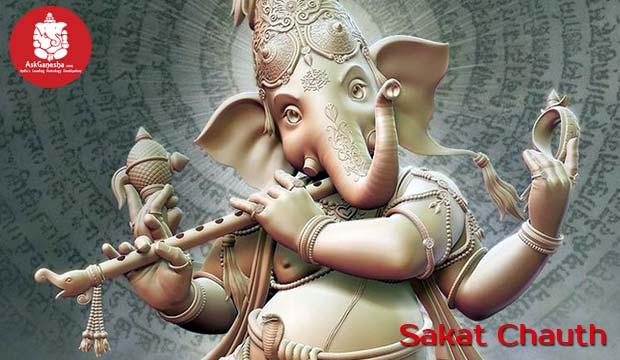 Sankashti Chaturthi Date & Mahurat
The upcoming schedule for Sankashti Chaturthi is on dates: 15 August, 2022
About Sankashti Chaturthi
Sankashti Chaturthi is also known as Ganesh Sankashta Chaturthi Vrat. This day is dedicated to Lord Ganesha. This day falls on the forth day of the Krishna Paksha of lunar fortnight or the forth day after full moon or Purnima.
Devotees observe fast on these days to seek blessings of Lord Ganesha.
When Sankashti Chaturthi falls on Tuesday, it is known as Angarak Sankashti which is considered highly auspicious. Get the lord Ganesh Puja done.
On this festival, perform Lord Gajanan Puja
Personalized Puja and Homam done only for you
Free Mahurat Calculation by Astrologer
Puja will be done with right vidhi vidhan through experienced purohits.
History of Sankashti Chaturthi
Angarak was the son of Mother Earth and Bhardwaj Rishi, an accomplished rishi and a great devotee of Lord Ganesha. He worshipped Lord Ganesha to seek his blessings. On Magh Krishna Chaturthi which was the day of Tuesday, Lord Ganesha asked him for a wish. Angarak had a wish to be associated with Lord Ganesha's name forever. The Lord Ganesha granted his wish and said that whosoever worships Lord Ganesha on Angarika Chaturthi will be granted all that he/she wishes for. From that day onwards, Magh Krishna Chaturthi was known as Angarak Chaturthi.
Legend of Sankashti Chaturthi
Lord Ganesha was created by goddess Parvati by the turmeric paste (for bathing) from her body, consort of Lord Shiva.. She asked Lord Ganesha to stand as aguard at her door while she bathed. Then, Lord Shiva returned and, as Ganesha didn't know him, he didn't allow him to enter in the room as per the order of Goddess Parvati. Lord Shiva became angry and asked his follower ghosts to teach the Lord Ganesha some manners. Lord Ganesha was very powerful, being born of Parvati. He defeated the ghost-followers (called "Ghana"s) and declared nobody was allowed to enter. The king of Gods, Indra attacked Lord Ganesha but couldn't win. By then, this issue had become a matter of pride for Goddess Parvati and Lord Shiva.
Shiva became angry and cut off Ganesha's head.
When Parvathi came to know about the incident she was really angry. Guilty Shiva ordered his servants to cut off and bring to him the head of any creature that might be sleeping with its head facing north. The servants went and found only an elephant in that position. The sacrifice was thus made and the elephant's head was brought before Shiva. The Lord then joined the elephant's head onto the body of Lord Ganesha.
Lord Shiva made his son worthy of worship at the beginning of all undertakings, marriages, expeditions, studies, etc