Pradosh Vrat or Pradosham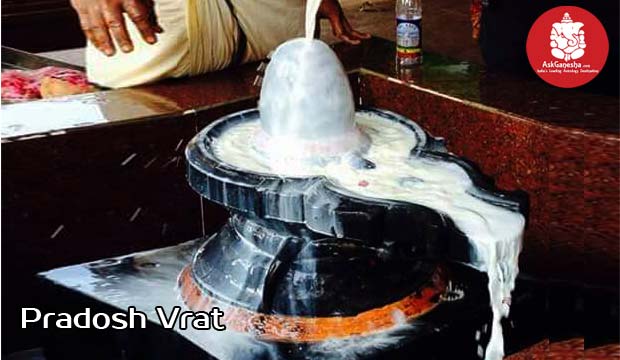 Pradosh Vrat Date & Mahurat
The upcoming schedule for Pradosh Vrat is on dates: 11 October, 2023
About Pradosh Vrat or Pradosham
Pradosh Vrat is a Hindu vrat which is dedicated to God Shiva and Goddess Parvati. This is also known as Pradosham. This is a bimonthly occasion on the thirteenth day of every fortnight in Hindu calendar. Pradosh Vrat is observed on both Trayodashi Tithis, i.e. Shukla Paksha Trayodashi and Krishna Paksha Trayodashi, in lunar month. The puja done on this day to helps reduce various problems such issues in marital life, weak health, obstacles in travel etc.
On this festival, perform Lord Shiva Puja
Personalized Puja and Homam done only for you
Free Mahurat Calculation by Astrologer
Puja will be done with right vidhi vidhan through experienced purohits.
The word Padoshan is considered as an opportunity for the devotees to free himself from sins and remove negative karma.
"Pra" means remover and "Dosha" means malicious Karma. This Vrat varies from region to region because the duration of the Kaal varies from place to place.
When Pradosham day falls on Monday it is called Soma Pradosham, on Tuesday it is called Bhauma Pradosham and on Saturday it is called as Shani Pradosham.
Soma Pradosham : This pradosha can eliminate disease, rivals and can destroy the negative energies around. Therefore, it is considered auspicious.
Bhauma Pradosham : This provides financial assistance to the devotees.
Shani Pradosham : This is observed by the couples for the harmonious and compatible life.
STORY OF PRADOSHAN VRAT
Once, Devas and Asuras were churning the ocean to extract Amrit. King of snakes, Vasuki helped them to churn the ocean. Due to scratches on the body of Vasuki which was caused through churning, she emitted dangerous poison. Frightened by the appearance, devas and demons visited Lord Shiva for the help. To save the world from the poison, Lord Shiva swallowed it. He took the poison inside; Goddess Parvati choked his throat to stop the poison to get inflected in the body due to which his throat turned blue. After this, he got the name Neelkantha. As per philosophy, it is said that on 13th Hindu lunar day i.e. Trayodashi, Devas and Asuras understood that by not worshiping Lord Shiva they have committed a blunder. After realization, they requested Shiva to grant them forgiveness. Lord Shiva forgave them and then danced between Nandi's (celestial bull) horns. It is this time which is known as Pradosham. Worshiping Lord Shiva during this time, i.e. Pradosh Kaal results in the fulfilment of wishes, desires and wants
PRADOSH VRAT PUJA PROCEDURE
The fast commences after the bath before sunset. Lord Shiva, Goddess Parvati, Lord Ganesha and Nandi are worshipped. Milk and water is offered to the Shivlinga. Kalash is filled with water and Durva grass is placed over the Kalash. Over the grass, a lotus is drawn. Flowers, betel nuts, betel leaf, coin and rice are offered to the deity. Lord Shiva's Mantra 'Maha Mrityunjaya ' is also chanted 108 times and sacred ash is applied on the forehead. It is believed that lighting a single Diya (lamp) on Pradosham appeases the deity and yields highly fruitful results.
IMPORTANCE OF PUJA
It is the step towards Moksha
Removal of bad karma
Devotees with blessed with wealth, children, happiness and honor
It is believed worshipping one Pradhosham equals going to temple for 15 days, worshipping 11 pradosham equals seeing one Kumbhabhishekam. No rebirth for those worshipping 120 pradhosham
Puja Ingredients
Milk, honey, lemon, sandal, rice, cooked rice, ghee, curd, coconut, sugar, sugarcane juice, panjamrutham
Ghee gives moksha state
Milk gives longetivity
Curd gives good children
Honey gives good voice
Rice gives freeness from debts
Sugarcane juice gives health and removes enmity
Lime juice removes fear of death
Coconut juice gives enjoyment and full satisfaction in life
Annam/ cooked rice give majestic life
Sugar removes enmity