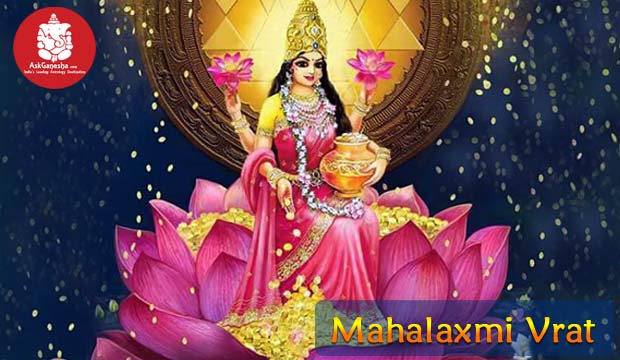 Maha Laxmi Vrat Date & Mahurat
The upcoming schedule for Maha Laxmi Vrat is on dates: 22 September, 2023
About Mahalaxmi Vrat
Sri Mahalaxmi Vrat is observed on the eighth day of Shukla Paksha in the Bhadrapatha month. It is on the same day as of Radhashtmi. Mahalaxmi vrat is an auspicious day among hindus wherein fast is performed by married couples. The fast and puja is held in order to seek blessings of Goddess Mahalaxmi who is the wife of Lord Vishnu. Mahalaxmi is the Goddess who symbolises wealth and prosperity. This Vrat is mainly performed in the southern Indian States of Andhra Pradesh, Tamil Nadu, Kerala and also in parts of Maharshtra and Odissa.
Get performed the Maha Lakshmi puja to bring in wealth and prosperity.
On this festival, perform Maha Lakshmi Puja and Homam
Personalized Puja and Homam done only for you
Free Mahurat Calculation by Astrologer
Puja will be done with right vidhi vidhan through experienced purohits
It is believed that this vrat is recommended by Lord Shiva to his wife Goddess Parvati in order to gain wealth and prosperity. There is another story told commonly about a very religious lady who was approached by Goddess Varalaxmi in her dream and was asked to observe the fast. She performed the fast along with the other ladies of the village with utter dedication. The offered Goddess Varalaxmi lots of delicacies and thus their vrat was completed. After the vrat, all the ladies were amazed to find their bodies decked with lots of jewels and their homes full of riches.