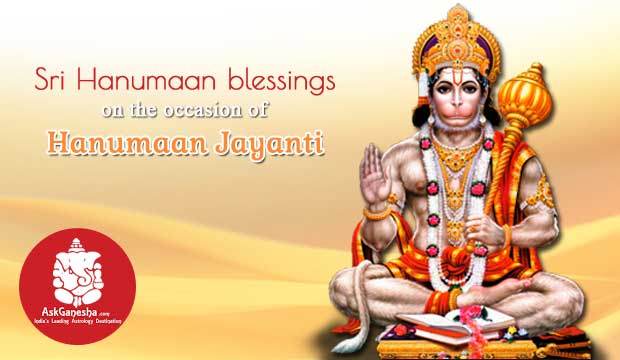 Hanuman Jayanti Date & Mahurat
The upcoming schedule for Hanuman Jayanti is on dates: 01 January, 1970
About Hanuman Jayanti
He is the son of Vayu (the wind) and he has gained his knowledge from Lord Sun, as he was considered omniscient on planet Earth. To commemorate the birth of Hanuman, Hanuman Jayanti is celebrated. This Jayanti is celebrated during the month of Chaitra. Hanuman is also known as the Vanara God. Hanuman is a true epitome of devotion and dedication and makes his presence felt all over when the name Ram is chanted or Lord Ram stories are recited. People perform the lord Hanuman puja to overcome enemies, all types of evil, ill health, and to win in competitions.
On this festival, perform Hanuman Puja
Personalized Puja and Homam done only for you
Free Mahurat Calculation by Astrologer
Puja will be done with right vidhi vidhan through experienced purohits
To destroy obstacles in the establishment of the Divine Kingdom was the main objective of Lord Hanuman and this was to be done by providing the required warrior element. As a result, the embodied souls who would assist in the establishment of the Divine Kingdom were protected
Lord Hanuman has the power to change ones destiny and remove ones karma. Hanuman Jayanti is one of the most powerful days to attain his blessings and implement positive results into ones life. It is believed that constant devotion to Hanuman makes one blessed with intelligence, name, fame, courage, good health and many more incredible virtues
Ritualistic worship of Hanuman
Saturdays and Tuesdays are considered as auspicious day of the week for the worship of Hanuman. While worshipping Him vermilion and oil are offered to him and also coconuts are broken in front of Him, which is the offering. The belief goes that worshipping Lord Hanuman protects one from negative energy
Lord Rama devotees start their prayers by first offering their salutations to Lord Hanuman. This status was acquired by Lord Hanuman purely on the basis of his unparalleled perseverance to Lord Rama. Hanuman resides in the heart of the great Lord Rama and hence Ram can not exist without Lord Hanuman. Those who surrender at the powerful feet of Lord Hanuman will never be put to trouble by any of the nine planets. It is said that even Lord Saturn fears to influence Lord Hanuman devotees. Lord Hanuman is considered the greatest of greatest heroes and also the servant of servants.
Hanuman Chalisa is a devotional song based on Lord Hanuman. It is a poem written by Tulsidas in the Awadhi language. The Hanuman Chalisa has 40 verses and this is always chanted by Hanumans devotees. The chanting of Hanuman Chalisa gives the devotees energy and strength to fight the evil and helps them in choosing a better life in the righteous path.