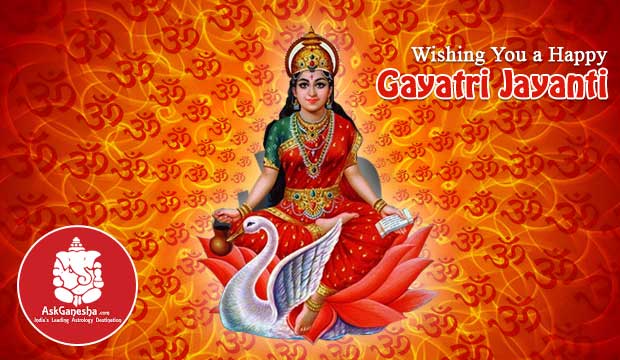 Gayatri Jayanti Date & Mahurat
The upcoming schedule for Gayatri Jayanti is on dates: 17 June, 2024
About Gayatri Jayanti
As per the mythological beliefs it is said that Goddess Gayatri made her appearance on the 11th day of the Shukla Paksha of the Jyeshta month.
Many people accept her as the mother of all Gods and some believe that she is the culmination of three Gods, namely- Laxmi, Parvati and Saraswati. Scholars also indicate that Sage Vishwamitra first uttered the Gayatri Mantra on the Jyeshta Shukla Ekadashi day. And from then on this day is observed as Gayatri Jayanti day.
On this festival, perform Maa Gayatri Puja
Personalized Puja and Homam done only for you
Free Mahurat Calculation by Astrologer
Puja will be done with right vidhi vidhan through experienced purohits.
It is said that she appeared to remove ignorance existent amongst the people. And to do so she appeared in the form of knowledge. Later on, this knowledge was spread out to the whole world by Sage Vishwamitra. Regarding Goddess Gayatris marriage to Lord Brahma the story runs that Brahma married her when his first wife Sabitri was late for a yagna. And Brahma had to start the yagna with his wife at time. Thus, in Sabitris absence he married Gayatri to start the yagna People offer special prayers and pujas to Gayatri Mata on this day. This day of worship is a community affair and people from different walks of life gather to offer their respect and devotion in the form of prayers a pujas.
These pujas are done either by Pandits or by elderly experienced persons. Satsangs are also organized in this day and the Gayatri Mantra is chanted by all the people. Such is the importance and significance of Gayatri mantra that if one chants the Gayatri mantra then no other mantras are needed to be chanted because this mantra is highly sacred.
To get the best results from the Gayatri mantra one needs to recite it thrice a day, preferably in the morning, afternoon and evening. It is believed that if one chants the Gayatri mantra incessantly then that person would not face the miseries and hardships of life. The mythological stories state that Goddess Gayatri, who is considered as the Mother of all Vedas has ten hands and five heads.
The ten hands of Goddess Gayatri are said to bear the symbols of Lord Vishnu and her five heads represents the four Vedas and the fifth one symbolizes the almighty itself. She is seen as sitting on a lotus flower