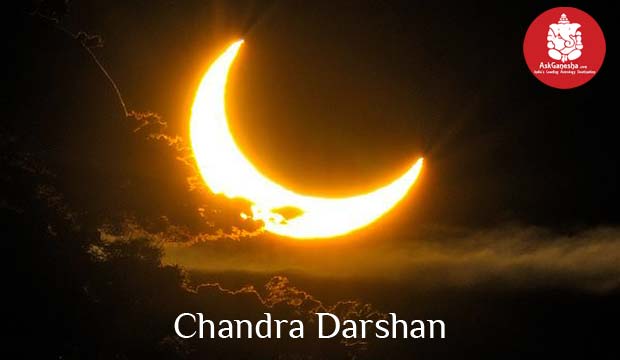 Chandra Darshan Date & Mahurat
The upcoming schedule for Chandra Darshan is on dates: 28 August, 2022
About Chandra Darshan
Chandra Darshan is the ceremony of sighting the moon on new moon day after the 'Amavasya' i.e., the no moon day. This day holds enormous spiritual importance. People worship Chandra Dev on this day. They offer special prayers and dedication. This day is celebrated as Chandra Darshan in the honour of the Moon God. Chandra Darshan is observed with great fervour and devotion. Those people who are running the dasha period of planet Moon in their birth chart or having moon in weak position get the Chandra puja done on this day..
Rituals during Chandra Darshan :
On this day, Hindu devotees worship the Moon God.
They observe fast on this day to please Chandra Dev.
They do not eat or drink anything throughout the day.
The fast is broken after sighting the Moon just after sunset.
It is said that a devotee who carries out all the ritualistic and solemn ceremonies of Moon God on the day of Chandra Darshan is bestowed with endless good fortune, prosperity and well being.
Donations and charity work is considered as an important ritual and ceremony on Chandra Darshan.
Devotees donate clothes, rice and sugar among other things to Brahmins on this day.
Significance of Chandra Darshan
In Hinduism, Chandra Dev or the Hindu Lord of Moon is regarded to be one of the most revered deities. He is also a significant 'graha' i.e., planet of the 'Navgraha'. He influences life on Earth. Moon is known to be a positive and favourable planet and is associated with knowledge, virtue, wisdom and good intentions. It is said that an individual with positively placed Moon in his/her planet will live a more successful and prosperous life.
Chandra Dev or the Moon God is also said to be the supporter of animal and plant life. He is married to the 27 Nakshatras, who are the daughters of King Prajapati Daksha and is also the father of Budha or Planet Mercury. Hindu devotees therefore worship Moon God on the day of Chandra Darshan to seek his blessings for success, victory, triumph, successfulness and good fortune.