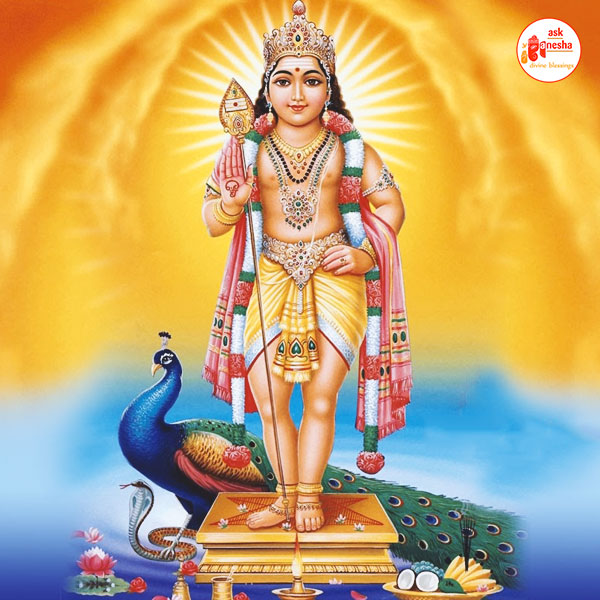 Read Customer Reviews
Lord Subramanya
Subramanya is another name for Lord Kartikeya, the son of Lord Shiva. He is the Commander of the army of the Gods. He is known as the God of war. Kartikeya teaches to defeat the negative people who may lead to the path of greed, sex, anger, passion, ego, and jealousy.
Subramanya also known as Kartikeya in hindi, is a hindu Lord. He is the son of Lord Shiva and Goddess Parvati. Subramanya/Murugan is worshipped primarily in the Tamil speaking population that includes Tamil Nadu, Sri Lanka, Mauritius, Indonesia, Malaysia, and Singapore. His prime temple is located in Tamil Nadu. In Bengal, Odisha and Maharashtra, he is known as Kartikeya. Kartikeya is known for his strength and cleverness in case of wars. He is a warrior and considered as Lord of War. It is believed that Kartikeya moved from mount Kailasha (Lord Shiva's abode) to the mountains of South because he felt that Lord Shiva and Goddess Parvati love and pamper Lord Ganesha (the younger brother of kartikeya) more than Lord Kartikeya. And that's the reason Lord Kartikeya is worshipped with much reverence in South. Though Lord Shiva and Goddess Parvati urged him a lot to get back to Kailasha but his decision remained unwavered.
Kartikeya is believed to have taken birth to put an end to the life of the Demon Tarakasur who was blessed with a boon to be killed only by Lord Shiva's offspring. At the time when Tarakasur asked for the boon, Lord Shiva was taken aback from the death of his first wife, Devi Sati and the fact that he married for the first time with great difficulty for the first time, the question about his second marriage was an impossible task. Kartikeya was born when Lord Shiva's fierce seed of fire is given to river Ganga by Lord Agni, then appeared the 'commander of the Army of Gods', 'Kartikeya'. Katikeya destroyed Tarakasura. Kartikeya was an extremely intelligent boy for his age, he studied under Lord Brahma and apparently the combined knowledge of Lord Brahma and Lord Shiva seemed to be unsatisfying to him. Kartikeya teaches his devotees to battle through life by defeating the negative people who may try to lead them to the path of greed, sex, anger, passion, ego and jealousy.
Subramanya Puja
Worshipping Lord kartikeya can help the devotees get rid of evil forces and enemies trying to hamper their growth and prosperity in life. The homam can be done with the help of a well versed Purohit.
Mahurat Calculation will be done free by Astrologer
Puja will be done with right vidhi vidhan through experienced purohits.