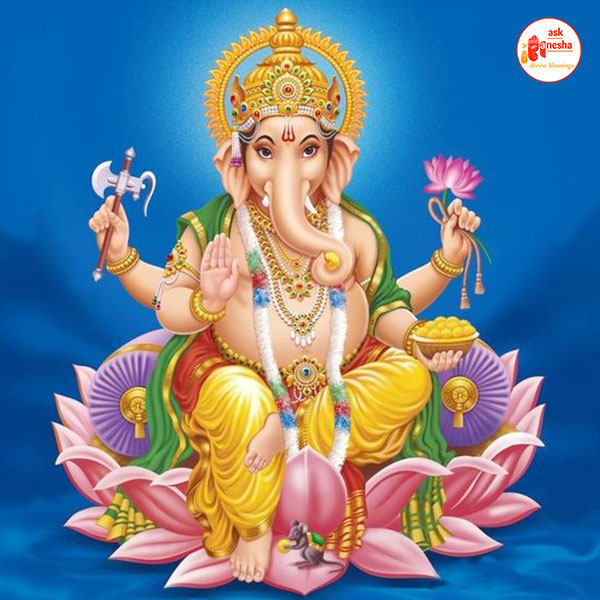 Read Customer Reviews
Lord Ganesha is often referred to as 'Lambodar'. 'Lambodar' literally means 'the one who has a pot belly'. Lord Ganesha is also known as Ganpati, Vinayak in Hinduism. Lord Ganesha is widely worshipped all over the world by the hindus. His temples are found throughout India, Nepal and Sri Lanka. Apart from Hindus, he is also worshipped by Jains and Buddhists. The most notable characteristic in the image of Lord Ganesha is his elephant head which has a complete story behind it. He is known as 'Vighana harta' meaning the one who removes all kinds of obstacles. Due to his intelligence and devotion to his parent, he earned the honour of being worshipped at the beginning of any Puja or Homam. He is known as the Lord of Beginnings.
Lord Ganesha is the son of supreme God Shiva and Goddess Parvati. According to legends, Lord Ganesha was created by the Goddess Parvati by her own filth. As the story goes, one day Lord Ganesha was guarding the gate while Goddess Parvati was taking bath inside. Lord Shiva appears and demands to meet Goddess Parvati, unaware of Lord Shiva's powers, Lord Ganesha denies Lord Shiva to meet his consort. Lord Shiva gets really angry and chops off the head of Lord Ganesha. Seeing this Goddess Parvati sets out to end the world in anger and to stop her from doing so, Lord Shiva fumes life in to the body of Lord Ganesha and pasting the head of an elephant on his body. Lord Ganesha is also known to be powerhouse of knowledge and intelligence. One day when all Devas begin to compete in the race of who is the fastest when it comes to cover the complete universe, all Devas set out on their vehicle and began a furious race. Lord Ganesha's vehicle is a rat and he is in no competition with all the other Devas. Instead he made three rounds around his parents and justified his win by stating that Parents are a child's universe. Impressed by Ganesha's intelligence, Lord Shiva blesses him with the honour of the title 'Lord of the beginnings'.
How to worship Lord Lambodar
Lord Ganesha blesses his devotees with unbound happiness and luck. The one who worships him is blessed with good health, happiness, intelligence and get rid of financial problems and hurdles coming in the way of completion of a work. A puja or homam can be performed by chanting his mantra for a specific period of time and making offerings to the God. It can also be performed by a well versed purohit.
Mahurat Calculation will be done free by Astrologer
Puja will be done with right vidhi vidhan through experienced purohits.