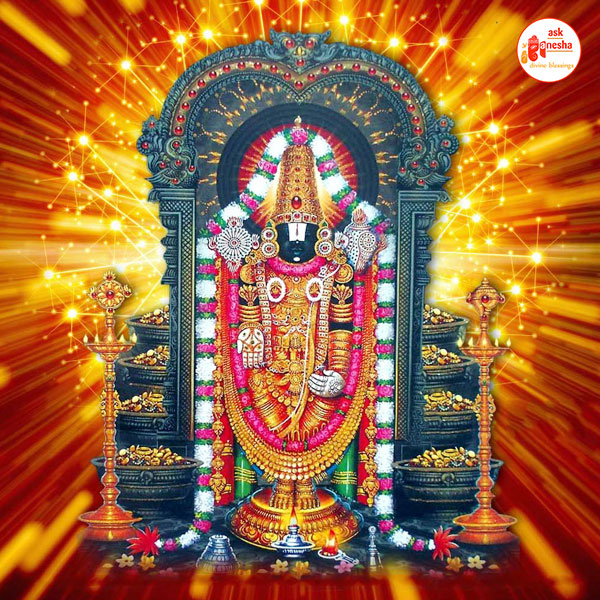 Read Customer Reviews
Lord Balaji
Tirupati, Balaji, or Venkateshwara is known as the reincarnation of Lord Vishnu. Venkat means destroyer of sin and Ishwara means God, so Venkateshwara is known as the God who washes your sins away.
Lord Tirupati also known as Venkateshwara, Balaji, Venkata is an incarnation of the supreme God Lord Vishnu. Lord Vishnu is among the divine trinity in Hinduism. The word 'Venkateshwara' is a combination of two words, 'Venkata' and 'Ishwara'. According to Vedas, the word 'Venkata' refers to the destroyer of sins and 'Ishwara' is God in English. Thus Vankateshwara/Tirupati is the God who destroys the sins. Venkateshwara or Ttirupati Balaji is most popular among the devotees of Southern India. He is portrayed as having dark complexion and four hands. One hand holding discus, chakra in hindi (symbol of power), other hand holding conchs hell, shankh in hindi (symbol of existence). The other two hands are lowered down as to offer blessings to the devotees.
The legend of Tirupati according to the TirumalasthalaPurana says that once the Sage Brighu went on to find who the supreme among the divine trinity is. He first went to Lord Brahma who was with his consort Goddess Saraswati and felt much ignored. Then he went to meet Lord Shiva who was in deep meditation with his wife Goddess Parvati, he felt insulted and left from there too.then at the last he went on to meet Lord Vishnu was in conversation with his consort Goddess Lakshmi and infuriated he kicked Lord Vishnu on his chest but Lord Vishnu tried to pacify Sage Brighuby pressing his chest which made Brighu realise his mistake and he apologised to Lord Vishnu. He came to the conclusion that Lord Vishnu is the supreme among the trinity and he informed the same to the sages. Angered by this incident, Goddedd Lakshmi left her heavenly abode and started to live in Kolhapur on earth. After this, Lord Vishnu started to live under the hill named Venkata meditating for the return of his consort. There after Lord Vishnu decided to stay in the Venkata hill and came to be known as Venkateshwara.
Lord Balaji Puja
Lord Tirupati Balaji Puja is performed to appease the Lord, increase in wealth, remove any disharmony existing in the home. The Puja brings peace and prosperity back in home and removes any kind of ill effects. This Puja is performed by a well versed Purohit and can be performed on someone's behalf as well.
Mahurat Calculation will be done free by Astrologer
Puja will be done with right vidhi vidhan through experienced purohits.