Remedies using Lemon and Green chillies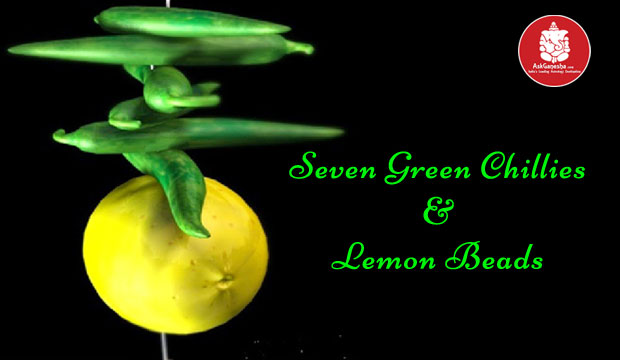 Lemon-Green Chillies tricks are extremely popular, in fact, this is the easiest and most often used remedy to avoid bad eyesight. You have often seen dangling lemon and chilli on the door outside many shops and houses. All this exercise is done to protect from evil eye and induce prosperity. In this article we will explain to you the elixir of snack. Lemon-Green Chillies is used to prevent a bad look, but why it is done. An interesting argument behind this is that the taste of lemon and Green Chillies is sour and tart, which dissolves the concentration of a person with a bad eye and does not stop at that place for longer time. This is a common logic, besides some religious and astrological reasons, which you will find in this article. Let's know the truth of the lemon-Green Chillies tricks!.
What is Lemon and Green chilli Mala?
There is an interesting religious argument about the trips of lemon and green Chilli. The elder sister of the Devi of Wealth (Lakshmi) is Daridra or needy. It is clear from their names that there are sorrows, sufferings and controversies where they live. Indeed, her existence is seen to be a torture on Lakshmi, she brings along Lakshmi's insult and disrespect, so it is natural that people become scared by the name of poverty. For this reason, many measures have been sought to avoid the disaster of Lakshmi. One of them is the drizzle of lemon and Green Chillies. It is believed that Daridra likes sour, spicy and pungent food and so she goes in search of it go everywhere, however she runs away from the sweet dishes Therefore, lemon and green Chillies are hanged outside the house or shop so that the desire for food and needy for money is fulfilled outside and they return from outside.
The perfect remedy of lemon and green Chillies :
After learning about the concept of lemon and Green Chillies, now read many related solutions. Through them, you can reduce the difficulties in your life.
Tulsi/ Holy Basil : Tutsi's name comes first when talking about auspicious tree in the house. Tulsi has been given the status of Lakshmi in the scriptures. It is said that in the house where there is a basil plant and the proper worship of the plant is done then there is always the increase of wealth in that house. This plant removes the negative flaws in the house. According to Vaastu Shastra, Tulsi plant should not be planted in the southern part of the house. If this happens, then this plant will be painful for you, therefore, it is necessary to always place the Basil plant in the north or right direction. Tulsi should be watered in the morning after bathing, after bathing. Basil is also of great importance in the form of medicine
Use the lemon to protect from a evil eye : If any child or older person has somebody's evil eye, then any member of the family should take lemons seven times from head to toe on top of the victim. After that, throw 4 pieces of lemon into a harmonious place. Remember, after throwing lemon pieces; do not look back at all.
Make success in business : If the business is not running properly, then make a note of lemon on Saturday. Take a lemon and touch it on the four walls of the shop or office. After that, cut the lemon into 4 pieces and throw a piece of lemon in four directions. All the negativity will be destroyed if you do this measure
Lemon for prevention from evil eyes effects : Sometimes a bad look leads to a decrease or decrease in the person's job, business and health. To avoid this situation it is advised that the To avoid this it is advised that please hang peeled Lemon and Chillies outside the house or shop, This is a sure-fire remedy to avoid evil eye defects.
Livelihood luck : Convenient Lime - Make an unmistakable breakthrough to awaken your well-being. Take a lemon and blow it over your head seven times and divide it into two pieces. Throw the left hand piece on the right and the right hand to the left.
To get job : Take 4 cloves and insert them on one lemon and chant 108 mantras of 'Sri Hanumate Namah: Mantra' and carry lemon with you. you will get success in job and interview
Helps in fighting prolonged illness and ailments : If a person or child is suffering from fever and is not getting relief even after treatment, then take a lemon on Saturday and rotate over the head of the patient seven times. Then cut the lemon from the middle with a knife, slowly touching the head to the feet. Throw both pieces of lemon into two directions at evening. However, this measure should be done only by asking a knowledgeable person.
We hope that the tips and tips given to you in this article should be helpful for you, but if you need help from a specialist then only use these remedies.