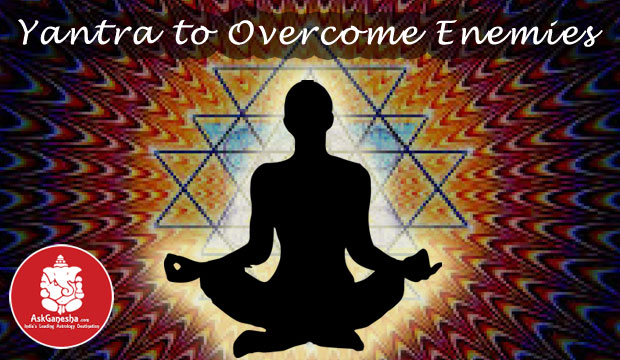 Yantra to Overcome Enemies
Baglamukhi Maha Yantra is for power & dominance over enemies & adversaries. The worshiper of this Yantra shall have an edge over competition, victory over adversaries, the power to defeat rivals and conquer enemies. Since disease is also considered a major enemy of mankind, this Yantra also offers protection against diseases, chronic problems and accidents. A known cure for 'Vata' imbalance. Bagala Mukhi Yantra also helps the worshiper to achieve success in competitive examinations and to attain victory in law suits.
The Yantra is engraved on copper plate only. Baglamukhi Yantra is very effective to ward off the evil effects of souls and Yakshani also to get success in gambling. This is a very powerful and useful Yantra for victory over enemies, law suits, success in quarrels and competitions.
Baglamukhi Yantra is effective as a memo of achieving success over enemies. This Yantra also offers protection for cuts, scars, operations and accidents. It is to be kept in the Pooja ghar.
Any person using this Yantra while in court every time gets sucess. This is the practical use of this Yantra. It is well tested by many people. After pran pratishta, Yantra is to be placed at Pooja place or in house temple on wooden chowke over which yellow asana be put. The Pooja be performed after bath. Take the water in righthand, recite the chamundi beej mantra and sprinkle water on Yantra; your all wishes would be fulfilled.