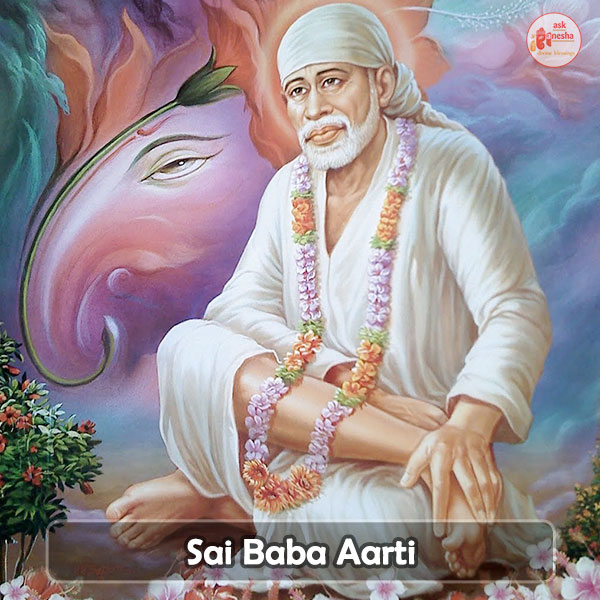 About Sai Baba Aarti
Sai Baba is also known as Shirdi Sai Baba. Different devotees have different name for him, some regards him as a saint while others as a fakir or a satguru and an incarnation of God. Sai Baba also condemned distinction based on religion or caste and that's why he is worshipped both by Hindus and Muslims but it is still unclear whether he was a muslim or a hindu.
Sai Baba was the real guru. He did not show his greatness to the world, wandering on the streets. He was down to earth and grateful in his Human form. He preached his disciples the real virtue of the spirituality and the right attitude to live life. With a single moto: God is one, he went on to spread love amongst everyone.
|| Aarti ||
Aarti Shree Sai Guruvar Ki,
Parmanand Sada Survar Ki ||


Jaki kripa vipul sukhkari,
Dukh, shok, sankat, bhaykari ll


Shirdi mein avtar rachaya,
Chamatkar se tatva dikhaya ll


Kitne bhakt sharan main aaye,
veh sukh-shanti chirtan paye ll


Bhav dhare jo mann mein jaisa,
pavat anubhav woh hi waisa ll


Guru ki udi lagave tan ko,
Samadhan lahbhat uss tan ko ll


Sai naam sada jo gave,
So phal jag mein shshvat pave ll


Guruvarsar kari pooja-seva,
uss par kripa karat gurudeva ll


Ram, krishna, Hanuman roop mein,
De darshan jaanat jo mann mein ll


Vividh dharm ke sevak aate,
Darshan kar eechit phal pate ll


Jai bolo Saibaba ki,
Jai bolo Avdhotguru ki ll


Saidass Aarti ko gave,
Ghar mein basi sukh, mangal pave ll


Aarti Shree Sai Guruvar Ki……..
|| Aarti in Hindi ||
आरती श्री साईं गुरुवर की |
परमानन्द सदा सुरवर की ||

जा की कृपा विपुल सुखकारी |
दुःख, शोक, संकट, भयहारी ||

शिरडी में अवतार रचाया |
चमत्कार से तत्व दिखाया ||

कितने भक्त चरण पर आये |
वे सुख शान्ति चिरंतन पाये ||

भाव धरै जो मन में जैसा |
पावत अनुभव वो ही वैसा ||

गुरु की उदी लगावे तन को |
समाधान लाभत उस मन को ||

साईंनाम सदा जो गावे |
सो फल जग में शाश्वत पावे ||

गुरुवासर करि पूजा - सेवा |
उस पर कृपा करत गुरुदेवा ||

राम, कृष्ण, हनुमान रूप में |
दे दर्शन, जानत जो मन में ||

विविध धर्म के सेवक आते |
दर्शन कर इच्छित फल पाते ||

जै बोलोसाईं बाबा की |
जो बोलो अवधूत गुरु की ||
साईंदास आरती को गावे |
घर में बसि सुख, मंगल पावे ||
Vidhi for Performing Aarti:
The things required to conduct the Aarti include: flowers, bell, incense stick, dhoop batti, a copper lota, Diya along with oil and batti. Begin with lighting the diya in front of the goddess's idol. Then light the incense sticks and begin the Aarti as you ring the bell continuously, followed by offering the flowers and rice to the lord. You can keep some fruits as the Prasad, to distribute after the Puja.
A fast must be observed to appease the lord. You can perform the Aarti in the temple or your house and later on offer food to Brahmins.
Benefits of Performing Sai Baba Aarti:
Sai Baba is believed to be extremely kind to his devotees. He grants all the wishes of his followers. He cures the diseases and blesses everyone by protecting them and taking care of other basic needs. He is known to be the politest and the most down to earth of all the Gurus. Sai baba helps his devotees to be able to face their fears and lead a successful life. The lord shows the path of salvation to the ones who worship him.