Tri Pindi Shradh Puja
Tri Pindi Shradh Puja is performed to assist the souls entrapped in the nether world and to remove all ill effects of not performing Shardha regularly.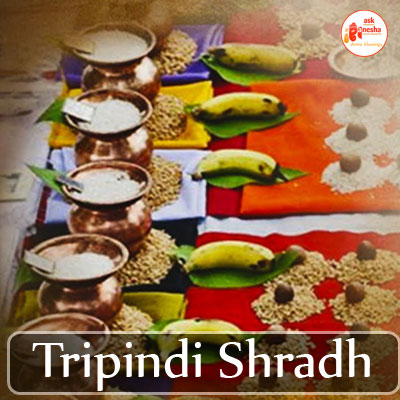 Benefits of performing Tripindi Shradh Puja
Tripindi Shraddha is done so that the souls of the dead get the path of salvation.
By doing this puja the family gets the blessings of the forefathers.
One is blessed with wealth and abundance by the ancestors
The main advantage of this puja is that it gives happiness and peace to the family.
Family members stay disease-free and healthy.
Any delays or disturbances in marriage will be resolved.
Puja can safeguard against unnatural and early deaths in the family.
The person will be successful in his life and will attain salvation after his death.
Childless couples are blessed with a healthy baby.
Read Customer Reviews
My mother-in-law had died before my marriage. But I continuously saw her in my dreams. I was scared and met my astrologer. He advised this puja to me. We did this puja on Amawasya and now I am fine.
Renu Mahajan, Teacher Mohali
I was having great turbulence in my life due to Pitru Dosha. I didn't believe in concept of shardh. Troubles did not leave my shadow and thus my uncle told me to do Shradh Karma. As I reside in the USA, I approached Askganesha team. Their astrologer suggested this special puja and had it done. Things seem to getting streamlined now. Thanks a lot guyz.
Rajesh Sanger Software Engineer, California
About Tri Pindi Shradh Puja
Tripindi Shraddha is known as kaamya Shradh Tripindi Shradh Puja is performed to bring peace to the souls of the ancestors of three generations. This will free the soul of the ancestor who might have died at a very young age. It is also done in case if the shraddha rituals were not followed from 3 years. In this case, the departed souls of the family members become angry and vehement, to calm those angered souls this TriPindi Shradh is offered to them.
If offerings to the deceased are not made and spiritual procedures if not performed as per the traditions then problems may arise due to religious discord. Problems like delay in marriage prospects, failure in business, receding prosperity day after day, illness, etc may start taking place. TripindiShradha must be performed to resolve such calamities. Its assertion is mentioned in "ShradhaChintamani".
The objectives of performing Tripindi shraddha are not just for providing momentum for the onward journey of souls that have not found proper liberation and tormenting surviving family members. In other words, this is performed to assist the souls entrapped in the nether world and attain Moksha.It is mentioned in GrihyaSootras, that performing this rite on a regular basis can help clear the PitraRinand Pitra Dosh.
Online Puja Highlights:
Free Mahurat Calculation by Astrologer
Puja is done in Vedic form with no side effects on anyone.
Personalized Puja and Homam done only for you.
Real proof of the puja done is also sent to you.
Puja done by Well Versed Experienced Purohits
View Pictures of Tri Pindi Shradh Puja


Read Customer Reviews
My husband used to be very sick all the time. His health was deteriorating day by day. My astrologer advised me to get this puja done. After doing this puja he is getting better now. Thanks to you .
Neerja jain, Software Engineer, Gurgaon
This puja has helped me a lot. I was having a marital discord with my wife and the things were at the verge of divorce after seven years of marriage. Some one suggested to have astrological advise and thus I came to know about this dosha in my horoscope. We did this puja and things got really well.
Arvind Chauhan, Teacher, Hisar
Meri janampatri me pitra dosh tha. Mujhe kisi ne pitra dosh ke liye puja ka kaha. Yahan p jyotishi ij ne meri kundli dekh k iss puja ko karne ko kaha. Mene ye puja karwai aura bb kuchh farak lag raha. Dhanywaad.
Rajesh Kumar shopkeeper Panipat