Submit A Prayer (Free)
Send your prayers for the upcoming auspicious ocassion. We at Askganesha will offer your prayers to your deities with special mantras and will be done by our learned and well-versed purohits.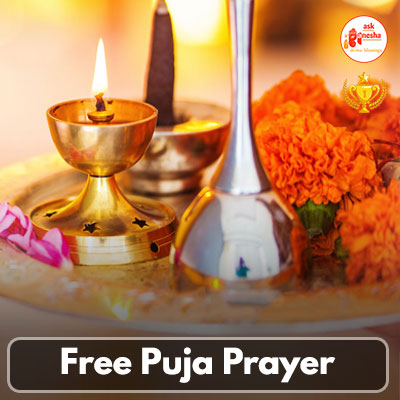 Free Puja Prayer
Prayer is the soul's sincere desire expressed to the God or Deity. Prayer is a direct conversation made with God. It is an interaction of our soul with God by addressing him. Prayer is offered when we hold faith in our heart that God is present with us, can hear us and will bestow the desired results. Prayer is the honour of touching God's heart by pouring our heart to him. Prayer is the place where we surrender our self esteem and pride, where hopes are given wings and heartfelt plea is made to God. We often offer prayer when we face troubles and are in need of help. Prayer is expressing obligation, request and praise to God.
One should pray when the things are not going your way and also a thankful prayer when the things are going the way you want.
Prayer may be offered with words in temple or Church, it can be conversed mentally at home. Prayer can be occasional or constant; it can be quick or ceremonial.
Personalised Pujas and Homams
Pooja is a divine act of glorifying God through prayers, with a pure mind, heart and soul. Pooja is a means of displaying devotion and love to the deities. India has a rich heritage of magical bond with the Gods. Rituals of a 5000-year culture can be come as a shock to modern 21st centurions. Most of us are unaware of the incredible India's vast diversity in practices and ways to approach God. We opt for Pooja to venerate God and admire his beings. Pooja can be as simple as it may sound and can be quite complicate requiring expertise of a Priest. Pooja can be performed at home by offering made of fresh scented flowers, lighting diyas, singing hymns, soulful prayers. While some Pooja take place for a specific purpose which can include, purifying a newly bought property, before starting a business, to nullify malefic effects of bad planets, to overcome obstacles in life.
We perform pooja at special occasions, marriages and festivals. Pooja is praising God for showering happiness on his beings. Pujas are performed after a bath. Early morning is considered auspicious for daily pujas though an astrologer may be consulted to select an auspicious time for special pooja.
BENEFITS OF POOJA
Pooja harness cosmic energy to achieve material and spiritual goals
It purifies mind, heart and soul
Pooja is effective in keeping us intimate with the God
Pooja funds the creation of connection between soul and the highest powers
Pooja favours in countering pessimistic energies
Special pooja can be performed to counterattack the planetary ill effects