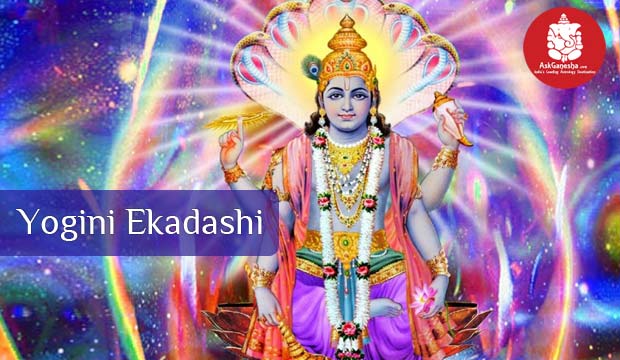 Yogini Ekadashi Date & Mahurat
The upcoming schedule for Yogini Ekadashi is on dates: 02 July, 2024
About Yogini Ekadashi
Yogini Ekadashi is observed in the Ashadha month during the declining phase of the moon (Krishna Paksha) as per the North Indian Hindu calendar. This usually observed in the month of June or July according to the Gregorian calendar. As per beliefs of Hindu religion people, Yogini Ekadashi is considered as the most important Ekadashi fast as it helps in getting rid of various disorders and diseases. By observing this vrat, devotees would be glorified with good health and well being. Also, observance of this vrat is known to redeem a person from sins and ill deeds and assist in attaining salvation. Lord Vishnu puja is done on this day. One is blessed with good health and well being.
On this festival, perform Lord Vishnu Puja
Personalized Puja and Homam done only for you
Free Mahurat Calculation by Astrologer
Puja will be done with right vidhi vidhan through experienced purohits
Legend of Yogini Ekadashi Vrat?
This is the story of a gardener named Hema Mali, a Yaksha and his extremely beautiful wife, Swarupavati. Hema Mali worked under Kuvera, King of Alakapuri, who was a religious devotee of Lord Shiva. Job of Hema Mali was to gather flowers from Manasarovar Lake and provide those flowers to the king for the daily worship of Lord Shiva. However, he was highly captivated towards his wife and hence, one day, he skipped his duties and stayed with his wife. Therefore, he could not hand over flowers for the puja to the king Kuvera. The king sent one of his messengers to detect the reason for Hema Mali's non appearance and absenteeism. The messenger found that Hema Mali was spending time with his wife instead of doing his duty of collecting flowers and distributing the flowers to the king. He returned back to the palace and informed the king that the reason for his negligence is his gorgeous and stunning wife. Hema Mali was ordered to be present at the court. He begged for forgiveness but the king damned him with suffering from white leprosy and be separated from his wife. He was thrown out of the palace and Hem Mali immediately got strained with white leprosy. He wandered through the forests for years and finally reached the ashram of Sage Markandeya. The whole tale was told to the sage Markandeya. The sage suggested Hema Mali to observe Yogini Ekadashi vrat to get freedom from the dangerous infection and relieved from the curse. As directed, Hema Mali observed the fast and returned back to his divine form as a Yaksha. Therefore, he was able to reunite with his wife and live the rest of his life happily. All devotees observing this fast are freed from their sins and are provided with great liberation.
Benefits of Yogini Ekadashi Vrat :
This Vrat is most gratifying to get rid of various disorders and diseases.
Observing fasts helps the devotees to get freedom from all sins and ill deeds.
Provides spiritual awareness.
Increases your faith and love for the Lord Vishnu.
Fulfils all your wishes and provide luxuries in life Leads to Swarga Loka. Rituals for Yogini Ekadashi Vrat.
Rituals for Yogini Ekadashi Vrat :
The fast begins on the night of Dashmi and is completed in the morning of Dwadashi.
Devotees should wake up early and take a bath.
Peepal tree is worshipped on this day.
Use a paste of mud or Til (sesame) to clean the body yourself while bathing.
Jagran (overnight vigil) is performed on this day.
Donatations should be done to a priest or needy people.
Besides observing you can chant mantra, read scripture, prayer, and other perform other services to the Lord.
Importance of Yogini Ekadashi 2016
People who observe fast on this day will be able to eliminate their problems and difficulties in a successful manner.
Listening to the Yogini Ekadashi Vrat Katha is very beneficial as it will lead people towards observing the fast as per the rituals and traditions.
Bhagwan Shri Krishna narrated the importance of the fast along with the legend associated with it to King Yudishthara.