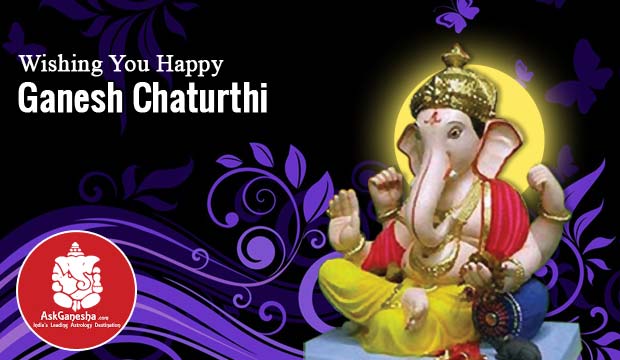 Vinayaka Chaturthi Date & Mahurat
The upcoming schedule for Vinayaka Chaturthi is on dates: 31 August, 2022
About Vinayak Ganesh Chaturthi
Ganesh Chaturthi is also known as Ganeshotsav or Vinayaka Ganesh Chaturthi. Lord Ganesha is widely worshipped as the God of wisdom, prosperity and good fortune and this festival, though celebrated all over the country, yet it is most prominently seen being celebrated in the state of Maharashtra.
On this festival, perform Lord Gajanan Puja
Personalized Puja and Homam done only for you
Free Mahurat Calculation by Astrologer
Puja will be done with right vidhi vidhan through experienced purohits
To celebrate this occasion a large clay statue of Lord Ganesha is made. The making of the statue starts prior to two or three months of the actual celebration and the size varies from house to house. Prior to placing the idol in the house, the entire house is whitewashed and cleaned. And on the evening of the first day of Ganesh Chaturthi the installation of the idol takes place. After this the rituals associated with it are performed by a priest after which it is believed that the statue is filled with life. The idol is placed in elevated platforms in homes of the devotees and also in elaborately decorated open and spacious outdoor tents. In the outdoor tents the size of the statue is sometimes of 25 feet. During the celebration, the priest chants the various Vedic mantras and the devotees follow the priest. People also make different offerings of food to Lord Ganesha on this day. The offerings which are made to him are prepared in steam and it is made of rice, flour and til. The celebration and worshipping continues for ten days. And on the eleventh day there is immersion of the idol. The immersion ceremony sees thousands of people taking part in the procession. Such processions continue with huge fan following and starts in the afternoon and it continues till late night. It is believed that with the immersion of Lord Ganesha, all the misfortunes of man are immersed in the water. And this immersion is the start of Lord Ganesha's journey towards His abode, Kailash. A very popular heard slogan during Ganesh Chaturthi is Ganapathi Bappa Morya. People happily immerse Lord Ganesha in the river and come back home eagerly waiting for the next years return of Lord Ganesha. This is a festival celebrated with huge pomp and joy.
On the ocassion of Ganesh Utsav, we are energizing an effective Ganesh Kawatch for you. Do not forget to visit and check