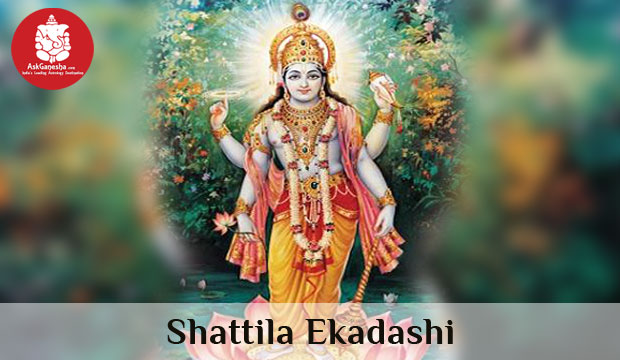 Shattila Ekadashi Date & Mahurat
The upcoming schedule for Shattila Ekadashi is on dates: 06 February, 2024
About Shattila Ekadashi
Shattila Ekadashi is also known as Shat-Tila Ekadashi, Stilla Ekadashi, Sattila Ekadashi, and Tilda Ekadashi. This day is celebrated on the 11th day in the month of Magh and is dedicated to Lord Vishnu and also to Lord Krishna. This day teaches the importance of food i.e. consumption of sesame seeds. Bathing with some sesame seeds in the water is considered auspicious.
Story of Shattila Ekadashi :
Once there was an elderly woman. She was wealthy and affluent. She used to give lot for charity like clothing, jewellery and other precious items. But she never offered them grains or food.
Once Lord Krishna converted himself in the form of a beggar and asked the lady to offer him some food. But the woman denied and got angry over the incident. In return, she put a ball of clay in his pot. Beggar blessed her and went away
When the lady entered in the room, she noticed that the food is getting converted into clay. She wasn't able to eat anything. She was getting weaker day by day. She then prayed to Lord Krishna for the help to get relieved from the miseries.
Lord Krishna reminded her about the incident of the beggar. He told her to pray Shattila Ekadashi by observing fast of her. This will help her in removing the sins.
She offered prayers to Shattila and offered Til and food to the poor. All the food items turned back to their original forms.
Utilities of Sesame Seeds on this day :
Mix some sesame seeds in the water for bathing.
Make the paste of seeds by rubbing it on your body
Make usage of sesame seeds in your food
Sacrifice sesame seeds in seeds
Offer sesame seeds to the poor
Importance of the day : Praying Shattila on this day will give you :
Prosperity
Wealth
Person gains freedom from the cycle of birth and death and attains Moksha