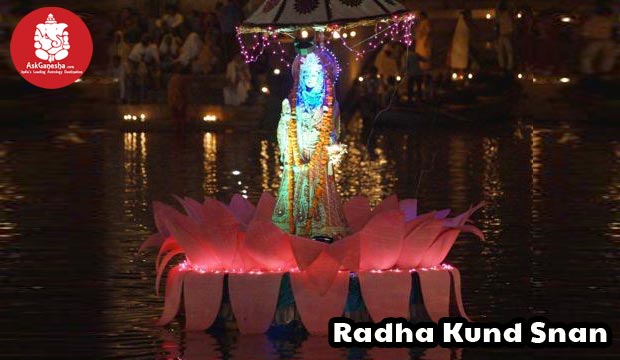 Radha Kund Snan Date & Mahurat
The upcoming schedule for Radha Kund Snan is on dates: 24 October, 2024
About Radha Kund Snan
Radha kund is located in the northwest part of Vraja (near Vrindavan). Vaishnav Hindus consider this lake of Srimati Radharani to be the most sacred place on earth. Radhakunda is situated on the parikrama road around the Govardhan hills. (Govardhan hill was lifted by Lord Krishna with his little finger). Radhakunda and Shyamakund are adjacent and there are stories associated with their creation. Legend has it that when Lord Krishna slayed a mighty demon Aristasura, his consort Radha told Krishna that he has committed a sin and must wash his hands in waters of many holy rivers. To this, Lord Krishna laughed off and struck the ground with his foot whereupon all the holy river emerged and filled up the tank came to be known as Shyamakund. Lord Krishna bathed in the holy water but Radha rani felt indignant and along with the other gopis, they dug out another hole with their bangles and filled it with holy waters, which today is known as Radha kund.
On this festival, perform Radhey Krishna Puja
Personalized Puja and Homam done only for you
Free Mahurat Calculation by Astrologer
Puja will be done with right vidhi vidhan through experienced purohits.
From farr-off people come to visit Radhakund and take holy dip in its mighty water. A holy dip in Radhakund on the auspicious day of Ahoi Ashtami is considered very significant. Couples who have been facing difficulties in conceiving a child come here to seek blessings of Radha Rani, the supreme love of Lord Krishna. The bathing day falls on the eighth day of Krishna paksha in the month of Kartik. Devotees in the number of lakhs come to this place every year and take a holy dip in Radha Kunda. There are certain rituals associated with this festival, the holy dip should be taken at the midnight. Couple seeking the blessings of Radha Rani to conceive soon stand in the water tank and perform puja. They offer, to the holy waters, white raw pumpkin (petha/Kushmanda) after decorating it with a red cloth. Also couples who get benefitted by Radha Kund snan, visit to take a holy dip again as a token of thank you for fulfilling their wish.