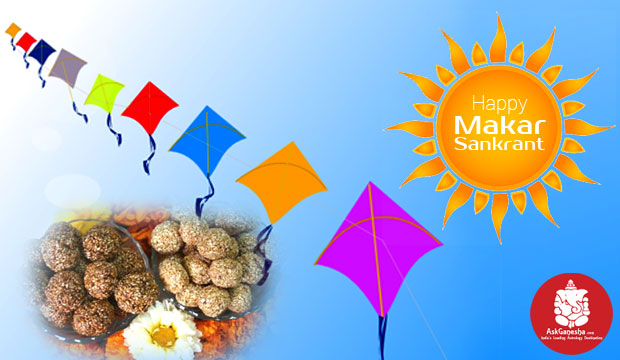 Makar Sankranti Date & Mahurat
The upcoming schedule for Makar Sankranti is on dates: 15 January, 2024
About Makar Sankranti
Makar is the name of the zodiac sign Capricorn and the name Makar Sankranti symbolizes the transit of the Sun in the zodiac sign Capricorn.
It is a harvest festival. It is the arrival of spring in India. Makara Sankranti commemorates the beginning of the harvest season and cessation of the northeast monsoon in South India. Scientifically, this day marks the beginning of warmer and longer days compared to the nights. It is celebrated with distinct names and rituals in different parts of the country.
On this festival, perform Lord Surya (Sun) Puja
Personalized Puja and Homam done only for you
Free Mahurat Calculation by Astrologer
Puja will be done with right vidhi vidhan through experienced purohits.
History
This festival is celebrated at Magh first of Hindu Solar Calendar for the happiness of getting new crops for farmers. It also symbolizes the end of the winter solace which makes the day last longer than night.
Rituals and traditions
Traditionally, it is considered as an propitious time and the experienced person Bhishma of Mahabharata chose to die during this period. Bhishma fell to the arrows of Arjuna. With his benefit to choose the time of his death, he waited on a bed of arrows to depart from this world only during this period. It is believed that those who die in this period have no rebirth.
For the people in the Indo Gangetic plain, the day begins with taking dips in the Ganges and offering water to the Sun-God. The dip is said to purify the self and bestow 'punya'. Special puja is offered as a thanksgiving for good harvest.
Til and rice are two important ingredients of this festival. In the rice-eating belt of Bihar and eastern Uttar Pradesh, people have a special rice-centric meal on this day.
In Makar Sankranti, women prepare laddus or other sweets of Til and Gur and offer them to friends & relatives. It symbolizes a 'Well-being Prayer for all' gets manifested in action & deeds.
Wish your closed one A very Happy Makarsankranti on the auspicious day of Makar Sankranti.