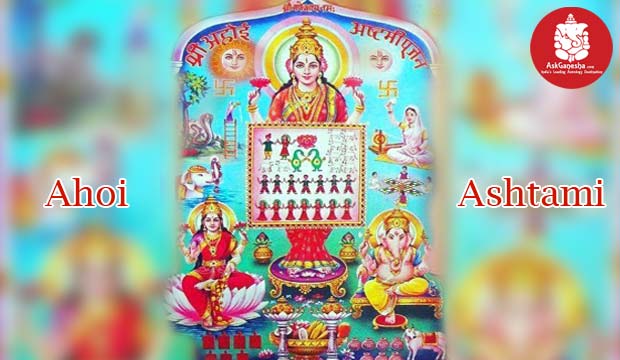 Ahoi Ashtami Date & Mahurat
The upcoming schedule for Ahoi Ashtami is on dates: 05 November, 2023
About Ahoi Ashtami
Ahoi ashtami is a fasting festival celebrated by the mothers who have sons. This festival is celebrated mostly in the northern parts of India. Mothers observe fast for the whole day and abstain from eating or drinking anything for the well-being and longevity of their sons. Ashtami means eighth, Ahoi Ashtami falls on the eighth day of waning moon in the kartik month. Ahoi Ashtami is celebrated in the month of October or November (kartik month). Ahoi Ashtami falls eight days before Diwali and four days after Karwa Chauth. Ahoi Ashtami is is similar to Karwa chauth, the difference is that Karwa Chauth is kept for husband and Ahoi Ashtami is kept for sons. This festival is also known as Ahoi Athe or Chakri maas in some parts of India. Mothers observe fast for the whole day and break their fast only after sighting stars in the dusk. Mothers offer pure water to the stars and pray for the well-being of their sons. Get the special Mata Ahoi Puja done.
On this festival, perform Ahoi Ashtami
Personalized Puja and Homam done only for you
Free Mahurat Calculation by Astrologer
Puja will be done with right vidhi vidhan through experienced purohits
Before the sun sets, all the mothers gather and hear the story related to Ahoi Ashtami. Then they worship Ahoi Mata and pray for the longevity and healthy life of their sons. The story related to this festival states that once in a village there lived a woman who had seven sons.She went to bring soil from the forest, once she started digging soil, the axe fell in the den and killed a cub. She got really sad and came back home. Within a year, all her seven sons died. One day while crying, she told her tragedy to the old women of the village. The women said that need not to worry, half of the penance is done through her confession. The old women suggested her to pray and worship Goddess Ahoi Bhagwati by sketching the face of the cub and her sins will start to cast off. Then onwards. She started to keep fast regularly on kartik Krishna Ashtami. By the power of her devotion and Goddess' grace, she got all her sons back to life. That's how it became a ritual to celebrate this day.