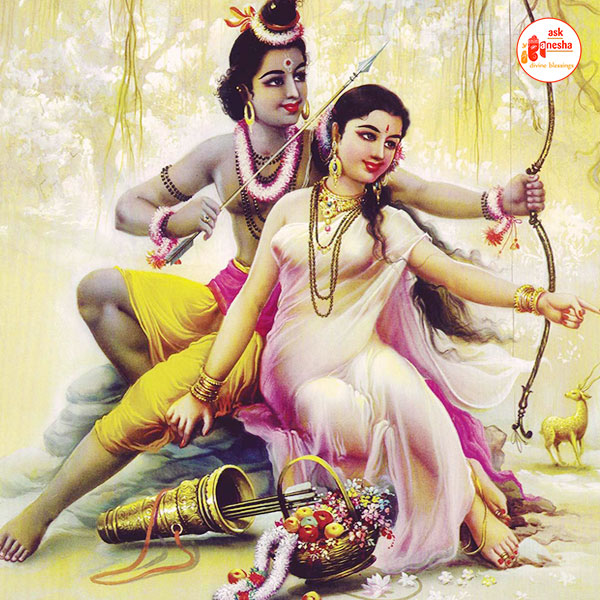 Read Customer Reviews
Sita also known as Siya, Maithali, Janaki and Bhoomija, was the leading character portrayed in the hindu epic Ramayana. She is addressed as Devi Sita, foster daughter of King Janak and Queen Sunaina. She is the wife of Lord Rama, the main character of Ramayana. She is known for her dedication towards her husband, Rama, her purity, her chastity, her sacrifices and her courage. She is the incarnation of Goddess Laxmi (consort of Lord Vishnu) on earth. While ploughing, King Janak and Queen Sunaina found Sita, the new born in a furrow in the field. The childless couple immediately pick up the new born girl and adopt her as their own child. After that King Janak is blessed with another daughter, Urmila. She is also called Bhoomija as she appeared from the Bhoomi or earth. Devi Sita married Lord Rama, after which Lord Rama is exiled to Banwaas (forest exile) for 14 years. Lord Rama is accompanied by his brother Laxamana and his wife Sita forest. The highly diligent and Lord Shiva's prime devotee, Demon Ravana kidnaps Sita in order to take revenge of his sister's insult by Laxmana. Ravana brings Sita to his Lanka mansion and decides to marry her. But with the help of Lord Hanuman, Lord Rama is able to kill Ravana and returns back to ayodhya with wife Sita and brother Laxmana.
In Ayodhya, Sita is questioned upon her chastity as she lived for a year in Ravana's Lanka. Sita in order to prove her purity sits in the lap of fire (agni pariksha) only to come out safely with the blessings of Lord Agni. After that, Lord Rama and Devi Sita are crowned King and Queen of Ayodhya. But the unending questions on Sita forces her to change her abode to a forest in which she gives birth to twin sons, Luv and Kush. When they grow up, they unite with their father, Lord Rama but Devi Sita returns back to the womb of the earth to find solace from the cruel world where purity needs proof from women.
The temples dedicated to honour Devi Sita are Janaki Mandir in Nepal, Sita Mai temple in Haryana, Sita kund in Bihar, Seetha Devi temple in Kerala, Seetha Amman temple in Sri Lanka.
Maa Sita Puja
It is believed that by performing Sita Pooja, one gets freed from negative vibes, toxins, impurities from the body and their brain activity is activated.
Mahurat Calculation will be done free by Astrologer
Puja will be done with right vidhi vidhan through experienced purohits.