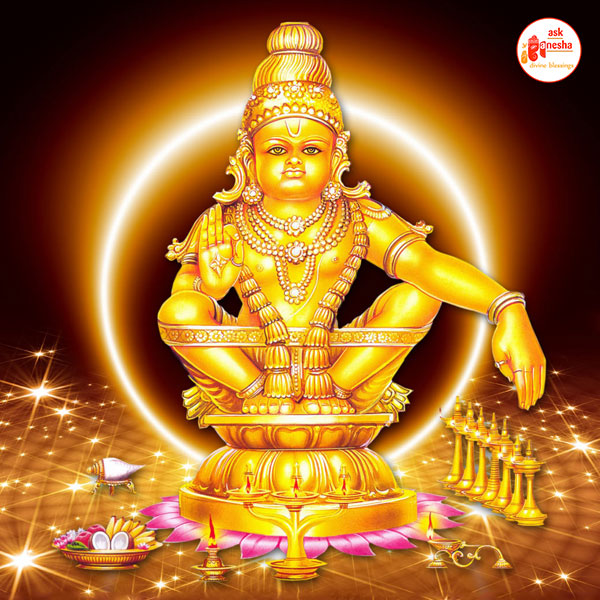 Read Customer Reviews
Lord Ayyappan
Known as the fusion of Lord Shiva and Lord Vishnu,Ayyappan is the most revered God in the Southern parts of India and Sabarimala is the famous shrine of Lord Ayyappan.
Ayyappan is a Hindu God and the son of Lord Harihara (Lord who is the fusion of Lord Shiva and Lord Vishnu). Ayyappan is also known as Manikandan, Sasta and Dharmasasta. The word 'Ayyappan' is made of two words, 'Ayaan' and 'Appan' in which 'Ayaan' means the senior member of the community who is worthy of respect and 'Appan' is another name for father. Ayyappan is a popular deity revered mostly in the parts of Southern India such as Tamil Nadu, Kerala, Karnataka, etc. the most shrine or temple of Lord Ayyappan is in Sabarimala, in the hills of Kerala where every year, atleast one million devotees and pilgrimage visit the Lord. There is an annual festival that takes place to honour the Lord. The idol of Lord Ayyappan wears jewels around his neck and that is why he is also known as Manikandan.
The legend behind the creation of Lord Ayyappan says that he was also a foster child of King Rajareshwara. Ayyappan inherited the throne of the king Rajareshwara. King Rajareshwara was childless and the appearance of an abandoned child tempted him to adopt the child who proved to be very fortunate for the king. The child was the result of the union of Lord Vishnu and Lord Shiva. The sister of Demon Mahishasura, Demoness Mahishi decided to take revenge from the Devas for the murder of his brother. She performed a very difficult tapa and appeased the Lord Brahma. She then secured the boon from Lord Brahma that none other than the child of Lord Vishnu and Lord Shiva could kill her ever. Since she knew that both were male and the birth of their child was impossible, she started to harass the Devas of Devlok who then informed Lord Shiva and Lord Vishnu of the havoc she is creating. Lord Vishnu impersonated Mohini and she went to Lord Shiva. With the union of Lord Vishnu and Lord Shiva, Lord Ayyappan was born and when he turned twelve, he destroyed Demoness Mahishi.
Ayyappan Puja
It is believed that Lord Ayyappan has divine control over Lord Shani and whoever worships him with devotion and pure heart get rid of all the evil powers from his life. Any hurdles ordifficulties being faced because of malefic effects of Shani can be neutralised with the help of Lord Ayyappa.
Mahurat Calculation will be done free by Astrologer
Puja will be done with right vidhi vidhan through experienced purohits.