Why should one follow astrology?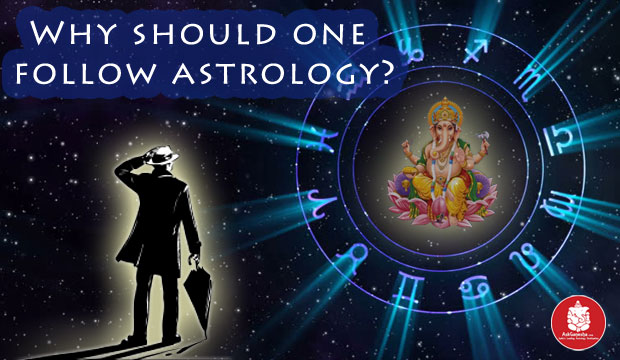 About Why should one follow astrology?
Astrologers have observed the planets movements and documented what effect those movements seem to have on humanity. They have discovered patterns. They have also found that as the planets line up in mathematical angles to one another, that too seems to consistently create certain predictable cause and effect scenarios. For someone to use the planets to predict the future is a lot like saying, that when the next full moon comes quite a few women will start menstruating. Why? Don't know, but it's true. Will every single woman who isn't pregnant start to menstruate? Of course not. Will every single pregnant woman deliver their baby on that moon? Of course not. But it's a reasonably accurate prediction to say that more women then usual will deliver babies and more women then usual will start menstruating. The art of astrology is a bit scientific observation and a bit psychic premonition. Of all the events that could be predicted, which one will hold true for the most people?
We think of each planet as a different zodiac clock in the heavens. Each one has its own pace and it's own season. Each one keeps time with a different zodiac season of the universe. Just like the sun and moon each have completely different seasons and completely different effects at different times. Watching the sun's seasonal effects helps the farmer know when to plant his crops. Watching the moon's cycles helps us in other areas. Astrology is taking all of the other planets' seasons and cycles into account too. Imagine a giant cosmic clock with the moon as the seconds hand and the sun as the hours hand. Mercury would be the minute hand. Add to that a hand for Venus, Mars, and the others. Each one a bit faster or slower then the others. Now telling time becomes a lot more complex. Time becomes bigger and more infinite.
To take it one step further, as each of us is born we are handed our own personal zodiac clock that is the time by which we will live our lives. To the untrained eye it looks like my clock is hung upside down with the 6 at the top and the 12 at the bottom. Another person's clock is to be hung with the 2 on top and the 8 on the bottom. So to be able to predict someone's future using astrology, you have to know which angle they hang their clock and you have to compare them to all others who hang their clock that way. Sure enough there's another pattern. This time it's a predictable pattern of personality types, styles, and preferences. So as an astrologer you have to be able to know the typical person of that clock position and then read their multi-handed clock. Then with your very best psychic abilities and intuition, tell them what you believe will happen.
Why does it work? Because it's all patterns and cycles and its predictable and it happens the same way over and over. Maybe the planets were put in the positions they were put in just for the sole purpose of keeping time. Maybe they each have their own weird electrical gravitational pull. Maybe the human brain has some sort of odd multi-handed clock programmed into it, each one as different as a set of fingerprints? Maybe some cosmic creator decided that this would be their universal filing system to help them remember who's doing what and where. Honestly, we don't know why it works. We just know that it is patterns and wheels that can be predicted like the weather changes each season.
Why should you bother to follow astrology? For the same reasons that we follow the weatherman's report. We want to be forewarned of the possibility of storms and conflicts so we can protect ourselves accordingly. We want to be forewarned of sunny weather and positive aspects so that we can take advantage of the blessings about to be given to us. If I know that there's a good chance it's going to rain, then I dress appropriately. If I know that there's a good chance that prosperity and abundance are coming my way, then I want to be well positioned and ready to receive my fair share. No weatherman is 100% correct and the same holds true for astrologers. Some are better at reading the signs then others. Some have more tools available for reading the skies then others. Both add valuable insight to the possibilities of how your day could unfold. It's always good to be prepared. You don't plan an outdoor wedding ceremony without looking at the typical weather forecasts for that area. You don't plan an international vacation without looking at the political forecasts for that area. Think of astrology forecasts as one of many tools you have at your disposal for timing and plotting the course of your goals and dreams.