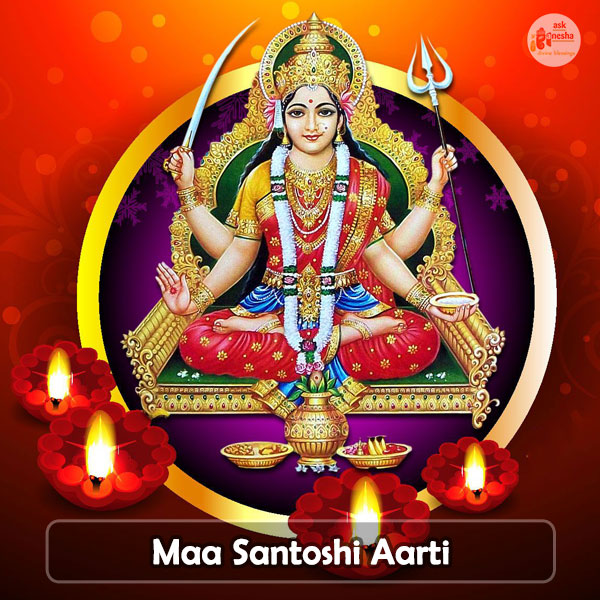 About Maa Santoshi Aarti
Santoshi Mata is the humblest and soft spoken Avatar of Goddess Durga. She is the epitome of calmness and contentment. The Goddess resides in the lotus flower. She is pictured as living in the lotus flower situated in a milk sea. This symbolises that even though the world is full of miseries like sufferings, selfishness and evil, the purity of one's heart, spreads goodness all around.
The mother of Satisfaction preaches that if you put a stop on all the wrong doings you will achieve the satisfaction that is missing in your life and will be able to gain calmness.
|| Aarti ||
Jai santoshi mata maiya jay santoshi mata,
Apane sewak jan ki sukh sampati data ||

|| Jai santoshi mata ||

Sundar cheer sunahari maa dharan kinho,
Hira panna damake tan shringar linho ||

|| Jai santoshi mata ||

Geru laal chhata chhavi badan kamal sohe,
Mand hansat karunamayi tribhuvan jan mohe ||

|| Jai santoshi mata ||

Svarn sinhasan baithi chanvar dhure pyare,
Dhoop dip madhumeva bhog dhare nyare ||

|| Jai santoshi mata ||

Gud aur chana paramapriy tame santosh kiyo,
Santoshi kahalai bhaktan vaibhav diyo ||

|| Jai santoshi mata ||

Shukrawar priy mant aaj diwas sohi,
Bhakt mandali chhai katha sunat mohi ||

|| Jai santoshi mata ||

Mandir jagamag jyoti mangal dhvani chhai,
Vinay karen ham baalak charanan sir nai ||

|| Jai santoshi mata ||

Bhakti bhavamay puja angikrit kije,
Jo man base hamare ichha fal dije ||

|| Jai santoshi mata ||

Dukhi daridri rogi sankat mukt kiye,
Bahudhan-dhany bhare gharsukh saubhagy diye ||

|| Jai santoshi mata ||

Dhyan dharyo jis jan ne manvan chhit fal payo,
Puja katha shrawan kar ghar aanand ayo ||

|| Jai santoshi mata ||

Sharan gahe ki lajja rakhiyo jagadambe,
Sankat tu hi niware dayamayi ambe ||

|| Jai santoshi mata ||

Santoshi maa ki arati jo koi nar gaave,
Riddhi-siddhi sukh sampati ji bharake pave ||

|| Jai santoshi mata ||
|| Aarti in Hindi ||
जय संतोषी माता, मैया जय संतोषी माता,
अपने सेवक जन को, सुख संपति दाता ||

|| जय संतोषी माता ||

जय सुंदर चीर सुनहरी, मां धारण कीन्हो,
हीरा पन्ना दमके, तन श्रृंगार लीन्हो ||

|| जय संतोषी माता ||

जय गेरू लाल छटा छवि, बदन कमल सोहे,
मंद हँसत करूणामयी, त्रिभुवन जन मोहे ||

|| जय संतोषी माता ||

जय स्वर्ण सिंहासन बैठी, चंवर ढुरे प्यारे ,
धूप, दीप, मधुमेवा, भोग धरें न्यारे ||

|| जय संतोषी माता ||

जय गुड़ अरु चना परमप्रिय, तामे संतोष कियो ,
संतोषी कहलाई, भक्तन वैभव दियो ||

|| जय संतोषी माता ||

जय शुक्रवार प्रिय मानत, आज दिवस सोही ,
भक्त मण्डली छाई, कथा सुनत मोही ||

|| जय संतोषी माता ||

जय मंदिर जगमग ज्योति, मंगल ध्वनि छाई ,
विनय करें हम बालक, चरनन सिर नाई ||

|| जय संतोषी माता ||

जय भक्ति भावमय पूजा, अंगीकृत कीजै ,
जो मन बसे हमारे, इच्छा फल दीजै ||

|| जय संतोषी माता ||

जय दुखी, दरिद्री ,रोगी , संकटमुक्त किए ,
बहु धनधान्य भरे घर, सुख सौभाग्य दिए ||

|| जय संतोषी माता ||

जय ध्यान धर्यो जिस जन ने, मनवांछित फल पायो ,
पूजा कथा श्रवण कर, घर आनंद आयो ||

|| जय संतोषी माता ||

जय शरण गहे की लज्जा, राखियो जगदंबे ,
संकट तू ही निवारे, दयामयी अंबे ||

|| जय संतोषी माता ||

जय संतोषी मां की आरती, जो कोई नर गावे ,
ॠद्धिसिद्धि सुख संपत्ति, जी भरकर पावे ||

|| जय संतोषी माता ||
Vidhi for Performing Aarti:
The things required for the Aarti include roli Akshat, uncooked rice, Puja ki Thali, Flowers, Dhoop Batti, Incense stick, Photo or Idol of Goddess Santoshi, A Red cloth, Aasan, Supari, Coriander seeds, Cotton seeds, Lotus Flower Seeds, Dry whole Turmeric, Silver coin, Some sweets as Prasad, and lotus seeds. Begin with lighting the diya in front of the goddess's idol. Then light the incense sticks and begin the Aarti as you ring the bell continuously, followed by offering the flowers and rice to the lord. You can keep some fruits as the Prasad, to distribute after the Puja.
A fast must be observed to appease the lord. You can perform the Aarti in the temple or your house and later on offer food to poor kids.
Benefits of Performing Maa Santoshi Aarti:
There are immerse benefits of worshiping Maa Santoshi. You can achieve inner peace with her blessings and attain contentment and satisfaction which is otherwise missing in your life. She blesses her devotees with sincerity, tranquillity and purity of mind and soul.
Maa Santoshi clears all the hassles from one's life and opens the path to be freed from this materialistic world. She lets her devotees achieve Moksha and attain salvation in the next life.