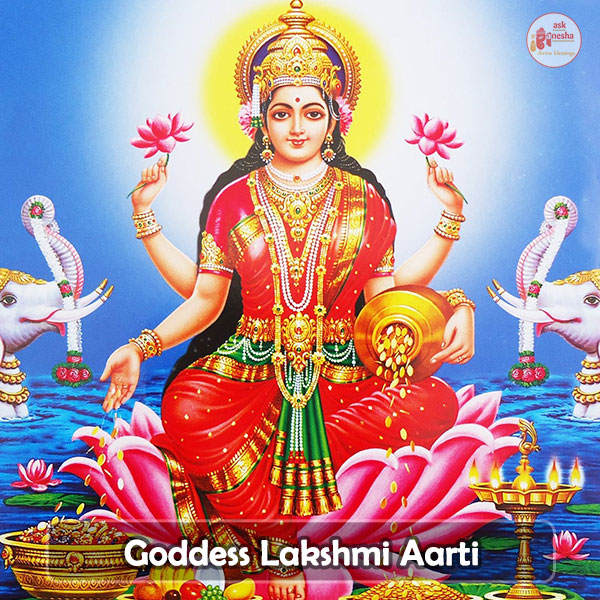 About Goddess Lakshmi Aarti
Goddess Lakshmi is considered to be the provider of fortune. She got her name from the Sanskrit word lakshya, which means aim or goal. She is the goddess of wealth, luxury and prosperity, both material and spiritual. Although she is worshipped daily, in the festival knitted month of October and November, Lakshmi Puja is conducted by large volumes of people to take her blessings. The famous Hindu festival, Diwali, begins only after the Lakshmi Aarti.
|| Aarti ||
Om Jai Laxmi Mata, Maiya Jai Laxmi Mata,
Tumko Nis Din Sevat, Hari, Vishnu Data ||

|| Om Jai Laxmi Mata ||

Uma Rama Brahmaani, Tum Ho Jag Mata,
Maiya, Tum Ho Jag Mata,
Surya Chandrama Dhyaavat, Naarad Rishi Gaata ||

|| Om Jai Laxmi Mata ||

Durga Roop Niranjani, Sukh Sampati Data,
Tum Maiya Sukh Sampati Data ,
Jo Koyee Tumko Dhyaataa, Ridhee Sidhee Dhan Paataa ||

|| Om Jai Laxmi Mata ||

Tum Paataal Nivasini, Tum Hi Shubh Daataa,
Maiya Tum Hi Shubh Daataa,
Karm Prabhaav Prakaashini, Bhav Nidhi Ki Daataa ||

|| Om Jai Laxmi Mata ||

Jis Ghar Mein Tu Rehtee, Sab Sukh Guna Aataa,
Maiya Sab Sukh Guna Aataa,
Taap Paap Mit Jaataa, Man Naheen Ghabraataa ||

|| Om Jai Laxmi Mata ||

Tum Bin Yagya Na Hota, Vastra Na Koi Paata,
O Maiya Vastra Na Koi Paata,
Khaan Paan Ka Vaibhav, Sab Tum Se Aata ||

|| Om Jai Laxmi Mata ||

Shubh Gunn Mandir Sundar, Shirodadhi Jaata,
O Maiya Shirodadhi Jaata,
Ratna Chaturdash Tum Bin, Koi Nai Paata ||

|| Om Jai Laxmi Mata ||

Dhoop Deep Phal Meva, Ma Sweekaar Karo,
Maiya Ma Sweekaar Karo,
Gyaan Prakaash Karo Ma, Moha Agyaan Haro ||

|| Om Jai Laxmi Mata ||

Maha Laxmiji Ki Aarti, Jo Gaavey,
Maiya Nis Din Jo Gaavey,
Uraananda Samata, Paap Uttar Jata ||

|| Om Jai Laxmi Mata ||
|| Aarti in Hindi ||
ॐ जय लक्ष्मी माता, तुमको निस दिन सेवत,
मैया जी को निस दिन सेवत,
हर विष्णु विधाता ||

|| ॐ जय लक्ष्मी माता ||

उमा रमा ब्रम्हाणी, तुम ही जग माता,
ओ मैया तुम ही जग माता,
सूर्य चन्द्र माँ ध्यावत, नारद ऋषि गाता ||

|| ॐ जय लक्ष्मी माता ||

दुर्गा रूप निरंजनी, सुख सम्पति दाता,
ओ मैया सुख सम्पति दाता,
जो कोई तुम को ध्यावत, ऋद्धि सिद्धि धन पाता ||

|| ॐ जय लक्ष्मी माता ||

तुम पाताल निवासिनी, तुम ही शुभ दाता,
ओ मैया तुम ही शुभ दाता,
कर्म प्रभाव प्रकाशिनी, भव निधि की दाता ||

|| ॐ जय लक्ष्मी माता ||

जिस घर तुम रहती तहँ सब सदगुण आता,
ओ मैया सब सदगुण आता,
सब सम्ब्नव हो जाता, मन नहीं घबराता ||

|| ॐ जय लक्ष्मी माता ||

तुम बिन यज्ञ न होता, वस्त्र न कोई पाता,
ओ मैया वस्त्र ना पाटा,
खान पान का वैभव, सब तुम से आता ||

|| ॐ जय लक्ष्मी माता ||

शुभ गुण मंदिर सुन्दर, क्षीरोदधि जाता,
ओ मैया क्षीरोदधि जाता,
रत्ना चतुर्दश तुम बिन, कोई नहीं पाता ||

|| ॐ जय लक्ष्मी माता ||

धुप दीप फल मेवा, माँ स्वीकार करो,
मैया माँ स्वीकार करो,
ज्ञान प्रकाश करो माँ, मोहा अज्ञान हरो ||

|| ॐ जय लक्ष्मी माता ||

महा लक्ष्मीजी की आरती, जो कोई जन गाता ,
ओ मैया जो कोई गाता,
उर आनंद समाता, पाप उतर जाता ||

|| ॐ जय लक्ष्मी माता ||
Vidhi for Performing Lakshmi Aarti:
Various items like Roli Akshat (Raw full grain rice uncooked), Puja ki Thali, Flowers, Dhoop Batti, Incense stick, Photo or Idol of Goddess Lakshmi with Lord Ganesha and Goddess Saraswati, A Red cloth, Aasan, Supari, Coriander seeds, Cotton seeds, Lotus Flower Seeds, Dry whole Turmeric, Silver coin, Some sweets as Prasad, Some currency notes as Chadhawa.
Begin the Puja after placing the Maa Lakshmi, Saraswati and Ganesh Ji's idol on the red cloth. Place everything at the same place, place some rice before the Goddess Lakshmi's idol for Lord Vishnu, Indra and Kuber.
Commence the puja after lighting the Diya, sing the Lakshmi Aarti followed by the Ganesh Aarti. Put Tilak and offer the flowers and sweets to the lord after lighting and giving them the scent of the incense stick. Continue the Puja and begin the Lakshmi Aarti. As the Aarti ends, sprinkle the rice over the idol.
Benefits of Performing Maa Lakshmi Aarti:
Lakshmi Aarti is majorly done on Diwali, office/ house warmings to take the blessings of the goddess of money, luxury and prosperity. The Hindu culture strongly believes that Goddess Lakshmi Provides one with financial wellbeing and material gains.