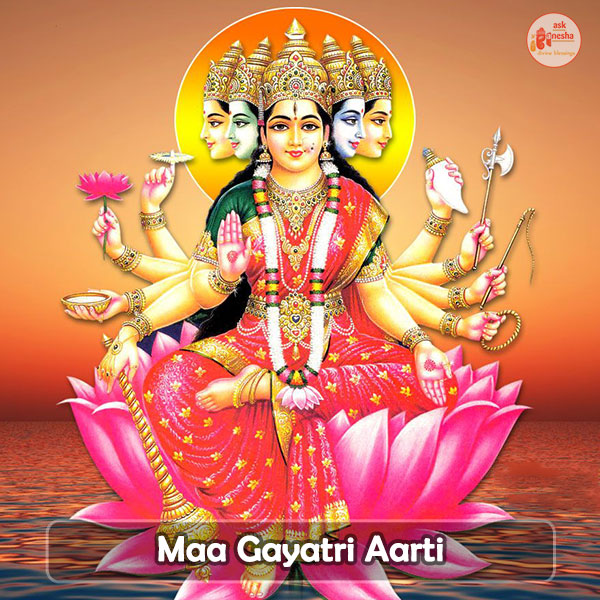 About Maa Gayatri Aarti
Maa Gayatri represents Mata Saraswati, Mata Lakshmi and Mata Parvati, all three in one form. Maa Gayatri is also a form of Adi Shakti. She possesses the Rajasi Guna and, hence, is the source of Brahma's power. She is the source of Lord Brahma's creation power.
She is formed after combining all the attributes of the brahmand (universe). Hence, she is the most powerful of all goddesses. Her energy includes the energy of three of the most important goddesses Lakshmi, Parvati and Saraswati, making the amalgamation super strong.
|| Aarti ||
Jayati Jay Gaayatri Maata Jayati Jay Gaayatri Maata,
Aadi Shakti Tum Alakh Niranjan Jag Paalan Kartri,
Duhkh Shoka Bhay Klesh Kalah Daaridrya Dainya Hartri ||

|| Jai Lakshmi Ramana ||

Brahm Roopini Pranat Paalini Jagad Dhaatr Ambe,
Bhav Bhay Haari Jan Hitkaari Sukhad Jagadambe ||

Bhay Haarini Bhav Taarini Anaghe Aj Aanand Raashi,
Avikaari Aghaari Avichalit Amale Avinaashi ||

Kaamdhenu Sat Chit Ananda Jay Ganga Geeta,
Savitaa Ki Shaashwati Shakti Tum Saavitri Sitaa ||

Rig Yaju Saam Atharv Pranayini Pranav Maha Mahime,
Kundalini Sahastraar Sushumna Shobha Gun Garime ||

Swaaha Swadha Shachee Brahmaani Raadha Rudraani,
Jay Sat Roopa Vaanee Vidya Kamla Kalyaani ||

Janani Ham Hain Deen Heen Duhkh Daarid Ke Ghere,
Jadapi Kutil Kapatee Kapoot Tau Baalak Hain Tere ||

Sneh Sanee Karuna May Maata Charan Sharan Leejai,
Bilakh Rahe Ham Shishu Sut Tere Daya Drashti Kijai ||

Kaam Krodh Mad Lobh Dambh Durbhaav Dwesh Hariye,
Shuddhi Buddhi Nishpaap Hraday Man Ko Pavitra Kariye ||

Tum Samarth Sab Bhaanti Taarini Tushti Pushti Traata,
Sat Marag Par Hamen Chalao Jo Hai Sukhdata ||

Jayati Jay Gaayatri Maata Jayati Jay Gaayatri Maata
|| Aarti in Hindi ||
जयति जय गायत्री माता, जयति जय गायत्री माता।

आदि शक्ति तुम अलख निरंजन जग पालन कर्त्री,
दुःख शोक भय क्लेश कलह दारिद्र्य दैन्य हर्त्री ||

ब्रह्मरूपिणी, प्रणत पालिनी, जगत धातृ अम्बे,
भव-भय हारी, जन हितकारी, सुखदा जगदम्बे ||

भयहारिणि, भवतारिणि, अनघे अज आनन्द राशी,
अविकारी, अघहरी, अविचलित, अमले, अविनाशी ||

कामधेनु सत-चित-आनन्दा जय गंगा गीता,
सविता की शाश्वती, शक्ति तुम सावित्री सीता ||

ऋग्, यजु, साम, अथर्व, प्रणयिनी, प्रणव महामहिमे,
कुण्डलिनी सहस्रार सुषुम्रा शोभा गुण गरिमे ||

स्वाहा, स्वधा, शची, ब्रह्माणी, राधा, रुद्राणी,
जय सतरूपा वाणी, विद्या, कमला, कल्याणी ||

जननी हम हैं दीन, हीन, दुःख दारिद के घेरे,
यदपि कुटिल, कपटी कपूत तऊ बालक हैं तेरे ||

स्नेह सनी करुणामयि माता चरण शरण दीजै,
बिलख रहे हम शिशु सुत तेरे दया दृष्टि कीजै ||

काम, क्रोध, मद, लोभ, दम्भ, दुर्भाव द्वेष हरिये,
शुद्ध, बुद्धि, निष्पाप हृदय, मन को पवित्र करिये ||

तुम समर्थ सब भाँति तारिणी, तुष्टि, पुष्टि त्राता,
सत मारग पर हमें चलाओ जो है सुखदाता ||

जयति जय गायत्री माता, जयति जय गायत्री माता ||
Vidhi for Performing Aarti:
The offerings that must be arranged before the Aarti begin, include roli Akshat, uncooked rice, Puja ki Thali, Flowers, Dhoop Batti, Incense stick, Photo or Idol of Goddess Gayatri. Red cloth, Aasan, Supari, Coriander seeds, Cotton seeds, Lotus Flower Seeds, Dry whole Turmeric, Silver coin, some sweets as Prasad, and lotus seeds. Begin with lighting the diya in front of the goddess's idol. Then light the incense sticks and begin the Aarti as you ring the bell continuously, followed by offering the flowers and rice to the lord. You can keep some fruits as the Prasad, to distribute after the Puja.
Benefits of Performing Maa Gayatri Aarti:
The Maa Gayatri Aarti blesses the devotee with knowledge, wealth and happiness. If you are looking to get good marks, clear exams, increase in wealth, better financial position, happiness in life then you must perform this Puja. For better results you can also chant the Gayatri mantra. It is one of the most powerful mantras of all time and it adds 10 times to the blessings of the Aarti. Maa Gayatri provides immense blessings to her devotees.