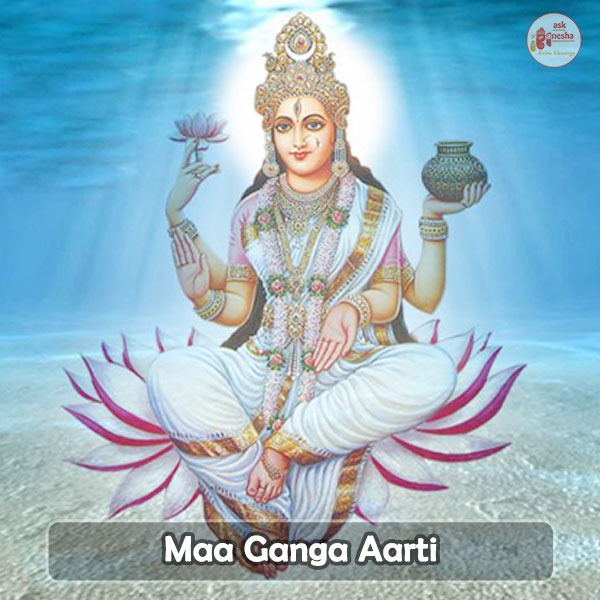 About Maa Ganga Aarti
The holy river is named after the Hindu Goddess Maa Ganga. It is believed that river Ganga is the purest of all. The goddess Ganga is said to have gain importance later in the Godly history. Legends have it that while she was in heaven, she was a sincere devotee of lord Krishna. This made Radha jealous and as a consequence, she cursed Ganga to go to earth and flow as a River. Another legend attached to it is that Ganga was goddess Parvati's sister. Some also believe that she came into existence from lord Vishnu's foot's sweat.
She is described as a fair complexioned lady, clad in a white Saari, with a white crown on her head. She entered the earth in the form of water via lord Shiva's dense hair. The Hindu masses believe that the name, touch or sight of goddess in the form of river, cures the sins of a person. The Ganga Jal is seen as a purifier for the body, soul, and thoughts of a person.
|| Aarti ||
Om jai gange mata, maiya jai gange mata,
Jo nar tumko dhyata, manvanchhit phal pata ||

|| Om jai gange mata ||

Chandr si jyoti tumhari, jal nirmal aata,
Sharan pade jo teri, so nar tar jata ||

|| Om jai gange mata ||

Putr sagar ke tare, sab jag ko gyata,
Krupa drishti ho tumhari, tribhuvan sukh data ||

|| Om jai gange mata ||

Ek hi baar jo teri, sharan gati aata,
Yam ki traas mitakar, param gati pata ||

|| Om jai gange mata ||

Aarti matu tumhari, jo nar nit gata,
Dass wahi sahaj mein, mukti ko pata ||

|| Om jai gange mata ||
|| Aarti in Hindi ||
ॐ जय गंगे माता, श्री गंगे माता,
जो नर तुमको ध्याता, मनवांछित फल पाता ||

|| ॐ जय गंगे माता ||

चन्द्र-सी ज्योत तुम्हारी जल निर्मल आता,
शरण पड़े जो तेरी, सो नर तर जाता ||

|| ॐ जय गंगे माता ||

चन्द्र-सी ज्योत तुम्हारी जल निर्मल आता,
शरण पड़े जो तेरी, सो नर तर जाता ||

|| ॐ जय गंगे माता ||

पुत्र सगर के तारे सब जग को ज्ञाता,
कृपा दृष्टि तुम्हारी, त्रिभुवन सुख दाता ||

|| ॐ जय गंगे माता ||

एक ही बार भी जो नर तेरी शरणगति आता,
यम की त्रास मिटा कर, परम गति पाता ||

|| ॐ जय गंगे माता ||

आरती मात तुम्हारी जो जन नित्य गाता,
दास वही जो सहज में मुक्ति को पाता ||

|| ॐ जय गंगे माता ||
Vidhi for Performing Aarti:
The elements required for the Aarti include roli Akshat, uncooked rice, Puja ki Thali, Flowers, Dhoop Batti, Incense stick, Photo or Idol of Goddess Ganga, A Red cloth, Aasan, Supari, Coriander seeds, Cotton seeds, Lotus Flower Seeds, Dry whole Turmeric, Silver coin, Some sweets as Prasad, and lotus seeds. Begin with lighting the diya in front of the goddess's idol. Then light the incense sticks and begin the Aarti as you ring the bell continuously, followed by offering the flowers and rice to the lord. You can keep some fruits as the Prasad, to distribute after the Puja.
Benefits of Performing Maa Ganga Aarti:
The Maa Ganga isknown for her purity and her ability to clean the sins of the living beings is believed to fill the lives of her devotees with serenity, beauty and purity. She purifies the souls of the devotees providing them with a sincerity that is unmatched. The Hindus believe that the goddess cleanses everything and it's true.
Maa Ganga enables her devotees to achieve Moksha and get rid of the cycle of birth and rebirth. Worshipping her also enables the devotees to achieve a sense of holiness and peace of mind.